Our Maryknoll In Touch "MIT" monthly newsletter is personal. It's meaningful. And it is our gift to you.
Packed into this pocket brochure are inspiring stories that will deepen your understanding of our global mission work. You will hear straight from the mouths of our missioners as you find the common bonds between you and those we serve.
To receive this free gift…
As a Mission Sponsor, you will receive directly to your home this treasure trove of news from a world away. Many of our sponsors come to regard "In Touch" as a devotional of sorts. They feel so connected to our missioners and the people they serve, and can better pray for them.
May: Lessons in Church-Building
Featuring Fr. Edward Schoellmann
April: Chaplain on Call
Featuring Fr. Rick Bauer
March: Comfort and Healing
Featuring Fr. John Northrop
February: My North Star
Featuring Fr. Dennis Moorman
January: Why I am Hopeful
Featuring Fr. Raymond J. Finch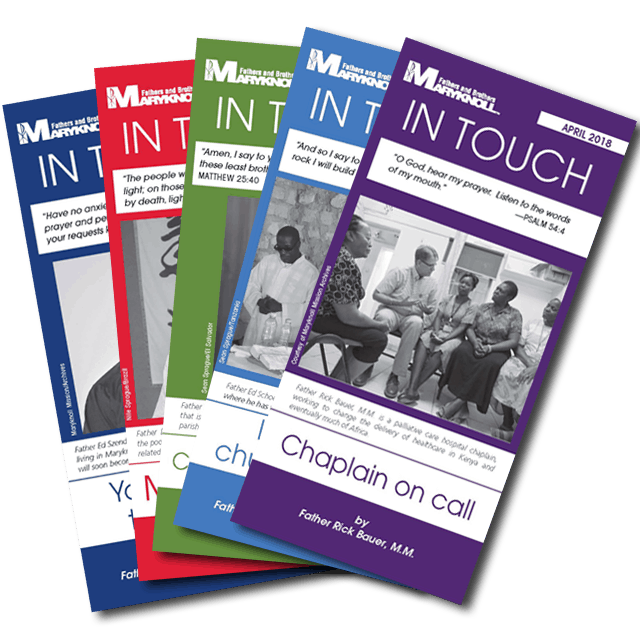 "Before my arrival, integrated spiritual care was not really part of medical care. Now it will be. And I will be able study how spiritual care impacts treatment and outcomes. This will take 18-24 months but I believe the results are going to alter the delivery of healthcare in Kenya, and maybe all of Africa."
MAILING a Donation or Letter
Maryknoll Fathers and Brothers
P.O. Box 302
Maryknoll, NY 10545-0302