Maryknoll In Touch "MIT"
Every MIT is packed with inspiring stories that will deepen your understanding of God's call to mission — personal experiences of our missioners and the impact on those we serve worldwide.
Be a Monthly Supporter – our "Mission Sponsors" – to get the MIT for FREE!
'Mission Sponsors' — friends of mission with a monthly donation of any amount — are a growing and amazing group of supporters who are bringing God's love and reason for hope to those most in need. The MIT is just one of the many special gifts for Mission Sponsors.
Our Maryknoll In Touch "MIT" monthly newsletter is personal. It's impactful!
And it's our gift to you…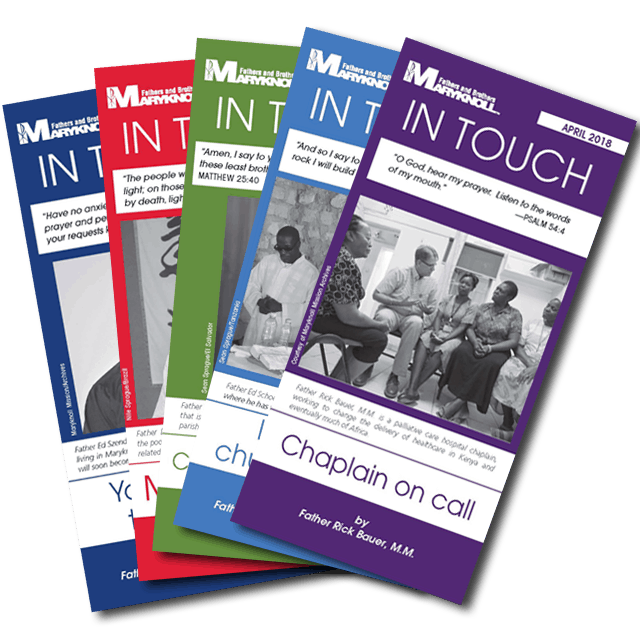 Many of our Mission Sponsors come to regard 
"Maryknoll In Touch"
 as a devotional of sorts — some feel connected to our missioners and the people they serve, and use the MIT to better pray for them.
About Us
About Maryknoll
Our Mission Work
Emergency Relief
Saving Planet Earth
Medical Care
Mission in the U.S.
Mission Archive
Resources
Ways to Support
Vocations
Magazines & Media
Short Term Mission Trips
Enciende tu Llamada Misionera
Essay Contest
Teacher Community
Working at Maryknoll
Maryknoll Fathers and Brothers will not sell, rent or exchange your data with other organizations.
The Maryknoll Fathers and Brothers (Catholic Foreign Mission Society of America, Inc.) is a tax exempt non-profit organization incorporated in the State of New York. Tax ID # 13-1740144.