Your Gift Can Help Share God's Love with the World
There are many ways to give and, through thoughtful planning, you can choose the option that works best for you and your loved ones. These planned gift opportunities can honor loved ones, support your family and even provide benefits for you during your retirement years:
Your legacy will continue around the globe and the impact of your planned gift to the Maryknoll Fathers and Brothers will provide to the world's most vulnerable.
Please consider Maryknoll Fathers and Brothers in your legacy plans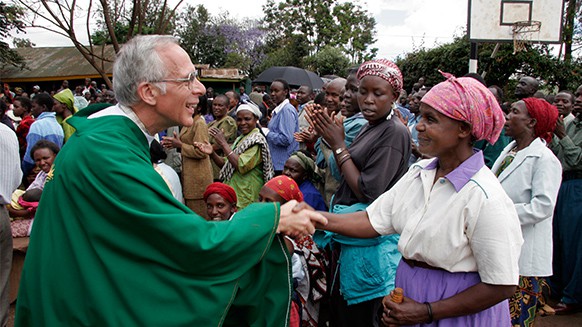 We are here to answer any questions regarding the various charitable giving opportunities available to you. We are praying with you as you consider these decisions.
You'll Join the Maryknoll Fathers and Brothers 'Legacy Society'
In response to your loyalty and generosity to the Maryknoll Fathers and Brothers, you'll be automatically enrolled in the Maryknoll 'Legacy Society,' offering regular opportunities for us to express our thanks to you, availing ways for you to be inspired by the missionary work of our priests and brothers in Asia, Africa, and Latin America.
Legacy Society Membership Benefits include:
A lifetime subscription to Maryknoll Magazine, or if you prefer, Revista Maryknoll, our Spanish-English language magazine
A prayerful remembrance at a Maryknoll Legacy Society Mass which will be held annually on November 1, All Saints Day, as well as weekly remembrance at mass every Friday at Our Lady Queen of Apostles Chapel, Maryknoll, NY, and in the prayers and masses of our Maryknoll Fathers and Brothers around the world
Invitations to future mission gatherings and celebrations where you will have the opportunity to meet our Fathers and Brothers, and to speak with missioners who have returned to the U.S. for a visit or to receive a new assignment
The Journey of Faith Prayer every Sunday from Maryknoll Superior General, Fr. Ray Finch
40% OFF our Orbis Books online store
A lifetime subscription to our Gift Planning newsletter, Stewardship News, which features heartwarming stories of mission along with timely ideas for financial planning