23rd Annual Pilgrimage / Retreat to Central America
A Unique, 10-Day Spiritual Journey For Bishops, Priests, Brothers And Deacons
Maryknoll proudly announces that the 2024 annual Pilgrimage Retreat to the Sites of the Central American Martyrs will take place January 8 – 19, 2024.
Proof of COVID vaccination required.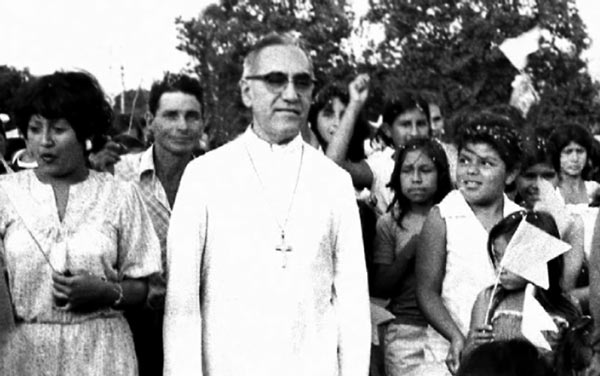 Come Walk in the Footsteps of Modern Day Catholic Martyrs
Visit the Shrines of Central American Martyrs
Visit the tomb of Saint Archbishop Oscar Romero and celebrate Mass at the altar where he was assassinated.
Visit the site in El Salvador where martyred Religious women, including two Maryknoll Sisters were murdered in 1980.
Visit the University of Central America where six Jesuits and their companions were killed.
In Guatemala, visit beautiful Santiago Atitlan where Fr. Stan Rother of Oklahoma City gave his life for his Mayan Indian parishioners. Fr. Rother was beatified in Oklahoma City on September 23, 2017.
Learn why these wonderful men and women—caught up in situations of civil war and persecution—were able to give their lives as witnesses of Jesus Christ.
Engage in Cross-cultural Solidarity on an Extraordinary Spiritual Journey
Participants attending the 2024 Pilgrimage Retreat will reside at the María Eugenia Retreat House in San Salvador and the Posada Belén Retreat Center in Antigua, Guatemala. Both living experiences provide individual private rooms with shower and great food.
There will also be an excursion to the highlands of Guatemala where we'll experience a one night missionary living situation and sleep on a comfortable mattress on the floor in the rectory at Santiago, Atitlan where the food is also great!
Read our 2024 Pilgrimage Brochure and the Code of Conduct expected of participants on Maryknoll's Pilgrimage to Central America.
Bishops
Priests
Brothers
Permanent Deacons
10 days (January 8 – 19, 2024) – mission trip begins

 

in El Salvador

 

and ends in Guatemala City. Transport to and from the airport will be provided. Registration DEADLINE; Oct 15, 2023.
Package includes: 
1) pre-trip orientation;
2) on-site immersion to the causes and circumstances of the various martyrs;
3) meeting and engaging with missioners, as well as local church people living and working in Central America;
4) transportation in Guatemala and

 

El Salvador;
5) all-inclusive, in-country accommodations (room, meals and in-country transportation);
6) facilitation and stipends; and
7) extensive reading materials.
Cost: $1,200 per individual, plus participants are responsible for air travel to San Salvador and from Guatemala City.
Passports & immunizations: Participants in the 2024 Pilgrimage/Retreat will need a valid passport (no visa is required for Guatemala nor El Salvador)

 

and proof of vaccination against COVID-19. All participants should consult their physician regarding

 

other

 

appropriate immunizations. Participants will be responsible for their personal medications.
Lodging: at the María Eugenia Retreat House in San Salvador and the Posada Belén Retreat Center in Antigua, Guatemala
If you want to secure Health Insurance for the trip, we recommend www.missionaryhealth.com
"For me the visit in Antigua at the Franciscan hospital and the Mass in the chapel were the most significant. It was the end of Mark, chapter 6 in real life."
– Don M.
---
"An opportunity to experience the horror and the hope present to those who have suffered the darkest of times, or continue to suffer them."
– Rosina H.
---
An opportunity to personally connect to the lives of those who have given their lives for the faith, and the defense of the poor, and be with those who continue to do so"
---
"My pilgrimage experience was faith affirming, enjoyable and I learned a lot."
---
"It is a must attend retreat for the spiritual growth of permanent deacons."
Mailing a Donation or Letter
Maryknoll Fathers and Brothers
P.O. Box 302
Maryknoll, NY 10545-0302
Tel: 1-888-627-9566
8:30 AM to 4 PM Eastern Time