Dear Brothers and Sisters in Christ,
Pope Francis has placed the world under the protection of the Blessed Mother in this time of crisis. Please join us in praying for our nation and the world. Our Lady of Maryknoll pray for us!
Fr. Raymond Finch, M.M.
Superior General
Special Prayer Requests
Please submit your prayer intention(s) below and we will be sure to include them during our daily Masses here at Maryknoll as well as in our private prayers. May God grant you all the strength and the grace you need during these unsettling times. God bless and keep you always!
Your prayer requests will be added to the intentions offered at our daily Mass at Maryknoll, NY, as well as being mentioned during our Morning & Evening Prayer and daily rosary.
Maryknoll Fathers and Brothers share the Good News and God's love by modeling the compassion of Jesus Christ to those most in need.
The Maryknoll Fathers and Brothers (a.k.a. the Maryknoll Society) is a U.S. Catholic order of priests and brothers that devotes itself to spreading the LOVE of God among those in need across Asia, Africa and Latin America.
Maryknollers move into the roughest fringes of society, living side-by-side with the indigenous peoples, and dedicating ourselves – with the generous support of donors – to combating poverty, building communities, availing healthcare, and advancing peace & social justice.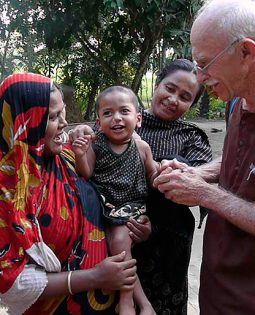 We witness the call to mission shared by all Christians to bring hope and healing to those most in need. Jesus is our model of compassion when we feed the hungry, heal the sick and care for outcasts around the world.
This is how all will know that you are my disciples, if you have love for one another.

Explore the ways you can impact our mission work for the poor and suffering:
Maryknoll accompanies lay Catholics and ministers on culturally immersive short-term mission trips worldwide to encounter Christ in other countries, particularly those suffering on the margins of society.
Explore our offerings of mission trips and other international volunteer opportunities.
Motivated by our faith in Jesus Christ, Maryknollers go to aid and live alongside the poor and marginalized around the world as a demonstration of God's unconditional love and mercy for all people.
Curious about vocations?  Explore a life of mission overseas, finding God's love in the least among us.
Maryknoll magazine  is the flagship publication of Maryknoll. It has chronicled our mission for 100+ years to serve the poor and suffering around the world.
Featured Article (March/April 2020)
Pope Backs Indigenous in Amazon
Observers say "Querida Amazonia" exhortation shows powerful words of understanding and solidarity.
In concert with our overseas mission work, Maryknoll Fathers and Brothers serves to be living signs of God's LOVE and compassion here in the U.S.  We seek to build bridges of solidarity while actively forming and animating local communities of 'missionary disciples' who answer their personal call of witnessing God's love to others.