Father Paul M. Sykora:
Signs of God and Gratitude
I'm a farm boy from South Dakota. Growing up, I didn't go to Catholic school, and didn't know much about the Church. But my father was my role model. When someone was in need, he showed me the joy in helping friends and neighbors.
Something else about me: I was raised on a reservation, possibly the only one in the U.S., whose residents were both white and Native American. The racism I saw there was terrible. This experience opened my eyes to the ways indigenous people can be marginalized and harmed, sometimes for life.
When I got to college, I joined a Catholic youth group and started reading a Catholic newspaper. That's where I first saw a call for vocations. Eventually, that set me on my path to Maryknoll and my decades of mission service among indigenous people.
My first assignment was in Chile where I helped several of the Mapuche start a dairy farm. In time, we built a ranch of 700 cows. Most of the Mapuche were small landowners who would plant and sell wheat at harvest time. Having a dairy farm was a breakthrough because with cows a farmer could have income every month, even every week.
"My hope and prayer is that one day our mission here can be turned over to the people because this is their land and their future."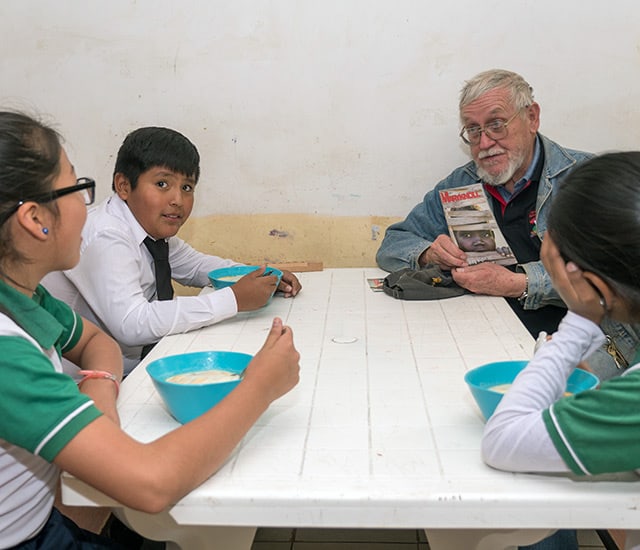 I was busy in Chile where I helped build windmills, and showed people how to fix things (channeling my father, no doubt). With the help of many, I also built 30 chapels and started small communities that eventually became little towns.
Now I serve in Cochabamba, Bolivia in the parish of Santa Cruz where I started a tutoring program for the children of rural migrants who left home for work in the city. These families don't speak Spanish. So when their children go to school, they are at a disadvantage. Our program teaches Spanish to about 150 kids. Some get so good that they tutor their parents!
I also started a gardening and composting project that kids love as much as their parents. And we have a crafts program where kids learn to make things with their own hands.
With all these interactions, the children open up and share their stories with me. Sometimes they call me "abuelo" or grandpa. For many kids, having an adult pay attention to them—especially a male adult—is a whole new experience because most fathers work all the time and are rarely home. What the kids tell me is sad: They experience violence and bullying. Life is a constant struggle.
My hope and prayer is that one day our mission here can be turned over to the people because this is their land and their future. Thanks to you, we are taking big first steps for the indigenous families of Cochabamba. I am so grateful for your prayers and your gifts. As your partner in prayer, I send you back a blessing—and my heartfelt thanks.
~ Father Paul M. Sykora, M.M.
About Us
About Maryknoll
Our Mission Work
Emergency Relief
Saving Planet Earth
Medical Care
Mission in the U.S.
Mission Archive
Resources
Ways to Support
Vocations
Magazines & Media
Short Term Mission Trips
Enciende tu Llamada Misionera
Essay Contest
Teacher Community
Working at Maryknoll
Maryknoll Fathers and Brothers will not sell, rent or exchange your data with other organizations.
The Maryknoll Fathers and Brothers (Catholic Foreign Mission Society of America, Inc.) is a tax exempt non-profit organization incorporated in the State of New York. Tax ID # 13-1740144.