Father Michael Walsh:
On History's Doorstep
I love answering questions. But what I love even more is caring for Maryknoll's history and heritage.
My job is Society Curator, a post I've held since 2001 after returning home from China. I supervise and curate Maryknoll's official records and archival material here in Maryknoll, NY.
Each day is different because I never know "who" will be asking me for "what." Here's a good example. Not long ago, I received a request from an official representing an area in China where Bishop James E. Walsh had been assigned. Ordained a Maryknoll priest in 1915, Bishop Walsh served on the mainland and Hong Kong for some 40 years. During the Communist revolution, he was imprisoned on charges of spying. I was told if Maryknoll could provide the necessary documentation, the government would return his mission property to the Church. I found the deeds and the property was returned.
More typical of my curating are questions or research requests that come from the members of Maryknoll's General Council, our leadership team. Sometimes we get requests connected with an ordination or an anniversary—or an educational display in our Mission Museum, which is open to the public.
I also receive requests for historical documentation from scholars and academics. They are most often interested in the diaries of our early missioners who served in China and other mission outposts. Up until the mid-1960s, keeping a diary was a requirement of our missioners. Their first-person stories are among our most treasured records.
"I often tell visitors that Maryknoll's history is a chapter in Church history that belongs to the world."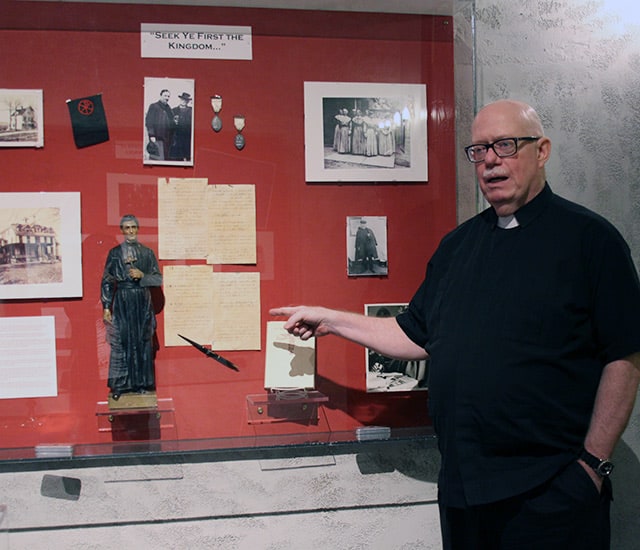 As I see it, there are three cornerstones to good curating: preservation, intellectual control, and availability. My goal is to preserve and protect every photograph, diary, and document in our possession, catalogue it properly, and make it available as best we can.
To make sure we are protecting history for future generations, my staff and I work in a climate-controlled environment. When we receive new materials, we remove rubber bands, staples, and plastics, and put things in acid-free file folders. Photocopying is on acid-free paper, and we write things in pencil because inks have acid. Whenever we can digitize something, we do. We also have records in storage for safekeeping.
Curating is history, and right now our curating is helping to advance several causes for canonization, notably of our co-founders, Bishop James A. Walsh, M.M. and Father Thomas F. Price, M.M.; Bishop Patrick J. Byrne, M.M.; Bishop Francis X. Ford; and Father Vincent Capodanno, M.M. The road to sainthood is long but it passes right through archives.
I often tell visitors that Maryknoll's history is a chapter in Church history that belongs to the world—and that includes you, our faithful partner in mission.
Thank you for making history by supporting our work and praying beside us. Your gifts are the foundation of mission and the heritage we pass on to all the good souls who follow in our footsteps.
~ Father Michael Walsh, M.M.
About Us
About Maryknoll
Our Mission Work
Emergency Relief
Saving Planet Earth
Medical Care
Mission in the U.S.
Mission Archive
Resources
Ways to Support
Vocations
Magazines & Media
Short Term Mission Trips
Enciende tu Llamada Misionera
Essay Contest
Teacher Community
Working at Maryknoll
Maryknoll Fathers and Brothers will not sell, rent or exchange your data with other organizations.
The Maryknoll Fathers and Brothers (Catholic Foreign Mission Society of America, Inc.) is a tax exempt non-profit organization incorporated in the State of New York. Tax ID # 13-1740144.