Deacon Kevin McCarthy:
A Day in the Life
What does a deacon do all day, you ask? Lots!
At its core, my work for Maryknoll is about helping people understand that we are on a mission of love. I do that by leading a team that creates teaching tools and workshops for educators and catechists.
Our online and print resource is called Discover Your Neighbor (feel free to see what we're up to at discoveryourneighbor.org). The teaching tools we produce feature stories of Maryknoll's mission work around the world. Our goal is to give students a global perspective on poverty, social justice, and the environment, while explaining the role the Catholic Church plays in giving voice to the needs of the poor
In order to present a fuller picture of what it means to be in mission, we offer two immersion trips a year for teachers and catechists: one in Guatemala, and the other to the border towns of El Paso, Texas and Ciudad Juarez, Mexico. Besides that, I also help lead trips to El Salvador and Guatemala for our Deacon Mission Partners team.
You can read about mission and study scripture, but immersion trips are life changing. One woman who joined our last mission visit to El Salvador wrote me afterwards: "This immersion trip has deepened my conviction to work alongside the hopeless, the abandoned, those who feel unloved and forgotten." That says it all.
"At its core, my work for Maryknoll is about helping people understand that we are on a mission of love."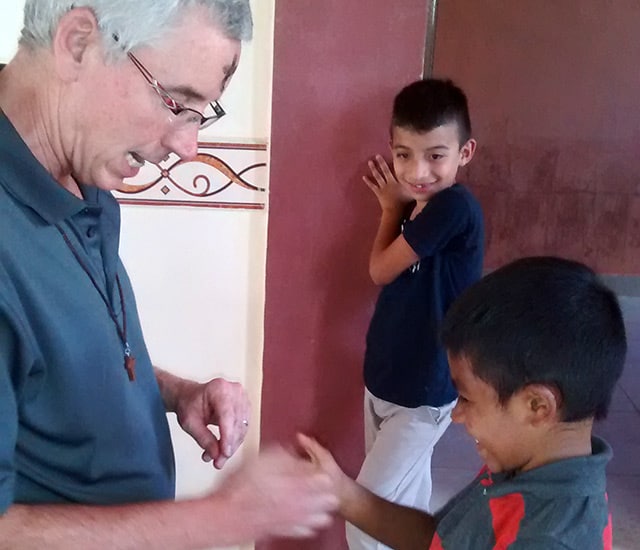 Another important part of my ministry is reaching the Hispanic community through our Discipulos Misioneros team. About 60% of Catholics in the United States under the age of 18 are Hispanic. They are our future.
In my own Diocese of Springfield, Massachusetts, I minister at Blessed Sacrament Parish which is about 90% Spanish-speaking. When I'm not traveling, I preach there on weekends. I also help out with our catechetical program by teaching special classes for parishioners of every age from kids to adults.
People often ask me how I came to Maryknoll. I just say, "It was inevitable." After college, I became a Jesuit Volunteer in Philadelphia, and as they say, once you've done it, "You're ruined for life!" From there I spent six months volunteering in India at a project for leprosy patients. Along the way, I met Maryknollers and had a chance to work in their missions in Nepal and Venezuela. I fell in love with Maryknoll but left (a 28-year hiatus) to become a high school teacher and counselor. Three years ago when the opportunity came up to work with Maryknoll fulltime, I knew the Spirit was calling me back home.
My deepest motivations have always been serving God and improving the world. With your prayers, I know I will fulfill my goal. Thank you for taking this journey with me and for being a great example of what it means to be a missioner of the Lord.
~ Deacon Kevin McCarthy
About Us
About Maryknoll
Our Mission Work
Emergency Relief
Saving Planet Earth
Medical Care
Mission in the U.S.
Mission Archive
Resources
Ways to Support
Vocations
Magazines & Media
Short Term Mission Trips
Enciende tu Llamada Misionera
Essay Contest
Teacher Community
Working at Maryknoll
Maryknoll Fathers and Brothers will not sell, rent or exchange your data with other organizations.
The Maryknoll Fathers and Brothers (Catholic Foreign Mission Society of America, Inc.) is a tax exempt non-profit organization incorporated in the State of New York. Tax ID # 13-1740144.