Father Raymond Finch:
Brick by Brick
Maryknollers have an affinity for St. Paul. Here's why…
The world had never seen an evangelizer like St. Paul before. Spreading God's Word was his calling, and he did it without the help of a computer or social media! He was just passionate to the core about salvation in the Risen Christ and he wanted the world to share in his joy.
Paul refers to himself as a master builder, someone who lays a foundation strong enough so that others can build upon it. I think of him as the role model of a good missioner.
Every Maryknoller I know aspires to be like St. Paul—a modern master builder who provides a foundation for communities to prosper—and for faith to grow.
In Peru, Father Robert Hoffmann, M.M. is literally building our Church. In Ichu, one of several towns where he serves, Father Bob is completing a new church building for 5,000 parishioners. His next project is a church for 16,000 of the faithful in nearby Salcedo. In both towns, the faithful themselves have taken a big role in making their dream come true. Some volunteer their labor. Others offer materials and even land. Everybody contributes something—because they are master builders, too.
In Peten, Guatemala Father Ted Custer, M.M. and Father William Senger, M.M. are building and helping to form pastoral leaders so that the Church can grow with lay leadership. With help from Father Ted and Father Bill, parishioners now serve as catechists, Eucharistic ministers, chapel coordinators, and youth leaders. This is our Church—a strong foundation for generations to follow and build upon.
"Every Maryknoller I know aspires to be like St. Paul—a modern master builder who provides a foundation for communities to prosper—and for faith to grow."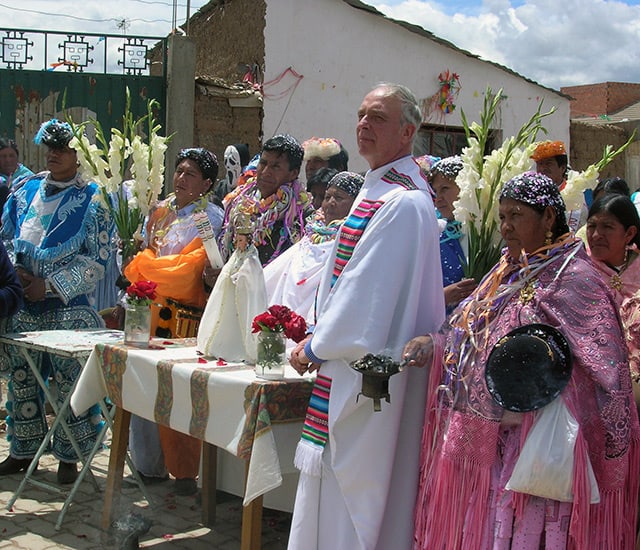 In Cochabamba, Bolivia, Father Paul Sykora, M.M. saw how children of indigenous migrant families were lagging behind in school because they didn't speak Spanish, which is how school is taught. Today almost 200 kids receive tutoring, and they are doing much better in class. Father Paul says a heartwarming outcome of the program is that parents are getting more involved in their community, working together on projects that include parish activities. Another way to build-up the Body of Christ!
Sometimes Church-building is deeply emotional. In São Paulo, Brazil Father Dennis Moorman, M.M. builds by healing. Father Dennis practices somatic experiencing, a technique for restoring lives damaged by trauma. His patients are young and old, men, women and children. As part of rebuilding lives, Father Dennis welcomes volunteer assistants who are often from low-income families. They receive support by observing the healing sessions they may need themselves but cannot afford.
Each Maryknoll missioner is a master builder in his own way, and I know you are, too. I am so grateful for the many ways in which you live your faith, always caring for the most vulnerable and sharing the grace you receive at Mass and in the Sacraments. Together we are building God's Kingdom on earth. All I can say is, "Thank you, St. Paul, for showing us how."
~ Father Raymond Finch, M.M.
About Us
About Maryknoll
Our Mission Work
Emergency Relief
Saving Planet Earth
Medical Care
Mission in the U.S.
Mission Archive
Resources
Ways to Support
Vocations
Magazines & Media
Short Term Mission Trips
Enciende tu Llamada Misionera
Essay Contest
Teacher Community
Working at Maryknoll
Maryknoll Fathers and Brothers will not sell, rent or exchange your data with other organizations.
The Maryknoll Fathers and Brothers (Catholic Foreign Mission Society of America, Inc.) is a tax exempt non-profit organization incorporated in the State of New York. Tax ID # 13-1740144.