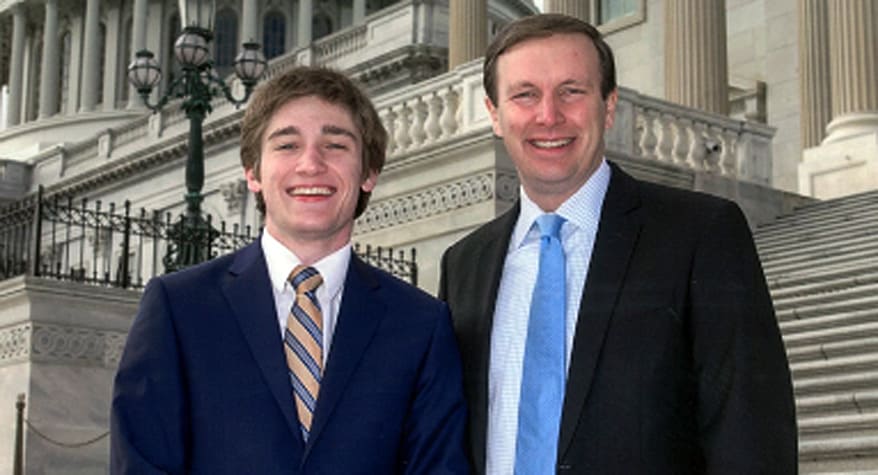 By Steve Coulter, Trumbull Times
Politics can be a lot more than banter, dissent, and gridlock; at its best, government can serve as a soundboard for people who want their voices to be heard — an outlet for individual frustration and a platform for reassurance.
That's what Trumbull resident Kyle Cannone learned interning at the Office of Economic and Community Development (ECD) in Town Hall this summer.
Cannone, who graduated from St. Joseph High School in 2011, graduated from the Catholic University of America in Washington, D.C., earlier this year. While he was at school, he completed separate internships for Sens. Chris Murphy of Connecticut and Patrick Leahy of Vermont.
He said that his experience coming back home opened his eyes to the good that can come from working in public service.
"In Washington, politics can be so divisive — everybody always on edge having to defend their party," he told The Times. "There's a lack of civility and decency that lends itself to people being disgruntled.
"Being back home in Trumbull this summer, I felt like I was more of a bridge between listening to people's problems and getting them the help they needed," he added.
One of the big projects Cannone worked on this summer with the ECD was helping the Trumbull Health Department become its own entity, which resulted in the closing of the Trumbull-Monroe Health District.
"I was involved in a lot of different things, but that was the biggest and the one where I got to see the most change effected over a short period of time — we went from having a joint system to an independent one over the span of my internship," he said. "I really just wanted to make myself as helpful as possible."
Public service
Cannone believes working in government means one should be an instrument of assistance — relieving the strain from everyday people who face everyday concerns.
He first got interested in politics around 2008 with the election of President Barack Obama.
"There was a lot of energy and excitement around that election, and I really started getting interested," he said. "I went to Washington, D.C., three years later to be closer to the nation's affairs."
Through his experience in the nation's capital, he learned his real passion wasn't purely politics; rather, it was serving the public.
Being back home in Trumbull helped cement that feeling.
"It was a lot more person to person, lots of direct contact, and I could see I was making a real difference," he said. "In D.C., it was a lot more talking on the phones and doing research on certain pieces of legislation."
He said the collegiate experience did open his eyes a lot.
"There are a lot of people who are frustrated out there who just want to be heard," he said. "The times we live in has left a lot of people concerned."
Resolution of those concerns was the biggest difference between home and the nation's capital, Cannone said.
"In Trumbull, people were a lot more interested in solving problems," he said. "It's really a model town that other neighboring communities and area should try to learn from and try to duplicate."
Heading down south
From politics to public service, Cannone knows he wants to make a positive difference in other people's lives.
That's why he's planning on taking the next year off before he enters law school.
"Hopefully things work out," he said. "I really want to try and stick to my plan — delve deeper into my faith and enter this spiritual journey that will help me live a positive life for years to come."
This week he embarks on a four-month Catholic mission trip to Bolivia.
He believes the landlocked country in central South America is the perfect springboard for his passion.
"It's a full immersion program where I'll be living with a Spanish-speaking family while I'm there and I'll be doing some Christian missionary work that includes teaching English to students and bonding with them through after-school programs…
"I'll teach them English as I learn to speak Spanish," he added. "I really just want to be a sponge and absorb as much as I can, and be a really good presence to their people."
The program is through Maryknoll Fathers and Brothers, a New York-based mission that sends people to South America and other impoverished parts of the world.
This trip will head to the village of Cochabamba.
Besides learning Spanish, Cannone says he plans to learn Bolivian history and get a better feel for the country's traditions.
"The more I can know about the country, the better the feel I will have for its people," he said.
He said his motivation for the trip came in part from growing up in Fairfield County, where he's communicated with South American natives his whole life.
"I've had nothing but great interactions with them — they're stand-up people," he said. "I look forward to learning more of their customs and traditions…
"It's something I wanted to do for a long time," he added. "I can't want to be full immersed living like a Bolivian, and learn from them and just be there living my life."