The recently published book, The American Catholic Almanac, is a daily reader about Catholic Americans who helped shape the history of the United States. Within its pages are brief stories about Buffalo Bill Cody, John F. Kennedy, Vince Lombardi and many others. Maryknoll, too, is included, represented by Bishop Francis X. Ford.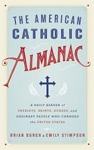 Authors Brian Burch and Emily Stimpson decided that a book about Catholic "patriots, saints, rogues, and ordinary people who changed the United States" was needed to begin re-telling the stories of the creation of Catholic schools and hospitals, charities and universities, and the role of Catholics in the founding of the country and the building of its towns and cities. The American Catholic Almanac includes powerful stories of the heroic witness of priests and lay people who, inspired by their Catholic faith, accomplished extraordinary things.
The authors explain Bishop Ford's path from modest beginnings in Brooklyn, New York, to that of the first seminarian in the Maryknoll Society, to his mission work in China and then to his death in prison at the hands of the Communists more than 60 years ago.
Today, Bishop Ford continues to be remembered and celebrated throughout the Archdiocese of New York and also in the Diocese of Brooklyn, where a cause for canonization was introduced several years ago.
Check out the exhibit "The Maryknoll Society's Causes For Beatification And Canonization" at the Maryknoll Museum of Living Mission at the Maryknoll Society Center in New York. The exhibit follows the path to sainthood of Bishop Ford, Maryknoll co-founders Bishop James A. Walsh and Thomas F. Price, and Vietnam Chaplain Father Vincent R. Capodanno.