We'll be rocking on Saturday, Sept. 24 at Maryknoll's

Classic Car Cruise & Drive-in Movie
The Maryknoll Fathers and Brothers property will be rocking on the evening of Saturday, Sept. 24, with classic cars and a movie under the stars.
Showcase of Classic Cars
The showcase of classic cars begins at 4pm.
Music and entertainment will be provided by Ossining's DJ Johnny G. The Ossining Police Dept., Ossining Fire Dept. and Ossining Village Ambulance Corps each will participate with displays and a showcase of vintage emergency vehicles.
FREE and Open to the Public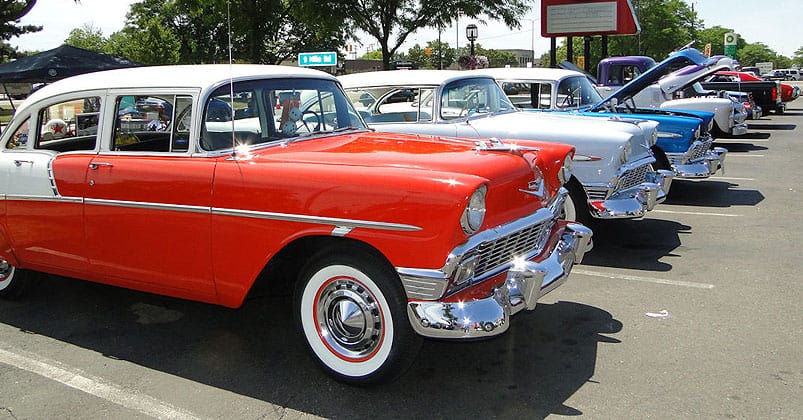 While enjoying the car cruise, all guests can tour our large stone Seminary Building situated prominently atop Sunset Hill and explore the exhibits at the Maryknoll Museum of Living Mission that depicts the 100+ years of mission work of the Maryknoll Fathers and Brothers in Africa, Asia, Latin America and the U.S.
'Drive-in' Movie Under the Stars
~ American Graffiti
After 7pm, the car cruise parking lot will be converted into a drive-in theater* as we prepare for a nighttime screening of the film classic American Graffiti.
With the support of FLIK Hospitality Group, Mel's Diner will be re-created to offer burgers, shakes, egg creams, popcorn, ice cream and other selections. Classic car owners can fill their orders via car-hop waitresses who will deliver the orders to your car!
And, rumor has it that a special appearance that recreates a few compelling scenes from American Graffiti is anticipated by a certain "mystery blond" in her 1956 T Bird.
* Parking for the drive-in is limited to first 120 classic cars – first come, first serve. There will be plenty of additional classic car parking on the grounds, and separate parking and limited movie seating will be available for guests who arrive in "contemporary" vehicles.  (Event's rain date is Sat., October 1.)