Bradley Hilltopics magazine is published quarterly for alumni, faculty, staff, parents of students, and friends of Bradley University. Founded by Lydia Moss Bradley in 1897, Bradley University is a private, independent university located in Peoria, Illinois. Father Bill Donnelly, a graduate of the class of 1955, used his Bradley degree in art to serve his Church in Guatemala, to provide art for Maryknoll filmstrips, and to illustrate novelettes based on the lives of prominent Catholics.
WILLIAM DONNELLY '55, the first of his family to graduate from college, had aspirations of becoming a commercial artist after taking courses in life drawing, design, and every Bradley art class available; however, his plan was delayed by the draft. While working at Ft. Crowder, an Army prison in southwest Missouri, he began thinking about becoming a Catholic priest.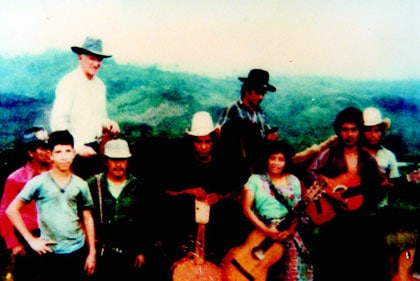 (Father BILL DONNELLY '55, top left, often traveled on horseback for hours over the mountainous trails of Guatemala to serve parishioners. This 1989 photo shows a group of musicians from one of the villages accompanying him on a five-day visit to other remote villages. They provided music for the Masses.)
"I said, 'What is wrong with this picture? I'm going to be a commercial artist and get married."
Once back in Peoria, Donnelly worked at a small advertising agency until he again felt the call to join the priesthood. He entered the seminary in Chicago at age 25, and seven years later, Father Donnelly was ordained a Maryknoll missionary priest and was sent to Guatemala, where he was assigned for more than 30 years.
"Guatemala is about the size of Ohio with close to 12 million people; about 70 percent are indigenous Mayans," Donnelly said.
Armed with one semester of high school Spanish and the Latin he learned in the seminary, Donnelly did not find the language barrier insurmountable. He often used his artistic talent to communicate and explain things more effectively; if anyone showed an interest, he offered drawing lessons. His sketches have illustrated the lives of Central Americans and have told the compelling history of the Maryknoll missionary life. Some of his drawings have been used worldwide in Maryknoll filmstrips.
He soon became fluent in Spanish and grew to know K'anjobal, the Mayan language, when he was sent as pastor to the K'anjobal region in northwestern Guatemala. He eventually translated everything, including the catechism, sacraments, and Mass, into K'anjobal because most Mayans didn't understand Spanish.
Much of the unrest in the poor and violent country, in Donnelly's opinion, was based on racism against the Mayans that began with the Spanish conquest of Guatemala in the 1500s.
"A revolution of sorts began in the early 1950s," said Donnelly. "The United States entered the conflict and helped establish a military government. This led to a civil war that lasted officially from 1960 until 1996, killing 200,000 people. At least 50,000 disappeared, and more than 1,000 of my parishioners were massacred."
As the sole priest serving 55 Mayan villages from 1982 to 1990, he'd travel to the villages all week, then back into Santa Cruz Barillas for weekend duties in the parish center.
"That was dangerous because at that same time, during the height of the country's more than 36-year civil war, 17 priests, a bishop, a nun and hundreds of lay church leaders, including Protestants, were killed," he said. "Since we were working with the poor, we were considered communists."
Serving the Mayans, sharing in their daily lives, often living on their simple meals of beans, tortillas, and coffee, gave Donnelly great satisfaction. The people appreciated the presence of an American priest who accompanied them in their struggle for peace and justice.
Back to the drawing board
When he returned from his initial assignment in Guatemala, Donnelly wrote and illustrated his first graphic novel or "comic book." Heroes and Heroines of Maryknoll, published in 1995, tells the stories of overseas Maryknoll missionaries and their fates. "I draw with magic markers and colored pencils," said Donnelly, who now serves as a Maryknoll mission educator and promoter in the Midwest. "It's kind of a challenge. Now, I buy comic books at the bookstore near our seminary in Chicago where I live. I see that they do everything by computer. Well, I can't do that; nor do I want to get away from freehand drawing. The novelettes take so much time, but I do them free for the Church whenever I'm available."
His second novelette is based on the life of Father Emil Kapaun, an Army chaplain who died in a North Korean POW camp; his third is Life is Worth Living: The Life of Archbishop Fulton J. Sheen; and his most recent publication features Father Augustus Tolton, the first black Catholic priest in America, who was born into slavery. He is working on the Life of Kateri Tekakwitha: The Lily of the Mohawks.
During his last six years in Guatemala, Donnelly served as the Maryknoll regional superior, and he continues to return every January to help coordinate pilgrimages to the martyrs' shrines in Guatemala and El Salvador. "Yes, I love the Guatemalan people; I bet I've baptized 20,000 Guatemalans by now," he said. "Every time I go back, things are still a little unsettled."
—Karen Crowley Metzinger, MA '97