Easter Blessings from Maryknoll
As we celebrate the resurrection of Jesus Christ, I want to take a moment to thank you for your prayers and generous support for our mission work.
May the resurrection of Christ give you hope and reassurance that God is with us through Jesus' love.
Yours in Christ,
Father Ray Finch
Superior General – Maryknoll Fathers and Brothers
Shalom:
When God Breaks Through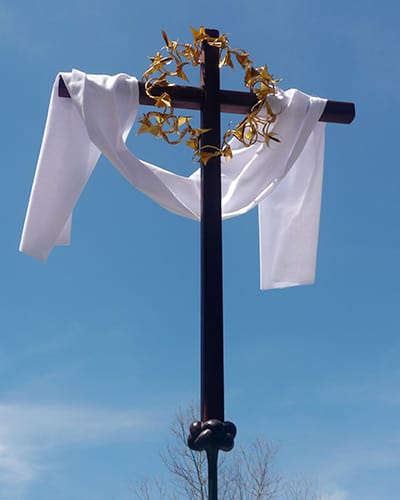 Shalom, he said and showed us
his hands, Shalom, his wounds, his side.
How did he get past our locked doors
more pressing than how he, once dead,
now stands in our midst alive? Shalom.
Risen though still wounded he appears
against all reason, logic, common sense
conferring on all with shattered hopes,
whose dreams go unfulfilled:
Shalom.
To those burdened, bowed and broken
through no fault of their own, or every,
comes an unexpected holy wholeness
wholly undeserved.
Peace, hello, health, goodbye,
completeness, in a word: Shalom.
In twenty: God knows us, loves us,
forgives us, heals us, wants us to be
like God totally alive
in love totally.
Shalom.
May the peace of Christ disturb you
like a grain of sand the oyster pearls.
From the smoldering ashes of a thousand what-ifs and as many might-have-beens comes this life-giving liberating word.
And we with hearts broken by regrets and disappointments, crushed, perhaps, beyond our ability to endure, extend our doubts to touch the one who cannot be, but is, and there and then find the answer to our deepest longing.
~ Father Joseph R. Veneroso, M.M.
God in Unexpected Places (Orbis Books 2007)