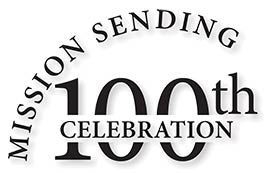 Celebrating 100 Years of
Sending Missioners Overseas
September 2018 marks the 
100th

 

Anniversary
 of Maryknoll's first mission-sending…
when four Maryknoll priests left for China and began a legacy of witness that now touches the world.
Fr. Thomas F. Price (Maryknoll co-founder), Fr. James E. Walsh, Fr. Francis X. Ford and Fr. Bernard F. Meyer departed for China on Sept. 7, 1918.
China has played a unique role in the history of Maryknoll — our first roots were planted in Chinese soil, and many of Maryknoll's cherished charisms and traditions were nurtured there.
The faith of these four priests would serve as inspiration for the thousands of men who followed them, partnering with local churches for the past 100 years to bring compassion, relief, and the message of God's love to the poor on the fringes of society.
In the past 100 years, we've made great strides…
100th Anniversary Festivities:
April 2 • Maryknoll, NY
Opening Mass
Sept. 7 • Maryknoll, NY
Plaque & Museum Dedication
Sept. 8-9 • Los Altos, CA
Benefactors' Appreciation Day
Oct. 13-14 • Maryknoll, NY
Benefactors' Appreciation Day
Jan. 31, 2019 • Maryknoll, NY
Closing Ceremony
Sorry, these celebrations are private and NOT open to the public.
Maryknoll Today – Answering the Call
Maryknollers now serve in more than 20 countries across Asia, Africa, Latin America and the United States, witnessing the Gospel and advocating on behalf of the poor, the suffering, and the marginalized.
Pope Francis challenges all Christians to respond to their baptismal call to be "Missionary Disciples." Consider answering this call with Maryknoll…
Maryknoll Highlights over the Years…
Fr. Price's first letter upon arrival in China…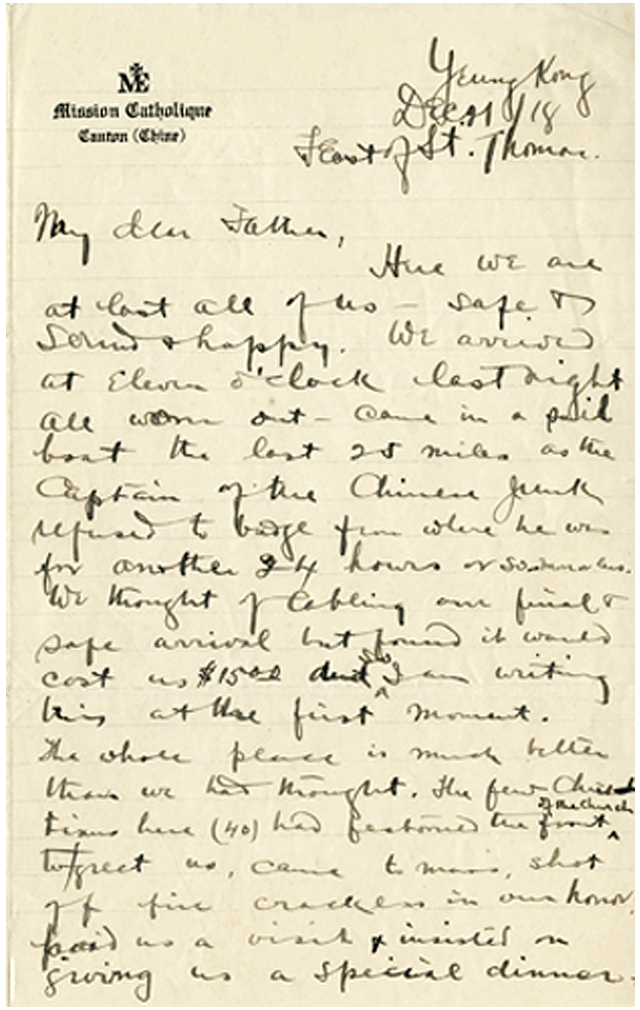 Yeoung Kong
Dec. 21, 1918
Feast of St. Thomas
My dear Father,
Here we are at last all of us—safe & sound & happy. We arrived at eleven o'clock last night all worn out—came in a sail boat the last 25 miles as the Captain of the Chinese junk refused to budge from where he was for another 24 hours or so—more or less. We thought of cabling our final and safe arrival but found it would cost us $15.00 and so I am writing this at the first moment. The whole place is much better than we had thought. The few Christians here (40) had festooned the front of the church to greet us, came to mass, shot off fire crackers in our honor, paid us a visit & insisted on giving us a special dinner.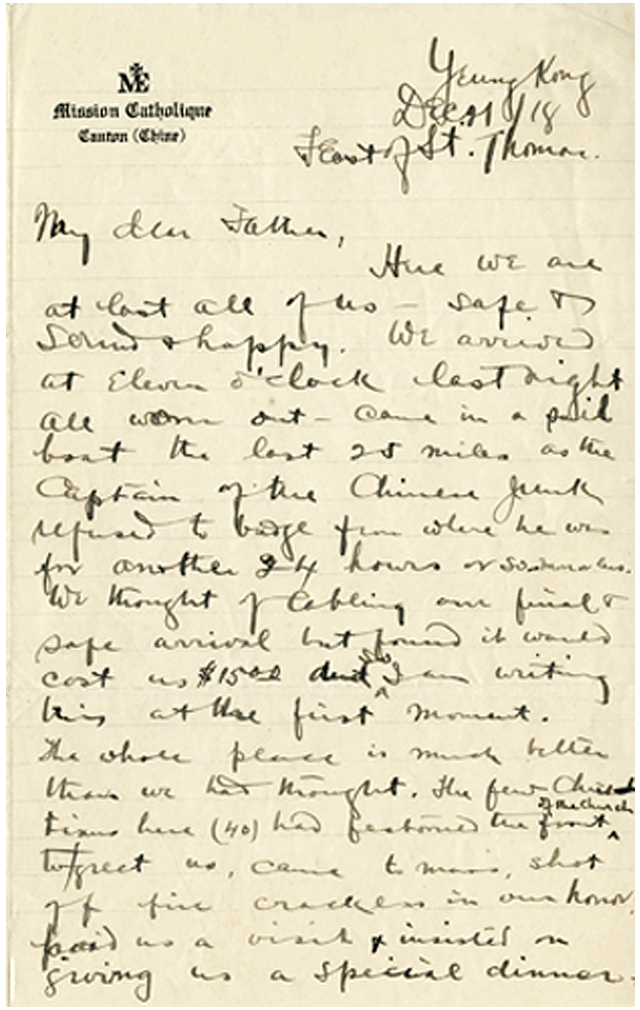 I will write more at length in a few days when we get settled. At present, we are all topsy turvey.
Love from all here to all at Maryknoll & the Venard.
In C.J.C.
Thos. F. Price
P.S. Fr. Gauthier is with us engineering all things. We left Bishop de Guẻbriant in Canton last Wednesday night. He walked with us to the gate of the cathedral grounds after giving us his blessing & good wishes in the house.