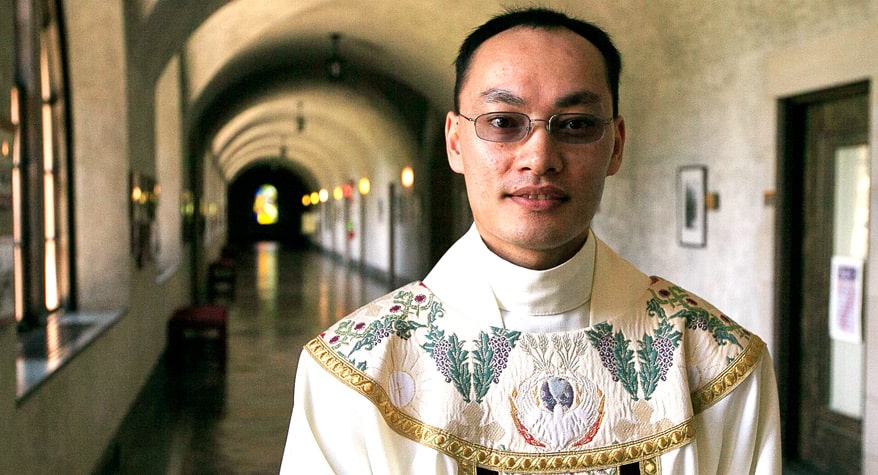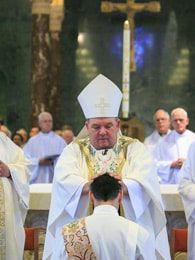 Father Lam Minh Hua, M.M., originally from Vietnam and now from Tacoma, Washington, is the newest Maryknoll Society priest. Father Hua, 28, was ordained into the Maryknoll Fathers and Brothers on Saturday, May 31, 2014 at the Maryknoll Society Mission Center in Ossining, New York.
The Mass of Ordination at Maryknoll's Queen of Apostles Chapel was celebrated by His Excellency Archbishop Bernard Anthony Hebda, coadjutor archbishop of the Archdiocese of Newark, New Jersey. Maryknoll Superior General Father Edward M. Dougherty was a concelebrant along with more than 50 priests from the Maryknoll Society and other religious groups.
Later that same day, Father Hua received his missionary crucifix at the Maryknoll Sending Ceremony that presents Maryknoll missioners to the world. After the summer, he will be assigned to serve in mission in the Africa region. Father Hua hopes to join three other Maryknoll priests who already serve in mission in South Sudan.
Father Hua celebrated his first Mass at Maryknoll's Queen of Apostles Chapel on Sunday, June 1. During June, he also celebrated Mass in English and Vietnamese in his home parish.
Learning About Maryknoll
Father Hua was born into a Catholic family in the hamlet of LaNang on the outskirts of the eastern coastal province of Da Nang in Vietnam. His parents were rice farmers. Years earlier, Father Hua's own father had been a seminarian. But, this path ended during Vietnam's war. The elder Hua served on the side of South Vietnam and became a prisoner of the north.
Upon receiving permission 21 years ago to emigrate to the U.S., the family, which included Father Hua's younger brother, Vien, arrived in the Archdiocese of Seattle and settled in Tacoma. As a teenager, Father Hua volunteered in his local parish and learned about the work of missionaries who came to the U.S. during the 1800s. Seeing a copy of Maryknoll magazine, he also learned about the Maryknoll Fathers and Brothers and its work in foreign mission.
"The stories in the magazine motivated me to learn more," said Father Hua. "As I learned more about Maryknoll, I also learned more about my own vocational calling. Since I went through the public school system all my life until college, I depended on weekly religious education and my church life to foster my faith, wherein I found strength through being an 'active' Christian."
While completing his studies at Saint Xavier University in Chicago, earning a degree in philosophy with minors in history and religion, Father Hua participated in retreats and visited a Maryknoll mission in Cambodia. He witnessed outreach to people with AIDS in a program managed by Father James Noonan, M.M.
Soon after, while completing a master of divinity degree with a concentration in world mission at the Catholic Theological Union in Chicago, Father Hua spent two years in Tanzania to learn Swahili. While there, he witnessed and participated in the mission work in Musoma of the late Father Ramon McCabe, M.M.
Building A Church
While in Tanzania, at a parish on the outskirts of Dar es Salaam, Father Hua was encouraged to venture out on his own by Father John Waldrep, M.M. Father Hua traveled to a village far from the regular parish. With his encouragement, the people cleared an overgrown plot of land in the middle of a field close to the village and then began bringing poles, tarps, sticks and wood to build their own church.
"Every Sunday, when I got there, I'd see they'd added more poles, more tarp. It was a really beautiful way to pray, out in the middle of nature. They were people of great faith. They came every week, bringing their own chairs and mats. The beauty of this experience is that because I said, 'OK, let's do it,' they were able to build that little outpost church. If I hadn't gone out there, they would have had no one to say 'yes.' That's all they were waiting for. They were all ready."
As the newest priest in the Maryknoll Society, Father Hua now is ready to begin his work in mission.
To learn more about Father Lam Minh Hua, please read the article "The Road to God" that appears in the May/June 2014 issue of Maryknoll magazine.