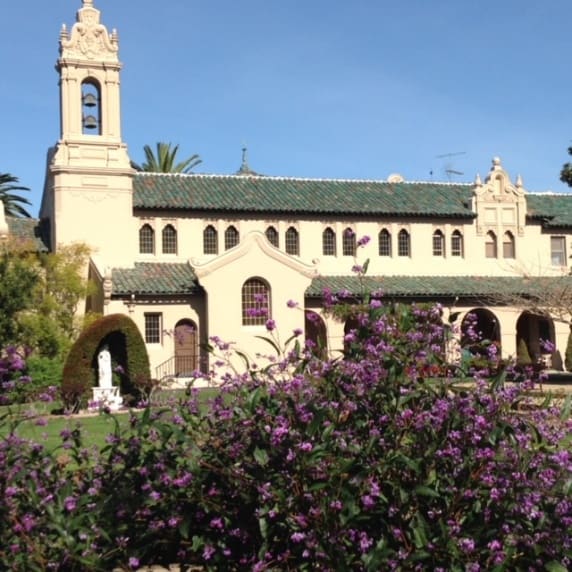 By the evening of April 30, 2023 all of the participants for the 2023 Spiritual Renewal Program had arrived safely at the Maryknoll Center in Los Altos, California. All gathered for the Happy Hour that filled the room with the Spiritual Renewal Program arrivals as well as the residents in Los Altos. Later, as we all entered the dining room there was a display set up that included a photo and CV of all of the participants in the program. It was a nice touch in welcoming all. This was followed by one of the many meals that we have enjoyed here provided by the efficient and attentive FLIK kitchen staff. Following the meal was a brief welcome by the two facilitators for the program, Wayne Fitzpatrick and Larry Lewis, making sure we knew the time and place for the first session that would begin the next day and to address any other inquiries.
The schedule called for us to meet the next three days for a morning and afternoon session. So, Monday morning began the first session that included a word of welcome from the Los Altos Staff as well as the opportunity for each Staff member to be properly introduced with their name and job title. This was very helpful especially for those coming here for the first time.
After the Staff's departure, Larry and Wayne highlighted the next phase of the program which was for all of the participants to take the time and to recall their vocational story and to share their missionary journey/experiences. For those not speaking it was a time of respectful listening as stories were told and journeys and experiences recalled that would have easily provided bountiful material for many an article or book.
There are 11 participants in the Spiritual Renewal Program that included: Leo Shea, Bob Lloyd, Kurt Anderson, Joe Thaler, James Kroeger, John Northrop, Vince Cole, Alex Walsh, Paul Duffy, Tom O'Brien, Dave LaBuda plus the Facilitators Wayne Fitzpatrick, and Larry Lewis. All of the above mentioned shared their vocational story. It is noted that 5 of the members came from New York, 2 from Massachusetts, 2 from Michigan, and 1 each from Kentucky, Wisconsin and California.
It is not the purpose of this summary report to give full details of these sessions that occurred from Monday May 1st to Wednesday May 3rd with morning and afternoon slots. But it will be worth noting the rich history of the group and stories that were filled with years of missionary service both in and outside of the US. Missionaries who served in Guatemala, Bangladesh, Venezuela, Mexico, Jamaica, Taiwan, Philippines, Nepal, China, Irian Jaya, Peru, and Bolivia.
For those mentioned above, ministry outside of the US included leadership positions in the various local and Regional Maryknoll Structures, parish ministry, teaching in schools and seminaries, human development projects, programs with refugees, Justice and Peace directors, Labor Health and Safety Services, support to the differently abled, responding to natural disasters, coordinators and directors of various programs, working with FABC, teachers (EAPI) and professors and spiritual directors, recording the culture and history and living traditions of indigenous people, church building, controllers and internal offices, and care for street children, and internally displaced.
Also, many of the members responded to the call of Society Service that included being a member of the General Council and the US Regional Council, Directors and/or members of the Vocations and Admissions Departments, serving in Senior Care and transitions, coordinator of the Society Capital Campaign, Chairman for the 100th Anniversary. Others served in the Formation Department/ on-going Formation, and on the Admissions Boards, while others gave service to the Office of Society Personnel, Superior/First Assistant of the Senior Missioner Community. Many Served in the Maryknoll Development Department over the years covering church dates in a variety of States, teacher at CTU and Coordinator of the Chinese Project. Some have published and written and even had filmed aspects of their mission work, while others have published articles and written books and made contributions to other publications.
This Touchdown/Vocation story part of the program was a very sacred time filled with awe and wonder and amazement as we listened to each other's story and learned so much more about our Maryknoll brothers. The common threads were there but also were the very unique and different experiences that shaped our Missionary life. It was also a special time to recall how many others walked and supported us along the way from our humble beginnings with our families to where we are now.
The next two days (May 4-5) was on Maryknoll Spirituality. The presenter was Larry Lewis.
Summary thoughts using key quotes:
It was so profound to just think and dwell on the thoughts and quotes that Larry presented to us. In some ways you need to sit in silence and meditate on each verse and sentence and paragraph in order to grasp the full meaning of what was being presented. But thankfully he shared with us his compilation of 45 pages of profound quotes and meditations and mystical words that will provide us with a lifetime of meditative material.
Larry used his engaging, challenging, humorous and storytelling approach for the next two days moving us to look deeply into ourselves and into how our vocation places us directly before God. Quoting from #64 (Iain Matthews-The impact of God-soundings from St. John of the Cross, pp. 152-153. "The most real thing he (John of the Cross) says about us is that we are created to need God – that we have an infinite capacity, for God …our incompleteness is our dignity, and when we feel it we are most truly ourselves. When we utter our appeal from there, we are being mature, being what we were meant to be.
Larry asked us to look at our Missionary Vocation as requiring radical dependency on God noting that God has a deep love for us. It is at the time that we find ourselves in our deepest woundedness and despair that opens us up to God. A cry from our incompleteness is a call to encounter God.
It is a call to know ourselves and our wounds and to live with it for this is where God encounters us with his love and compassion. God asks of us to be simply with Him in conflict and contradiction not outside of it.
Quoting the words of Francis X. Ford, MM "The hardest cross to bear in life is the thought that we are wasting time that we are useless, that the world is rushing along and we, apparently, have not yet found our feet." Followed later by the remedy, "the remedy for this self-centered condition is contemplation and service of God…we forget ourselves in satisfying God's needs."
Through these and other quotes and reflections Larry left us with the assurance that "no matter how fragile we feel, God is breathing within us now."
Maybe it is all summed up in the following quote in Larry's booklet, "That regardless of what the impossibility of the situation is, there is a moment when you open your mouth and you throw your arms and you embrace the thing and you just say, Hallelujah!"
Beginning week two of the Renewal Program Eleven Maryknoll Missioners and two Maryknoll coordinators along with six Maryknoll residents at Los Altos attended the lectures of Father John Cecero, S.J. and Father Garrett Galvin, OFM.
Father Cecero's topic was "Growing through Transition as Missioners: Finding God at the Crossroads." He distributed two fine papers, namely, "Transitions" by Richard Rohr's Daily Meditation and by Ron Rolheiser, OMI "Managing an Ascension." He also distributed reflection papers with these questions; "What are the significant global and cultural challenges that you are most concerned about, and how are you dealing with them?" Another question was "How can we foster ongoing conversion and reform within Maryknoll and in the Church?" A third questionnaire had three questions. The last one asked, "How do I want to respond to God's call to offer the complete gift of myself (kenosis)?" Some participants were able to share their responses during a session.
Cecero focused on institutional and personal transitions. His key foci were transitions in the Church and in Maryknoll: Pursuing Synodality as the Way Forward. Synodality was a focus throughout. We all need to dialogue, namely to listen to one another. How about Maryknoll Society? Cecero asked "What are we holding on to? What is non-negotiable?" Maryknoll is decreasing in membership with aging members. Are we dying out? He added that Maryknoll Society is a gift for the church.
Fr. Garrett Galvin, OFM shared two days of scripture. He focused on the Acts of the Apostles, Old Testament (Genesis) and Luke. In the Acts he discussed the three conversions of Paul or three calls by God. (Acts 9: 1-18; Acts 22: 6 -16; Acts 26: 12 – 18). Garrett explained that the Old Testament focused on sin and goodness and blessing. In Genesis, one chapter treats goodness and four chapters focus on sin. Anthropology in O.T. points out what is humanity. We are rooted in creation. Garrett spoke about covenant as opposed to contract. Covenant is rooted in love. Garrett touched on what is a prophet. Basically, a prophet is a visionary, a man of God. Prophets try to understand the status quo. Garrett concluded with Luke's gospel. Luke shares Jesus' fellowship as he traveled from town to village and ate often. Luke's gospel presents hospitality – eating meals with them. Church should be a welcoming church. In story of Emmaus hospitality finds joy in their lives they and we have the Advocate, the Holy Spirit to guide us.
Basically, both speakers were well prepared and well received by the Maryknollers. We received solid material to reflect upon as we deepen our spirituality in mission as elders in Maryknoll.
Entering week three the Sunday liturgy turned us toward Pentecost which in turn is the last Sunday before we finished. We were ½ way through our stay. The first presenter was Larry Le Noir. He is someone well familiar with Maryknollers. The basic goal as I understood it, was to be aware of the almost instantaneous reactions we can have in a given situation, often rooted in our family of origin, that take control unless we consciously pause and "tune in". They affect the "tone" we telegraph to others.
Two thoughts stay with me. The acceptance of whatever the opening statement one makes about themselves and starting with it were if it may be illogical negativity.
The second presenter was Heather King leading a theme on Prayer. It was her first time with Maryknollers. She quickly adapted and I, for one, got what she was inviting us to from her own lived experience. She conveyed to me a deep sense of the real-life issues out there. I find the expression "spiritual homelessness" to be a good challenge to being stuck in one's own beliefs, even rigid ones – is a freeing thought. She bespoke as a true miracle of grace, "smells of the sheep," and confirmed God at work in the Church.
The final days of the Spiritual Renewal threw us a curve ball with active COVID in the house. A number of participants and Los Altos residents were COVID positive. We were able to meet in the Keller Room following the precautions we have become accustomed to over the years. Due to the technology in the Keller Room we were able to bring men under quarantine into the conversation on Zoom from their rooms. Wayne Fitzpatrick shared two mornings on "Meeting God in Times of Change" – focusing on the Maryknoll Document – "Change vs. Transition as Missioners" as well as a document on 15 factors to consider in the Third-Age of Life. Change challenges our inner journey and personal journey as missioners.
A retreat day originally scheduled at the Jesuit Retreat House in Los Altos was cancelled due to COVID. The retreat day was held at the Los Altos Residence. On Monday, the last day of our Renewal Program an Integration process was facilitated by Larry and Wayne that invited us to reflect on where God is guiding us at this time in our lives.
Gratitude to the Society for making these programs available to Members – it was deeply appreciated. It is an unusual experience to step back for 4 weeks for a renewal of body, mind and spirit as missioners.
Submitted by Spiritual Renewal Participants
Our Lady of Maryknoll Pray for Us!