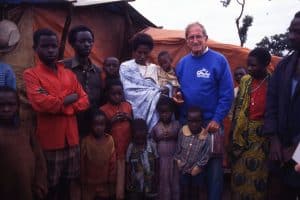 In 1995, I was serving people who flooded into improvised refugee camps in Tanzania after fleeing genocide in Rwanda. On Holy Saturday morning I decided to see how the new camp was coming along. The bulldozer had made a road into the woods for about two miles and I followed it until the end.
I parked my pick-up. Very soon I was surrounded by people. I told them I was a priest. A man came forward. He said he was a catechist in Burundi. He invited me to his shelter, a tent-like structure made of tree limbs covered with U.N. plastic sheeting, where he lived with his wife and two children. Then, for several hours, we visited neighbors in the same situation.
It was late and had begun to rain when I got back to my truck, so I decided to stay the night. I set up my Safari cot and sleeping bag in the back of the pick-up, which had a canvas cover. But there was no sleep. All night it rained. All night I heard babies crying and old men and women coughing. I couldn't imagine a more miserable night. I didn't sleep a wink. I felt so sorry for the poor people.
With dawn, the rain ended. It was Easter Sunday! The catechist returned. "Would you have Mass for us, Father?" he asked. "Of course!" I agreed.
Word had passed around that a priest would say Mass. People came from all sides of the woods. I don't know how many — maybe 5,000, 10,000. I don't know. It was the largest crowd I've ever had at a Mass.
The clouds were breaking up, and rays of the sun broke through the mist in the trees. It was quite a lovely day by the time I began Mass.
Before beginning, I stood on the unsteady bench they had made to say a few words.
"You are having a very difficult time right now! All last night I heard your children crying, the old men and women coughing. It is a difficult time. But, you know, Friday — the day before yesterday — it was Good Friday, the day they crucified Christ on the cross. From that we learn by offering our suffering to God, it is not for nothing. It will be the way to a new life. The ones we really have to feel sorry for are those who don't believe. Where can they go? For them, all the suffering is complete hopelessness.
Today is Easter! Today Jesus rose from the dead to a new life. No more suffering like you are going through now. Today is Easter! No matter how bad it seems, today we have to sing alleluia. We are alleluia people."
Suddenly, a man in the crowd began to sing an Easter song, a joyful melody, full of alleluias. It seemed that everyone knew the hymn. Soon the whole woods was filled with the glory of alleluia. A group of young girls came and danced before the altar; soon many other young girls joined them. The people clapped their hands, and the men broke sticks to beat in rhythm. They danced and sang.
I sat down on my bench in utter amazement as I watched this scene unfold, unprepared, unrehearsed, all a spontaneous praise to God. I felt so close to the people, to my parents and sister, long dead. I felt the whole Catholic Church was there. I was so grateful for our Church, for the Mass, the Eucharist. I was so grateful and humbled that I was a priest who could be there. Nothing else in life could come close to this. Who else but Christ could bring such joy to people in such miserable conditions? It was the greatest moment in my 67 years as a priest. Only in heaven could I imagine a greater joy.