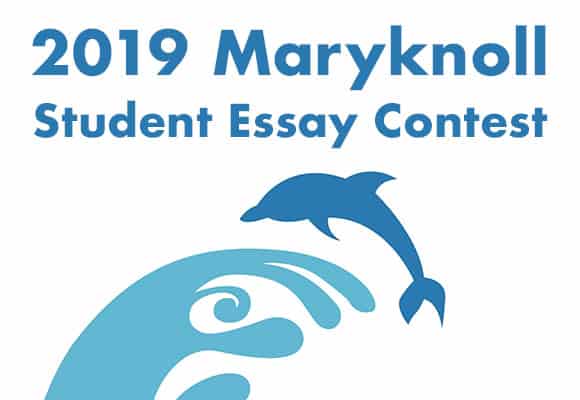 Pope Francis challenges young people in his letter Christ Alive, "Learn to swim against the tide, learn how to share Jesus and the faith he has given you."
We asked students to write an essay explaining how and with whom they share the Good News of God's love.
Students in grades 6–8 (Division I) and grades 9–12 (Division II) were eligible to enter Maryknoll's 2019 Student Essay Contest. See Official Rules.
2019 Essay Contest Winners in each Division will receive:
$1,000 for First Place
$300 for Second Place
$150 for Third Place
Thank you to all who participated in the contest. Watch out for the winners to be announced in May 2020!
Results of 2018 Essay Contest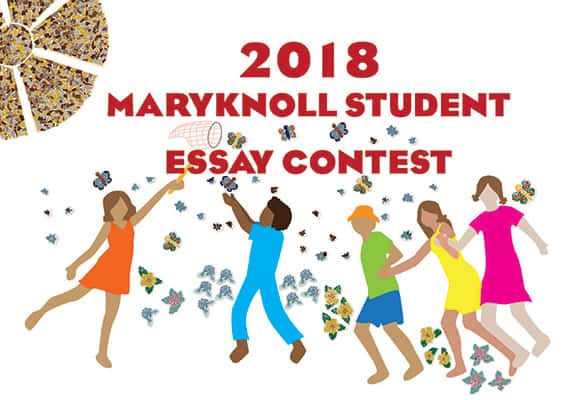 In his most recent letter, Rejoice and Be Glad, Pope Francis reminds us, "We are all called to be holy by living our lives with love. That does not require extraordinary deeds but everyday acts of kindness."
We asked students to tell a true story of when they saw someone sharing God's love through an act of kindness and how that inspired them to act in a similar way.
2018 Essay Contest Winners
The 2018 contest received 1,828 entries from students who competed in two divisions (grades 6 to 8 and grades 9 to 12) for nearly $3,000 in cash prizes:
$1,000 for each of the two first-place finalists
$300 for each of the two second-place finalists
$150 for third place
WINNERS – Division 1 (grades 6-8)
Harmony Jenkins, an eighth-grader at Holy Ghost Catholic School in Albuquerque, New Mexico, wins the $1,000 Bishop Francis X. Ford Award, named for the Maryknoll missioner who was in the first group of Maryknoll missioners to China and died in a prison there in 1952.
Below is her winning essay…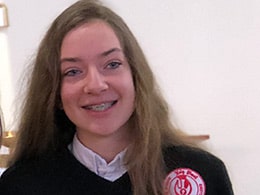 Love Never Ending and Eternal
I live in Albuquerque, New Mexico, a city with a reputation for being one of the worst in the United States, and there is some truth behind that. The education system is broken. Schools are consistently failing on standardized tests. The homeless population is steadily growing (a 9.7 percent increase in the last year), and substance abuse is also a huge problem, methadone being the most popular drug to misuse. However, there are people who have the courage to be a light to people who live in darkness. One of those lights is my mom, Laura Jenkins.
My mom works for a missionary organization called The Navigators. She directs a program called Juntos, which means "together" in Spanish. Through this program, she connects with youth in dangerous neighborhoods, giving them a place where they feel secure. Juntos teaches Jesus' love and kindness by example, producing godly leaders who can continue to witness for God in their neighborhoods by demonstrating His goodness.
Juntos is important because it provides an opportunity for God's unconditional love to be shown to people of all ages, races and social backgrounds. Juntos has changed the lives of many lonely children because it demonstrates to them that there is a place where they can feel loved and there is a reason for their existence.
When I think about my mom demonstrating an act of love by sacrificing her own comfort, a specific time comes to mind. At around 1 a.m., my mom came into my room and woke me up gently. My sister, half asleep, walked in behind her with a sleeping bag and a pillow. My mom told me that two of the kids she works with had to sleep in my sister's room because their mom was extremely drunk. They were not safe in their own home. I was irritated at the time because I had to share a room with my sister, and I did not understand why I had to give up my own comfort. However, I later realized that we were providing a secure environment. If these siblings had not stayed in our house for the night, they may have been hurt by their mom. I eventually understood that their safety was more important than my comfort.
My school, Holy Ghost Catholic School, encourages the students to participate in community service. One of my service projects involved volunteering at a nonprofit thrift store with other middle school students from East Central Ministries. When I arrived, I realized that I recognized nobody. This was extremely uncomfortable because everybody else was communicating in Spanish. I did not want to be there. They obviously did not think I understood what they were saying. Much to their surprise, I do understand Spanish and I can speak enough to carry on a conversation. When I finally mustered up the courage to respond to one of the kids in Spanish, I suddenly became included.
I definitely had to stop playing it safe to go and participate in an event where I knew nobody and had to sacrifice my comfort to converse in a different language. However, like my mom, I decided to continue to put my own comfort aside, and I kept going back to the thrift store. Now I am volunteering as a cashier for the duration of the semester. Because of my mom's example, I was able to sacrifice something to benefit others.
All things considered, my mom is a woman of God who does her best to bring joy and hope to the next generation of Albuquerque. Because of her sacrifice, I have become more grateful for everything in my life, recognizing that others are not as fortunate as I am.
I am also extremely blessed to have a godly father who will support and protect me. The fact that I have a home, a place where I feel safe and understood, is such a blessing, and it is something that I took for granted before. Because my mom demonstrated such incredible generosity to these kids that she loves so much, I have been inspired to put aside my comfort and use my blessings and gifts to help other people. I hope that, just as my mom has passed down this idea of sacrificing my comfort to help others to me, I can share this idea with my children and the younger generation.
Seth Gibbons, a seventh-grader at St. Joseph Religious Education in New Paltz, New York, wins the second-place prize of $300 in Division I of the Maryknoll Student Essay Contest.
Below is his winning essay…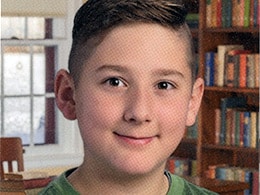 Love in Action
My story about someone sharing God's love begins when I was a baby. I was born with many heart defects and have had three open-heart surgeries. From the time I can remember, my mom would say the "Hail Mary" prayer, especially at bedtime. When I was in the hospital, going for tests or not feeling well, she would say the "Hail Mary" many, many times.
One day I asked her why that specific prayer was so important to her. She told me that just after my second open-heart surgery, when all seemed to be going well, my breathing and my heart stopped working. When the doctors were resuscitating me, my mom could only think and say the "Hail Mary" prayer. After I came back to life, Mom knew that God was not yet ready for me to be in heaven. Just as Mary looked after Jesus, she also looks after and protects me. God also gives the doctors a gift that saves lives.
Sometimes when I am sad to be different from other children, my mom tells me, "Seth, you are uniquely and wonderfully made, just the way God wanted you to be." It is from her kindness, caring and love that I feel strong.
I have seen my mom help and comfort other heart kids' parents. One day that I will never forget was when a woman was crying outside a hospital room. She seemed so sad. My mom stopped and started talking to the upset mother. Mom stayed, listened for a while and then hugged the stranger. Soon after, I noticed the woman's tears were gone and she seemed to be better. Kindness and compassion can make a difference.
When I was in the hospital for another open-heart surgery, I was scared about many things and my mom said the "Hail Mary" a lot. There were other children having surgery like me in the hospital. A boy kept crying, even though his family was trying to comfort him. It just came over me to try to cheer him, like my mom did.
When I have surgeries and I am afraid, I always hold my stuffed bear that has a Band-Aid over its heart. In my mind, I was thinking about Mom saying the "Hail Mary" and how much I am loved and protected. I know what it feels like to be scared and afraid in the hospital. Hugging the bear made me feel better, so I decided to share it with the boy and see if it made him feel better. I reached out to him and acted a little goofy to make him smile, then offered the bear. He stopped crying, laughed a little and hugged the bear. Giving away something that I held close, to comfort someone else, actually made me feel good inside. Since then, I try to help when a friend seems upset and encourage them to smile or talk about what is making them sad. When I am in the hospital, doctor's office, school or anywhere, you can catch me being goofy or trying to befriend someone like me.
This year, my mom gave me a real puppy to replace my bear. I named her Gracie, because she is like Mother Mary in spirit, always with me. Gracie is also goofy and makes many people smile, so we are a good team together. I feel that God's love is always with the animals and people around me.
Though I have a special heart and am not exactly the same as other kids my age, it does not stop me from trying to show kindness and caring to others. Saving children like the doctors do every day, sharing compassion like my mom does, and the love that my dog Gracie gives show me a sense of purpose. No matter what challenges I will have in the future, I know that God, Mother Mary (and my mom and doctors too) will continue to care, love and watch over me. Their kindness inspires me and will be kept in my heart always.
Ian Roskuszka, a seventh-grader at Annunciation BVM Catholic School in Aurora, Illinois, wins the third-place award of $150 in Division I of the Maryknoll Student Essay Contest.
Below is his winning essay…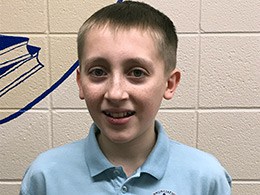 Remember to Love
Sometimes my grandpa does not know who I am. Sometimes he does not recognize my grandma despite being married to her for 50 years. My grandpa has Lewy body dementia. This disease affects his brain. My grandpa suffers from memory loss and hallucinations. He also has difficulty with walking and sleeping. On a good day, I can have a conversation with my grandpa and not even notice he is sick. On a bad day, my grandpa cannot do anything by himself. On good days and bad days, my grandma is always there showing God's love through acts of kindness.
My grandma always takes care of my grandpa. A few years ago, my grandpa had to stop driving and working. He could no longer be left alone. My grandma watches him and stays near him to keep him safe. She rarely gets any free time and does not get much sleep. Almost every night my grandpa wakes up in the middle of the night and is confused. My grandma stays awake until he can fall asleep again. In the morning, my grandma helps him get dressed and makes him breakfast. My grandma drives my grandpa everywhere he needs to go. This includes helping him get into the car and buckling his seatbelt.
I know it must be frustrating for my grandma to take care of my grandpa all the time. I know I get annoyed and frustrated sometimes when my parents or my sister ask me to do things for them. Whenever I see my grandma, she is always happy and glad to see me. She brings my grandpa to my sporting events and asks how I am doing. Although I thank my grandparents for coming, I don't always think to ask how they are doing or how I can help.
My grandpa has difficulty going up and down stairs. In my grandparents' old house, their bedroom was upstairs. My grandma made the decision to move into a new house where they could mainly live on the first floor. When I heard about this, I thought of how tough it would be for them to move houses because they lived there for 25 years, and my grandpa would not be able to help. I then thought of how my grandma helps my grandpa every day. This inspired me to want to help them move. I knew it was going to take many hours of hard work, but I still wanted to do it.
The moving process started with helping my grandma sort through what she was going to donate or throw away. I then helped bring a couple of carloads of stuff to the new house every few weeks. On days off from school, I would go to my grandparents' house to help my grandma clean out rooms. A couple of my cousins would also come to help, and we enjoyed spending time together while working. We had fun making assembly lines from upstairs all the way down to the garage. It was nice to be able to help my grandma since she is always helping my grandpa.
On Labor Day, I went over to their old house one last time with other family members. We rented a moving truck and were determined to finish the move that day. We cleaned out the rest of the house and loaded everything onto the truck. It took two trips to finish the move. By the time we were done, it was already 5 o'clock! Although I was exhausted, I felt good about the way I spent my vacation day. I was extremely glad that I could help my grandparents.
My grandma was very thankful for all the help she received. All the little things she does for my grandpa daily are true acts of love and kindness. What she does inspires me to do the same to be a better person. Even when my grandpa doesn't know who I am, I want my grandparents to know how much I love them. The best way I can do that is through my love in action.
WINNERS – Division 2 (grades 9-12)
Heidi Maier, a 12th-grader at Beachwood High School in Beachwood, Ohio, wins the $1,000 Bishop Patrick J. Byrne Award, named for the missioner who died on a forced march in Korea in 1950.
Below is her winning essay…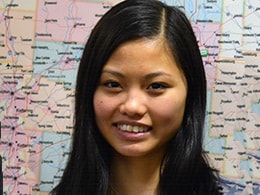 A Legacy of Love
There is nothing more sad and degrading, I think, than feeling so utterly alone in a room full of people. I experienced this loneliness when my family and I moved from Norway to the States, where I enrolled in a new school.
Along with not knowing the language very well, I did not know anyone. For the first couple of months I was friendless; this became even more apparent during school assemblies, where I would sit all alone. However, this is not a sad story, rather how someone brought happiness and God's light into my otherwise dark and lonely life.
It was during spirit week when I not only saw but was on the receiving end of someone's kindness. I was sitting alone on the bleachers praying I wouldn't start crying when a girl tapped me on my shoulder. I looked up, expecting the person to ask me to move so someone else could sit there, but to my surprise, I was met with a bright and inviting smile. The girl asked if I wanted to sit with her. A wave of relief and gratitude washed over me. As a shy girl at a new school, making friends is not the easiest thing to do, so to have someone offer a helping hand when you're walking alone is much appreciated.
Riding on this wave of happiness, I joined her and her friends and ever since that day I have not had to experience the hollow feeling of loneliness while in a crowded room. In the months following that assembly, we became close friends. She invited me to hang out with her friend group as well as encouraging me to get more involved in school and extracurriculars. The more time I spent with her, the more generosity I experienced and saw. She was the true definition of kindness as she was friendly and considerate of everyone.
Her compassion towards others inspired me to live a selfless life of kindness and compassion. She taught me that being nice to someone doesn't cost you anything, so why not be kind to everyone? Additionally, she inspired me to provide the kind of comfort and kindness to other people's lives as she did to mine.
When we tragically lost her in a car accident last year, she wasn't completely lost, as her kindness continued to blossom through the myriad of lives she influenced in her too short life. Of the countless people I have talked to, one characteristic that everyone mentioned was her kindness and ability to make everyone feel loved and respected. Her ability to share God's love with so many people is not only remarkable but inspiring as well. She made me be a better friend, classmate, teammate, daughter and sister. The way she treated others is what I strive for.
I knew from the start that she was a kindhearted person, but she was something out of the ordinary. She radiated kindness and shone God's light upon everyone she met. Her small gestures of kindness and compassion might not have changed the world. However, they changed a myriad of people's worlds; that in itself is just as powerful. More importantly, she inspired many others, including me, to carry on her legacy of compassion, generosity and of sharing God's love through kindness.
Julia Chomowicz, a 12-grader at Stonington High School in Pawcatuck, Connecticut, wins the second-place prize of $300 in Division II of the Maryknoll Student Essay Contest.
Below is her winning essay…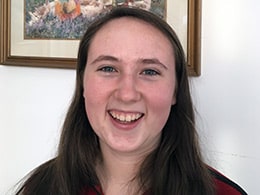 Bringing God's Message of Love
As I trudged up the cracked, dusty stairs, the only thought on my mind was lunch. I had spent the previous two days at refugee camps in Jordan, volunteering through Global Hope Network International, a local Christian aid organization. After spending the morning visiting refugees who had managed to find housing in Amman, I was hungry and my tired feet were ready for a break. When we reached the third landing, our group's leader, Rami, led us into a small, dimly lit apartment, cramped with sagging furniture and the clamor of birds chirping.
Through an open doorway, I could see stacks of birdcages lining the wall in the other room. Then my eyes landed on our host, and my distraction, hunger and weariness melted away. She cheerfully invited us to sit, and we spent the next hour listening as Rami translated her story.
Noor was not a Syrian or Palestinian refugee like most of the people we had met, but a native Jordanian who had lost her left foot and ankle to a landmine as a child. Now well into her 30s, she lived alone with her birds in a tiny third-floor apartment without any prosthetic, moving around only by placing her knee on the seat of a small wooden chair that she dragged along to support herself. My aching feet suddenly felt like a blessing, and as Rami led us in prayer with Noor, I silently thanked God for all of the abilities that He had given me, and for opening my eyes to the plight of others who were less fortunate.
Even after the many tragic stories that I had heard in the previous two days, Noor's still shocked me. She was a bright, animated and otherwise healthy Jordanian citizen, who simply had no access to health care. With the aid of even the most basic prosthetic, Noor could have lived a full, active life. Instead, she was confined to her apartment, trapped like one of her own pets with clipped wings. The church across the street had agreed to help her, but only if she was able to come to services every week, a feat that was nearly impossible for her from atop three flights of stairs. I was outraged that even a church could be so callous to Noor's plight, and I was determined to help her.
It is Noor and the many others like her who lack access to technologically advanced health care that inspire me to pursue a career in biomedical engineering (BME). I think now of how Pope Francis says, "The church cannot be 'mute' or 'tone deaf' when it comes to the defense and promotion of people with disabilities," and it encourages me to continue searching for ways to help those with disabilities, both in church and through my future career.
By the end of my week in Jordan, I knew that I wanted to do something to help people like Noor, but it wasn't until I discovered BME three years later, that I knew how. I felt that I had found a career perfect for me: a field in which I could creatively pursue my passion for science and, more importantly, my desire to help people and spread God's love even in the secular world. I challenged myself in school to make a career in engineering become more of a concrete possibility. Science classes reinforced my love of problem-solving through design, and in French I considered future possibilities of applying my language skills to assist people in developing francophone countries such as Senegal, Gabon or Côte d'Ivoire.
I'll never forget that morning in a dusty apartment in Amman when I first found my purpose. And I'll never give up on my dream to help people like Noor live a better life. The pope says, "Words and gestures of outreach and welcoming must never be missing from any church community, so that everyone, particularly those whose journey in life is not easy, can encounter the risen Lord and find in that community a source of hope and courage." I saw this in action through Rami and the others at Global Hope, who visited Noor and others like her who were unable to attend church, bringing Christian fellowship and the message of God's love into their homes. I hope to use my future career to welcome people with disabilities into the church and to help them to have a better quality of life in whatever ways I can.
Cameron Fisher, a 12th-grader at Jenks High School in Jenks, Oklahoma, wins the third-place award of $150 in Division II of the Maryknoll Student Essay Contest.
Below is her winning essay…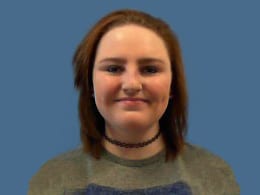 Pass It On
A few years ago, I was introduced to a way of sharing God's love I had never heard of before. When I was in middle school, I had difficulty when it came to making friends and dealing with the stress of school along with family complications. Oftentimes, I would sit alone outside during lunch and listen to music.
One day, I was approached by a smiling girl holding out a large, teal-colored book. When I accepted it, I saw that it was a worn-out Bible with bent corners, breaking spine and doodles on the cover. Before I managed to say anything, the stranger had already gone back into the cafeteria.
I was bewildered and unable to process what had just happened out of nowhere for a minute or so. However, when I opened it to the inside cover, someone had written in pen describing that it was a "sharing Bible," and that its purpose was to read it and make comments or jot down thoughts or leave comments for someone, and then pass it on to someone you believe could benefit from it.
When I flipped through the metallic silver-edged pages, I was amazed to find what was inside. There were passages highlighted, songs written in the margins, comments in blank spaces, circled and underlined verses, and sticky notes hanging off the edges—all comprised of multiple people's handwriting.
It was obvious that a lot of these notes were written with the closest writing tool available to the reader, as it varied between pencil, pen, highlighter, marker, sharpie and even crayon. "No wonder it's so worn out," I remember thinking to myself. People really had made use of it.
When I got home that day, I flipped through the sharing Bible again. Reading the comments, I realized that people were not only taking notes for themselves, but also to help the future readers comprehend the passage or learn what to gain from its meaning.
I decided to continue this chain. Because so many people had read and written in this Bible previously, there was hardly any room for me to write notes of my own. So, as I read, I highlighted verses in different-colored highlighters and made a key on the back inside cover. I assigned each color with a way that verse had helped me. Blue for depression, pink for relationships (friend or romantic), yellow for anxiety, green for guilt, red for anger and purple for faith. With this, I was not only able to keep a vivid memory and meaning behind each passage and how it helped me through that specific challenge in life, but I believe it could help someone in the future. I brought this Bible to school with me every day in case I needed a reference or wanted to read in between classes.
A few weeks after receiving the sharing Bible, I found who would be its next owner. I was at a Trojans for Christ meeting, a group of middle school students that would meet before school on Fridays to worship and pray together, and I noticed a girl in the same grade as me. She seemed like your average happy middle schooler, bouncing around from the doughnuts we got at the meeting and laughing with her friends. However, something told me she needed help with something. Without hesitation, I got the Bible out of my bag and handed it to her. She looked just as confused as I had been and said, "This isn't mine." I prompted her to accept it and said, "Pass it on." I never learned what it was she needed help with or why I felt I needed to give it to her, but the following week she recognized me and hugged me with tears in her eyes. "Thank you."
Results of 2017 Essay Contest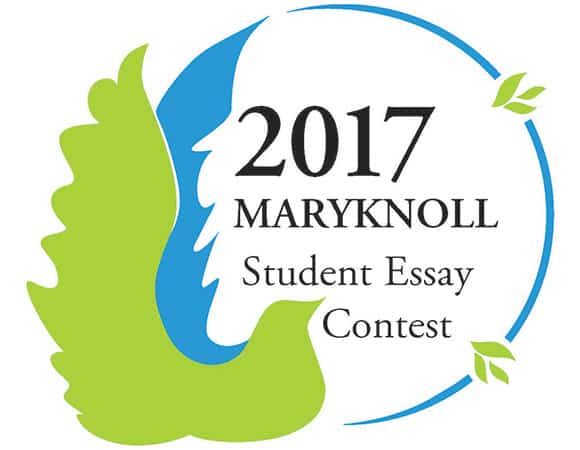 Entries received for our 2017 "Recognizing Violence And Promoting Peace" Essay Contest were judged by a panel of more than 50 Maryknoll missioners, all of whom were excited to see that today's youth are very aware of violence in the world and in their immediate surroundings and are thinking of ways to make a change.
"The students had no problem identifying violence, which unfortunately has become 'normal.' We all need to see that violence starts in what we think. We have to change attitudes that lead to violence. Just as violence grows, love grows." ~ Maryknoll Brother Larry Kenning
Recognizing Violence and Promoting Peace
In a world where violence is all around us—in the news, schools, communities, entertainment, etc.—Pope Francis calls us "to take a clear stand for creative and active nonviolence and against all forms of violence."
We asked students to cite examples of violence and tell what actions they are taking or could take to promote peace.
2017 Essay Contest Winners
The 2017 contest received 4,773 entries from students who competed in two divisions (grades 6 to 8 and grades 9 to 12) for nearly $3,000 in cash prizes:
$1,000 for each of the two first-place finalists
$300 for each of the two second-place finalists
$150 for third place
WINNERS – Division 1 (grades 6-8)
Riva Maendel, an eighth-grader at Foxhill School (Bruderhof community), Walden, New York, wins the $1,000 Bishop Francis X. Ford Award, named for the Maryknoll missioner who was in the first group of Maryknoll missioners to China and died in a prison there in 1952.
Below is her winning essay…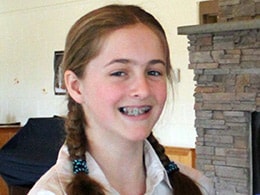 It Starts With Us
With all the strength in my arm, I furiously slammed the door. On the other side, my sister was almost as mad as I was. In my opinion, she deserved getting hurt. Looking back, I am embarrassed that all this anger was about washing dishes, but that's how walls of hatred are built—one small brick at a time. Later, as I lay on my bed, I regretted my actions and thought about steps I could take to promote peace.
The pope gives me a good direction: he tells us to take a clear stand for creative and active nonviolence. I like that word, creative. Thinking back to my conflict with my sister, I realize that taking a nonviolent stand would have made me so much happier. If I had offered to do the dishes for her, I would be promoting peace!
Our world is full of violence. There are people dying from drug overdoses, shootings, gang-related issues and war. I can't even begin to take a stand on these bigger issues if I fight my sister. So, my first small step is to apologize, and I realize what an amazing power two small words, "I'm sorry," can have.
Almost everyone in the world wants peace, but we don't know how to find it. One way to bring peace is by praying. We need to pray every day for peace—in our hearts, in our families, in our schools, communities, churches and the entire world. I think of all the Christians in the Middle Eastern countries who are dying for their faith. These Christians risk their lives to bring the message of peace and nonviolence to those in the Middle East. I also worry about the nuclear standoff that we have with North Korea. I pray that our country will find a peaceful solution to this issue. Another thing that bothers me is the escalation of shootings in our country. We need to pray for all those mourning the loss of loved ones. They are in desperate need of peace.
Before we can achieve peace on an international level, we must work toward attaining peace in our daily relationships with those closest to us. I will probably never get a chance to put my life on the line like the Christians in the Middle East. I pray that my school never experiences a school shooting, but nonetheless, I can take a stand for peace and nonviolence every day. I can show my convictions in the small things I do each day. Respecting my parents is promoting peace. Helping out with chores in my house and avoiding conflict with my sister are definite ways to promote peace. At school, the way I interact with my peers will influence the younger students in our school. I can also show interest and support the local organizations in my community that work for peace: our local police officers, AA and other organizations that work towards bringing peace to those who are trapped in a cycle of violence. Even though our efforts might seem small and insignificant, we are actively working for peace.
As we strive for peace, we must remember how important forgiveness is. When we forgive, we can learn to trust. Every little block of peace will help build the foundation for future generations.
Ariana Avalos, an eighth-grader at St. Raymond Catholic School, Dublin, California, wins the second-place prize of $300 in Division I of the Maryknoll Student Essay Contest.
Below is her winning essay…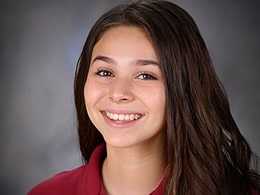 Joining Together to Promote Peace
I was born to an immigrant father and first-generation Mexican-American mother. I lived in a neighborhood that was OK until my house got robbed and my parents decided to move.
Since then, I was raised in a small town where no major violence was committed. I had no idea what it was like to lose a sister, a brother, a mom, or dad, or best friend to a shooting. But my dad knew. At just 17 he'd lost his cousin to a drive by shooting. He'd been around violence like this. He knew what it was like to be surrounded by gangs and shootings and innocent people being killed, and it could start simply from a good person going down the wrong path and getting lost in the madness.
My dad started a foundation to help overachieving kids from low-income families be able to go to University of California universities. Ever since I was 11 years old, I would help choose the kids we would give a scholarship to. I would read over their applications and choose 11 out of the 30 that apply, and in their applications they would have to write an essay about their life. It's crazy to see what people have gone through, all of the violence that has affected them. I read one essay where this guy's best friend was shot and killed right in front of him at the age of 15. There was another essay about when this person's dad was innocently murdered by a police officer who had pulled him over just to "question" him. But out of all of these that I have read, one has stuck with me since the day I first read it.
This essay was from a person whose mom ran away when she was 13, pregnant. She ran away to live with her 18-year-old boyfriend, and together they were going to raise her child. Before her baby had even turned 2 years old, the father had been shot and killed, all due to gang violence. Because of violence, this person had been left fatherless, with only their 14-year-old mother to care for them.
These essays have changed my life. I have a different perspective on the world and on life. I also see violence differently. It doesn't only affect one person; it affects everyone around them, everyone in their community, everyone that this person has ever met. With every essay, my voice grows stronger, my thoughts grow more diverse, and my heart breaks more and more for the people affected by violence. These essays show me that violence is more than just a fired bullet, it's more than just a punch thrown at a loved one, it's more than the scars and scratches. Violence impacts our community, our families, our lives, us. Violence is destroying us.
Violence goes on in our lives and we do nothing. Every day people are being killed due to violence. Every day there is innocent blood being shed. People are being left fatherless and people are being left heartbroken. But most importantly, people are being turned into violent monsters, killing and hurting and abusing others. We need to help stop people from even turning to violence in the first place.
People starting foundations to help low-income kids get a good education help kids get off the streets and into school. I believe that helping kids stay in school and have goals in life would lower violence on the streets. Maybe even just a smile or a "good morning" could show someone that there is good in the world and that there is no need for violence. That's what I do. I try to make the simplest gesture count. I promote peace by showing others how to be kind, by not fighting with my parents, and by spreading nothing but positivity throughout my community.
There are so many things we could do, like joining together to promote peace through rallies and bringing each other up by helping the less fortunate. I truly think that, in fact, the most important thing about all of this is that we need to come together as a family, everybody, different and alike, standing as one to stop the innocent bloodshed that goes on in our daily lives.
Emma Lavallee, an eighth-grader at Our Lady of Good Counsel Catholic School, Vienna, Virginia, wins the third-place award of $150 in Division I of the Maryknoll Student Essay Contest.
Below is her winning essay…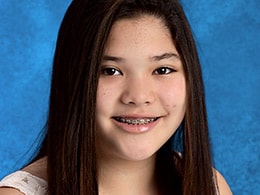 Love Has No Color
"Tell the judge I love my wife." It's a very simple statement, but that is what Richard Loving told his lawyer he should say to the chief justice of the Supreme Court in 1967 in his defense for marrying a black woman and breaking a Virginia law that made interracial marriage a crime. I recently watched the movie Loving, and I could not believe that only 50 years ago my parents would have been breaking the law in Virginia and 16 other states just for being married. Watching this movie and then seeing the recent white supremacist rally and violence in Charlottesville helped me to understand the role racism has played in American history, the violence it has caused, and how much more needs to be done for people to understand each other and to live in peace.
The movie was extremely powerful because it explained how deep racism was just a short time ago in my home state of Virginia. When the state of Virginia ruled against the Lovings, the court gave the reason: "Almighty God created the races white, black, yellow, Malay and red, and He placed them on separate continents. And but for the interference with His arrangement, there would be no cause for such marriages. The fact that He separated races shows that He did not intend the races to mix."
The God I believe in cares for all people equally, and He does not see them differently because of the color of their skin. I think it is terrible that the court used God to justify such a hateful law. Rightfully, the Supreme Court in a landmark 1967 ruling decided against the Virginia judge, saying that his ruling was unconstitutional. The Supreme Court decision forced states to end anti-miscegenation laws that were in place to protect white supremacy, and it allowed people to marry whomever they loved.
Where I live in Virginia, I still sense racist attitudes, and I see in the news that it is still very much alive in other places as well. In August of this year, white supremacists gathered in Charlottesville to build support for their belief that races should still be separated in this country. It appalled me when I saw this. People are human beings no matter the color of their skin. To believe that one race is superior is awful, cruel and against the teachings of our Catholic faith.
Since I am of mixed race, this affected me deeply, for I realized that some people might hate me and not give the same opportunities to me, just because I'm half Asian. This is extremely unfair and wrong.
Babies are not born with prejudice; hate is something they are taught from the environment around them. There are many factors that determine the way we think and feel, but in the end, to stop violence and to create peace, it is all about having love conquer hate. Mother Teresa taught people to love through her actions, and one of her sayings was pure and simple: "Peace begins with a smile." It is such a simple statement but also so clear. The only way we can learn to love and end the prejudice we have learned is to approach people with an open heart and a smile regardless of color, creed or ethnicity.
Pope Francis asks us to take a stand against all forms of violence, and I am determined to do what I can to end racism and the violence that it creates. To end racism, we must confront it in ourselves, in our communities and in our nation. I will work to bring people of different races together so they can see how much we have in common rather than fear what is different. I will support anti-racist activities in my community and participate in campaigns that stand up against racial bias.
There is hate in the minds of some, but there is also love in the hearts of many. I'm proud to be part of a society that does not allow this hate to go unchallenged. Watching Loving helped me to see that we've come a long way in a short period of time in changing people's hearts and minds about race, but seeing the horrible things that happened in Charlottesville made me realize we still have a long way to go before racism is defeated and we all stand together as one.
WINNERS – Division 2 (grades 9-12)
Tasnim Islam, a twelfth-grader at Lake Travis High School, Austin, Texas, wins the $1,000 Bishop Patrick J. Byrne Award, named for the missioner who died on a forced march in Korea in 1950.
Below is her winning essay…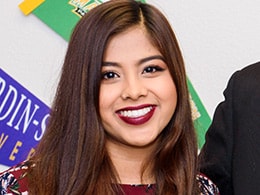 Voice Against Violence
In the autumn of 2016, I stood on the dirt where not only the Islamic Center of Lake Travis, my hometown, began construction, but where my vision of the community was coming true. As my family spoke to the founders, I could imagine the countless celebrations, connections and prayers that would take place in my town. Lake Travis was finally receiving an Islamic place of worship. However, my optimism lasted only until this January, when the building horrifically burned down, along with all hope.
This may have been just another fire to many, but to me, it was a reminder of the hundreds of dreadful hate crimes that have occurred and the importance of embracing Islam instead of fearing it. The wooden skeleton of the Islamic Center may just remain as ashes now, but its spirit has only become stronger. While hearing this news alone strikes terror, it's when the tragedies affect your life personally that they become truly staggering.
"We have to do it. We have to change our name," my own mother demanded, frantically running upstairs. Sinking into the couch, she cried silently as the news showed the Islamic Center of Lake Travis bursting into flames. I stared at my mom, and we both knew that it was not an accident. After I had lived seventeen years with my last name—Islam—my mom sat me down and pleaded, "Imagine how much easier your life would be if your name wasn't automatically associated with terrorism." And that's when the arguing began. I always fought with my mom about doing laundry or cleaning dishes, but I never imagined fighting for my own name. These gruesome events have brought fear into our hearts, but I aimed to rise above it. I channeled my outrage by supporting and fighting for Muslims who are without a voice, but before I could, I had to understand how to raise awareness.
I have felt isolated by my own religion for as long as I can remember, and I knew from middle school that it was not easy to make friends. "Why is Islam your last name? Is your dad a terrorist?" were among the frequent questions I received about myself. I tried to find other ways to prove my capability, so I joined the Government Club and ran for office so that I could reshape my peers' perspectives. As I finally began to find my voice, we moved to California. I had support from the Muslim Student Association, but after six months, I moved back to Texas, where I felt isolated again. I realized I had to work twice as hard to get people to look past my exterior and my name. I joined a committee for International Outreach, where I created and sold wristbands to go towards refugee relief. For months, I would spend every lunch convincing even the most reluctant students to participate, increasing mindfulness for Muslims.
All of those funds went to the innocent refugees in Austin who came here looking for hope, only to be faced with more oppression, and I made sure my classmates were aware of the Islamophobia. After years of raising awareness, I finally had the potential to make a prominent change. I achieved what I wanted since the moment I realized my community was not as friendly to me as it was to others. But during that time, not only did Lake Travis High School elect me as a Muslim student body president, but the community itself was adhering to this level of acceptance.
Although the Islamic Center burned to the ground, the overwhelming amount of aid was incomprehensible; there were volunteers from all over helping rebuild and fundraise for the mosque. This was only the beginning for me; this newfound mutual respect between my community and myself led me to finally convince my mom not to change my name. I am Tasnim Islam. Islam is a part of who I am, and I refuse to alter my identity just because of people's ignorance and intolerance of Islamic people. Instead, I will educate myself and others and, in turn, break the immense negative stigma on Muslims. I will forever continue to strive for peace and acceptance by raising awareness, using social media as a platform, and bringing attention to politicians who directly want to alleviate Islamophobia. I would like to unite all Americans and continue using the opportunities I've earned to build a world where my loving mom and other underrepresented souls can live without fear of persecution.
Rose Benas, an eleventh-grader at Saint Ignatius College Prep, Chicago, Illinois, wins the second-place prize of $300 in Division II of the Maryknoll Student Essay Contest.
Below is her winning essay…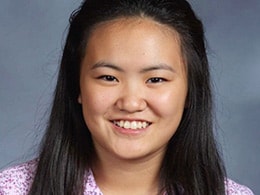 World Religions Build Bridges of Peace
A pickup truck rattled down a path, gravel shooting into the trees amidst panicked screams on October 31, 2017. Just north of the World Trade Center Memorial in Lower Manhattan, New York, a terrorist used a truck to deliberately plow down and run over bicyclists and pedestrians, turning the peaceful walkway into one of terror and bloodshed. When the motorist eventually crashed into a school bus, he jumped out of his truck and ran along the highway waving a pellet gun and paintball gun while shouting, "Allah is great!" in Arabic. This terrorist, claiming to be Muslim, directly contradicts the true Islamic belief in a loving God by committing manslaughter. I have met true followers of Allah who reach out to the homeless by making lunches and personally handing them out on the streets of Chicago while saying, "Allah is love," "Allah is peace," "Allah is goodness." I have seen their incredible generosity and spirit of unity when I began bringing donations of bagels to their mosque.
I am currently a junior at a high school in Chicago, and I take the train and bus to school. Since freshman year, I have gazed into the eyes of countless homeless people begging for money on the streets. I have brushed off those who have so little and quickly looked away from their desperate hands. One day last year I wondered: what happens to the leftover bagels at Einstein Bagels since they are baked fresh every day? I soon found out that they donate them. It only takes a simple call to reserve a number of bagels at the end of the day, and then a quick drive to pick them up.
Since I had just gotten my permit and loved to drive, I began delivering the leftover bagels to various PADS emergency shelter programs and the mosque. At a Jewish synagogue, a man cooks elaborate dishes every Friday and Saturday for the guests who come to the Sunday PADS program. When I would make my bagel delivery, there were long lines stretching outside the synagogue, waiting for these dishes that resembled the quality of a restaurant. The main chef at this synagogue told me a story about a teen who was preparing for his Bar Mitzvah. In order to get service hours, he hosted a movie night at the synagogue and made popcorn, which he sold to all those who came. With the money the teen made from the movie nights, he bought first aid supplies, assembled a kit for each guest and personally handed them out at the PADS program.
Once when I delivered bagels to a Catholic Church, people were decorating a huge Christmas tree for the guests to enjoy and had a surprise for each one: a gift card to a shoe store, so that each person could buy a new pair. During a bagel run to a Methodist Church, I saw a whole family working together to serve the homeless: a husband and wife prepared the meal while their children laid down the mats for the PADS program. On my bagel delivery to the mosque, I learned of a program called "The Daughters of Abraham," which is a book club for Jewish, Muslim and Christian women where they read various novels that help them learn about each other's faiths.
In our modern day society, terrorism stems from so-called "religious" differences. However, all religions strive to serve a loving God and share the identical values of love, generosity and respect. Being Catholic myself, I have learned that truly embodying the Eucharist means feeding the hungry, both physically and spiritually. Similarly, all religions share this great love and call to service. Through these bagel deliveries, I witnessed firsthand the various faiths working together for a common good, and the tremendous impact they have made upon overcoming poverty in the Chicago area. Instead of creating barriers that lead to conflict and war, these world religions can work together to build bridges of peace and unity in our current turbulent society.
Asher Newman, a twelfth-grader at Mercer County Technical School-Health Science Academy, Trenton, New Jersey, wins the third-place award of $150 in Division II of the Maryknoll Student Essay Contest.
Below is his winning essay…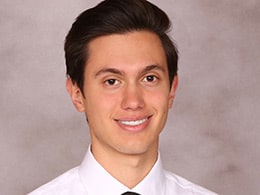 Teens Have Power to Promote Peace
"Hate cannot drive out hate: only love can do that." –Martin Luther King Jr.
There have been three major violent attacks in the United States in the past six weeks. A shooter in Las Vegas killed 58 people and injured 546 others attending a music festival. In another attack, in New York City, a man murdered eight people and injured 12 using a rented truck from Home Depot to plow into them. Last Sunday, a man killed 26 and injured 20 people attending Sunday services at a church in a small town in Texas. As humans sharing the world, it is hard to believe how commonplace violence is, whether in the form of a "lone shooter" or as an "act of terrorism." Instead of feeling the shock and horror we should, we have almost become numb in reaction to these outrageous and revolting events.
As a 17-year-old, I have never known a time in America where there wasn't violence. I was just 1 year old when the 9/11 attacks happened. I have lived through many acts of violence, such as the Sandy Hook Elementary School shootings in 2012. That same year, Trayvon Martin, a 17-year-old African- American from Florida, was fatally shot, ironically, by a neighborhood watch volunteer. Whether it's a mass attack, mass shooting or the killing of one person, the action is violence and the result is the same—death. And we are left asking ourselves, "Why?" What can we do about it?
As teens, we don't have to feel powerless. There are things we can do. One thing we can do is to raise awareness about religion and racism. Interfaith programs at our churches, synagogues, mosques and temples can help promote goodwill and understanding through diversity. By seeing that we share faith in a higher power and working together for the greater good, we promote understanding. Programs like Harvard University's The Pluralism Project runs the Interfaith Youth Leadership Coalition in the St. Paul, Minn., area, where "teens work together to nurture interfaith understanding, reduce prejudice and misunderstanding, and act together on common values through service and justice to transform their worlds. In the process, these young people are empowered to be capable interfaith leaders, both within their own communities and beyond." This program includes many community-based events like a gardening service as well as leadership workshops for the teens. Having more programs like this one, throughout the United States and the world, will help cultivate more understanding leadership and promote greater understanding among different religions.
Teens can also raise awareness of gun violence. Events such as Seattle, Washington's "Teens Against Guns Youth Summit," hosted by the Atlantic Street Center, are a way to bring teens together to actively support the anti-gun movement at a grassroots level. Programs like these can help empower teens to help them realize they can be proactive in ending the cycle of violence.
Another way teens can use their voice to denounce violence and terror is through social media. When she was challenged by another student to prove there were Muslims who condemned violence in the name of Islam, Heraa Hashmi, a 19-year-old college student at the University of Colorado Boulder, decided to make a list of all the Muslim groups that did. According to a November 2016 Teen Vogue article, " The result was Worldwide Muslims Condemn List — a spreadsheet with 5,720 instances of Muslim groups and leaders denouncing various acts of terrorism." Her Twitter account generated 12,000 re-tweets and the list has been made into an interactive website called www.muslimscondemn.com. Her idea led to a resource for anyone to access the information.
Whether coming together in an interfaith group, rallying at an anti-gun youth summit or using social media to create awareness against violence, teens have a voice. Gun violence and terror attacks need to end in my generation. Maybe Mr. Rogers (Fred Rogers), said it best: "When I was a boy and I would see scary things in the news, my mother would say to me, 'Look for the helpers. You will always find people who are helping.' " We, as teens, need to be those helpers.
Results of 2016 Essay Contest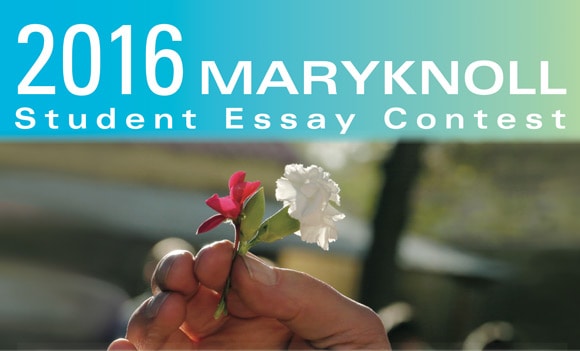 Entries received for our 2016 "Caring for Our Common Home" Essay Contest were judged by a panel of more than 50 Maryknoll missioners, all of whom were elated to read the essays that conveyed thousands of examples of people caring for the earth.
2016 Essay Contest Winners
The 2016 contest received 7,261 entries from students who competed in two divisions (grades 6 to 8 and grades 9 to 12) for nearly $3,000 in cash prizes:
$1,000 for each of the two first-place finalists
$300 for each of the two second-place finalists
$150 for third place
Caring for Our Common Home
In Laudato Si', Pope Francis says…
"The earth cries out to us because of the harm we have inflicted on her by our irresponsible use and abuse of the goods with which God has endowed her."
Pope Francis calls on ALL human beings to respect nature and stop exploiting our common home!
We asked students to explain the importance of heeding the pope's call and to provide at least two examples of students, or others, engaged in activities that respect the earth.
"Every year, it is a delight to read the essays submitted to the Maryknoll Student Essay Contest," said Father Emile Dumas, M.M. "This year was no exception. The essays are a good way to connect with the young folks. They renew my hope in the future of the Catholic Church in the U.S. and throughout the world. I pray for all the students and teachers who participated in the essay contest. May God continue to generously bless them! May they bring to our global village the peace, hope, joy and justice our global village needs."
WINNERS – Division 1 (grades 6-8)
Grace Smith, an eighth-grader at Ursuline Academy in Wilmington, Delaware, wins the $1,000 Bishop Francis X. Ford Award, named for the Maryknoll missioner who was in the first group of Maryknoll missioners to China and died in a prison there in 1952.
Below is her winning essay…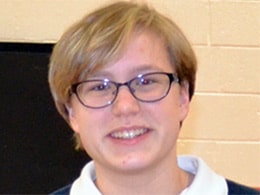 Respecting Earth, Through Myself and My Government
Taking care of our common home is an idea that, for our world today, is no longer an issue of tomorrow but an issue of today. It is such an important idea because humans are the reason the environment is in a decline in the first place, so it is our responsibility to fix what we started. Pope Francis thinks that taking care of our common home should be a corporal work of mercy; Mother Teresa wanted us to stop wasting precious environmental goods. So how, exactly, are we supposed to help the environment? If one wants to stop contributing to the bad activities that will lead to earth becoming a gray wasteland, simple steps can be done to do so. I personally try to use less power at school and at home, and I write letters to my state politicians to ask them to vote "yes" on bills in congress that cut environmental strain. Using less energy and urging politicians to make Delaware more eco-friendly are simple ways that I treat the environment better and respect Earth, our common home.
Decreasing the amount of energy that I use and encouraging my friends and family to do the same is a way that I can directly affect the amount of fossil fuels burned for energy. Wherever we go, my friends and I turn off unused lights and only use the amount of water that is necessary. These are particularly easy ways to help the environment because they take no time out of the day, require little to no effort, and are easy habits to get into and spread to other people.
Whenever citizens feel that an issue their local politicians are voting on pertains to them personally, they can mail a letter to the politicians to ask them to consider their circumstances and why they want the politicians to vote a certain way. An issue that pertains to me personally is conservation of the earth. While singular people who use less energy are contributing to a greener world, if companies continue to pump out dangerous chemicals into the air and water, nothing can be done to stop the environment's decline. So whenever an environmental vote comes up, I mail a letter to my local representatives to remind them that voting to put checks on big manufacturing businesses is one of the most important things for preserving the earth and its resources. Even though I can't vote yet, I can still make a difference in government through my politicians.
Everyone who is able must put in an effort to save our earth, before it is too late. With every voice and outlet available, citizens of every country need to work against the earth's deterioration. If we all work together, as a whole world, we can make the earth beautiful, green and safe for all the generations after us. We have to be aware of the life or death situation of pollution and other ecological burdens; we have to be aware that our lives are dependent on the earth's life, and if we destroy the earth, we destroy ourselves. Pope Francis understands this better than any other pope before him. He knows that God wants us to protect the beautiful world he gave us. God wants us to protect our common home, with every way we can.
Ellie Kooney, an eighth-grader at St. Gerard School in Lansing, Michigan, wins the second-place prize of $300 in Division I of the Maryknoll Student Essay Contest.
Below is her winning essay…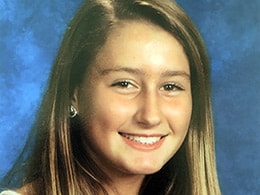 Our Earth, The Pope's Call
"The earth cries out to us because of the harm we have inflicted on her by our irresponsible use and abuse of the goods with which God has endowed her," Pope Francis says. The world 65 million years ago was very different than our earth today. There were no roads. No giant buildings that tower over our cemented land. No polluted waters that we now have to drink from. No humans, no problem it seemed. There used to be many amazing creatures on this earth. Out of the many African elephants that once lived, only 415,000 still live in the wild. Numerous bees now are on the endangered species list. Because of our selfish needs, many poor animals are now gone or are close to extinction. What will you do to stop this? What will you do to make the earth whole again? Well, there are some people out there trying to make the world good again.
My family and I are one of those dedicated to making the world a better place. In our lives, we work to preserve the earth. Ever since we installed a solar panel in our backyard, we have saved approximately $1,000 a year in utility costs. Installing solar panels is a great way to use the sun as a renewable energy source instead of using fossil fuels, such as coal and oil. My mom teaches an elective at my school about the environment and how to be careful with our natural resources. She is teaching young students to help take better care of the earth so that it is a cleaner, healthier place to live. My family and I recycle and compost our waste. This helps the earth by making it so there are fewer landfills, and composting our waste is like feeding the earth in a good way. We buy and grow organic fruits and vegetables locally. This way we reduce using fossil fuels and pesticides. My mom and dad also drive hybrid-energy cars, which reduces the use of fossil fuels and oil. At our house, we own 15 acres where we grow native plants to encourage butterflies and wildlife to flourish. Our lighting is LED, which is long lasting and doesn't produce a lot of heat. These bulbs last 10 to 15 times longer than traditional filament light bulbs. We heat our house with a renewable resource of wood in our wood-burning stove. All of these examples show that my family and I are trying to tend to the earth and the pope's call.
When we tend to the pope's call, we are saving the earth. God created this beautiful home and it would be disrespectful to treat it in such a harmful way. He calls you all to step up and be good stewards for generations to come. Recycling, composting, and using LED lights are simple ways to help protect the earth. I implore you all to try, try and make the world a better place and listen to the pope's call. We all want to enjoy our life on earth and should preserve our world for many years to come. Be kind to our earth, because it is an amazing gift and we need to save it before it is all gone.
Tobin Doherty, an eighth-grader at Our Lady of Good Counsel Catholic School in Vienna, Virginia, wins the third-place award of $150 in Division I of the Maryknoll Student Essay Contest.
Below is his winning essay…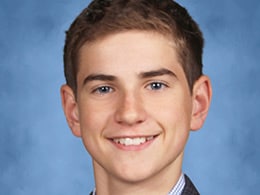 Our Changing Home
The pope is calling us to action, not just Catholics like you and me, but rather all the people who have come to know and love this planet. He is suggesting that instead of draining the earth of all its fruits for our own selfish needs, we join together to combat this ecological crisis. The pope is God's messenger and he is imploring us to be respectful to the earth, our common home. While this is a religious message, it is equally scientific. We need to change what we value in society and how we consume. Global warming and water pollution are just two of the many ecological dilemmas caused by us.
As we have learned in science, for every action there is a reaction. Our "greedy" consumption has caused ecological damage beyond belief. Scientists agree that there is climatic warming that has adversely affected everyone, but has been particularly harsh on those who live in poverty. Here, in the United States, we have the highest standard of living in the world. We enjoy the fruits of technology; however, in Africa, technology has only brought harm. The fossil fuels we are burning to create energy are creating harmful gases that we are releasing into the atmosphere. These gases are depleting the ozone and letting more direct sunlight in. We need to be happy with what we have, and stop wanting more. We need to stop excessively consuming.
Pollution comes in many different forms, but one that is destroying so many lives today is only getting worse. Water pollution is harming the lives of so many. About 358 million people lack clean water in Africa alone. Mining, industrial processes, deforestation and agriculture are all leading contributors to water pollution all over the world, but especially in Africa, where again the less fortunate are affected more greatly than we can imagine. We have exploited all the resources of other countries to use to our advantage, and left them with pollution. We need to stop thinking about ourselves and start thinking of others. I know it can be easy to just sit at home and pretend that everything is OK, but it's not. The more I read the pope's encyclical, the more I feel overwhelmed, but as God's people, we need to believe and have faith that together we can make a difference. Change starts with one small step.
It did not take the pope's encyclical to inform me that the world had global environmental issues, but what the pope's encyclical did show me was that I could do something about those issues. The pope is calling you and me to action. Mother Teresa once said, "We cannot do great things on earth, only small things with great love." I have worked hard to raise money for those less fortunate. But the pope gave clear direction to my charitable mission. My confirmation group decided that clean water in Africa was one of the greatest needs in the world. We decided to raise money for a charity called Wine to Water. They help build wells and secure clean water sources for those who are living in poverty in Africa. Continuing to raise money for charities such as Wine to Water is a small but meaningful way to answer the pope's call to help those living in poverty and now, pollution. Every time I drink a glass of water, I am reminded of the great need to help others who do not enjoy this amazing privilege.
The pope's writings gave new meaning to the word "consumption." To me, this word now means greed and self-indulgence at another person's great expense. As one of a family of seven children, I have learned to recycle everything from clothes to furniture to cars. My family drives a hybrid, we consume organic products, we heat with wood, and we have learned to get by with less. I believe that this frugal way of life is one small way that I am in step with the pope's call to action.
We can't sit in darkness anymore pretending that someone else is going to make the world a better place. We need to do something now, no matter how small. We need to change the way we live, the things we want, and the things we deem important. We must be cognizant that our gain is likely someone else's great loss. I want to leave this world a better place than when I arrived.
WINNERS – Division 2 (grades 9-12)
Meenu Johnkutty, a 12th-grader at Kennedy Catholic High School in Somers, New York, wins the $1,000 Bishop Patrick J. Byrne Award, named for the missioner who died on a forced march in Korea in 1950.
Below is her winning essay…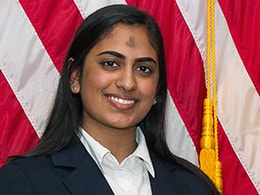 Saving Our Earth
I am running on the back trails of the small city of Somers, New York, crushing decaying vibrant orange, red and yellow leaves underneath my feet. The streams alongside the trail gurgle as small fish scurry away at the sound of my feet pounding on the dirt. The air is crisp and fresh, and I am in awe of this remarkable splendor, the work of an intelligent Creator. But, the scene changes rapidly as I board the train that will bring me back home. The train cuts through paths made in the woods, where soda cans and cigarette boxes are carelessly strewn on the tracks and the streams are tinted brown with waste and carry plastic bottles instead of live fish. My eyes, which were once overwhelmed by the beauty of a New York autumn, are now saddened at our failed responsibility as a human race to take care of our spinning blue and green planet.
Though many might not realize it, our world is slowly slipping away from our fingers. According to the U.S. Department of Transportation, since the Industrial Revolution, carbon dioxide levels have increased by 30 percent, methane concentrations have doubled, and nitrous oxide levels have gone up 15 percent. When greenhouse gases accumulate in extraordinary levels, the amount of heat trapped in our atmosphere increases as well. This warming of the planet, termed global warming, has disastrous effects, ranging from the melting of polar ice caps to the extinction of many wildlife species. Our responsibility for this global issue, as well as our duty to fix it, is immense. Thus, the need to heed Pope Francis' call to "protect our common home" must not be taken lightly, or we run the risk of losing our planet forever.
Our only solution to this pressing issue is collective global action. Anaerobic digestion (biological processes in which microorganisms break down biodegradable material in the absence of oxygen) is one solution that has been gaining popularity all over the world. Personally, I became passionate about global warming as a freshman in high school when I researched and wrote a winning essay about the benefits of implementing biodigesters in rural communities. During a visit to my parents' village in India, I was shocked to see mounds of trash burning on the sides of the dirt roads. However, if biodigesters were used in these communities, this burning trash could be used to produce biogas. The benefits of biogas are extraordinary, ranging from home heating to developing rural communities. Anaerobic digestion has already coined many successes in China and western European countries. Even in the United States, the students at the University of Wisconsin Oshkosh piloted an anaerobic digestion program that produced enough biogas to power up to 10 percent of the 13,500-student institution! Thus, with the implementation of anaerobic digestion, our landfills, rife with biodegradable material, can be siphoned into biogas production that can power many appliances in the future.
Along with supporting a future run with renewable energy sources like the sun, water and wind, we must also protest projects within the United States that threaten our future as a clean energy superpower. The Dakota Access Pipeline is one such project that threatens this future. This pipeline would transport over 470,000 barrels of crude oil from Canada to the United States, thus delaying the transition from fossil fuels to alternative sources of energy. Protesters have been protesting this pipeline since October 2014. Thus, the time to switch to alternative forms of energy, which will stop our dependence on a finite fossil fuel supply, is now. We must protest and join in the fight against greedy corporations that do not weigh environmental risks as heavily.
As a teenager passionate about global warming and climate change, I want to see a future where my generation and future generations will not have to pay for the damage caused by greed and self-driven interests. What good is a world that has profited from big oil companies when the very world we are standing on will no longer be the planet earth that we know, the mother earth that has held us and nourished us. What will we say to our grandchildren who will look into our eyes and ask, "Why didn't you stop this?" By heeding the pope's call and taking action within our communities, we can and must slow down climate change before it is too late.
Katie Hess, a 12-grader at Bethlehem Catholic High School in Bethlehem, Pennsylvania, wins the second-place award of $300 in Division II of the Maryknoll Student Essay Contest.
Below is her winning essay…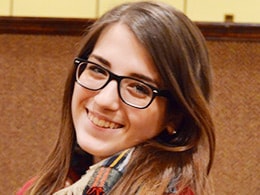 Anxiously at Peace with Nature
Before I have time to prepare myself, there's a hand clasped around my throat that causes my breathing to shift into shallow, heaving gasps as my airway constricts. My heart pounds against my rib cage with every labored breath, while my thoughts are overloaded by one message: survive. Time slows down and I am forced to fight off my attacker with every ounce of strength in my body, except there is no attacker. I am alone.
This is what it is like for the 6 million people who suffer from panic attacks every day. They can happen anywhere, for no reason, and without any warning. There is no cure. Some people find relief by spending hours of their day in a therapist's office or taking dangerous medications. However, I find relief by simply going for a walk outside. Nature has always been cathartic for me. When I experience these sudden attacks that no one else can understand, I find the peace of our Lord's presence by surrounding myself in His creation. Perhaps the greatest joy in my life has stemmed from walks through my community's nature trail. The 10-mile trail is surrounded by a forest and lined by a river that is home to many families of wildlife. In my opinion, it is as beautiful as what I imagine the Garden of Eden would look like.
Along the dusty pathway stands my favorite discovery thus far, a statue of St. Francis of Assisi. It is located beside the bench on which I have found the perfect place for offering my anxieties to God. In his encyclical Laudato Si', Pope Francis describes St. Francis by writing, "His response to the world around him was so much more than intellectual appreciation, for to him each and every creature was a sister united to him by bonds of affection. That is why he felt called to care for all that exists." After I pray with St. Francis, I am filled with his desire to care for God's creation. I realize it is crucial to care for creation because I am a living part of it. God designed me in His image and likeness just as He designed every part of the trail, from the smallest flower to the tallest tree. If the trail were to become polluted and blackened by man's carelessness, I would not be able to experience the peace that has calmed my anxiety for four years now.
I have made a conscious effort to reduce my material waste in order to preserve nature and keep the trail clean. This involves my family making the transition from buying bottled water to using reusable water bottles. Since I have become involved with recycling in my school's Eco Club, I have encouraged the families in my parish to recycle plastic water bottles and newspapers. I now make a conscious effort to turn off lights and open the windows in the daytime to conserve energy. Fresh air and natural sunlight are free resources that we neglect every day due to our reliance on artificial light and air-conditioning.
I find consolation in the pope's encyclical when he writes, "We must not think that these efforts are not going to change the world. They benefit society, often unbeknown to us, for they call forth a goodness that inevitably tends to spread. They can enable us to live more fully and to feel that life on earth is worthwhile." Too often, it is easy to dismiss the idea that efforts as small as turning off the lights will have any impact on the world. We are naïve to think such. According to the National Energy Saving Trust, turning off one unneeded light could remove up to 376 pounds of carbon dioxide emissions a year.
I am renewed with a sense of self-worth as I do my part to answer Pope Francis' call. I realize that I have the ability to create a significant and personal impact on our planet. My anxiety does not limit nor define me; rather, it has filled me with the desire to strive for a cleaner earth so that other people may find the same consolation I feel because of nature. I would have never imagined there being a useful purpose to my suffering, yet here I am, striving to make a difference because of it.
Joseph D'Agostino, a ninth-grader at St. Thomas Academy in Mendota Heights, Minnesota, wins the third-place award of $150 in Division II of the Maryknoll Student Essay Contest.
Below is his winning essay…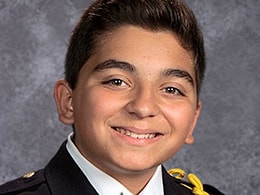 Planting Seeds for the Future
Humanity is beginning to take a heavy toll on our planet Earth. Especially in the last two decades, we have taken for granted this God-given gift, assuming the earth will always repair the damages caused by human beings, no matter how large the destruction. A biblical verse that puts this situation into perspective is from Genesis 2:15: "The Lord God took the man and put him in the Garden of Eden to work it and keep it." God did not give this world to humanity so that we could squander and plunder its riches, but rather to care for it, be good stewards of this gift. Since the beginning of time, God has told humanity to care for his creation. This applies even more today than it did in the time of Adam and Eve. This is not a message only for the United States but a message for the entire world. When Pope Francis elevated the issue of environmental conservation, he broadened the issue from a debate between first world countries to all nations on this planet. The challenge for my generation, as with all preceding generations, is to tackle the issues presented to us, and therefore it is the sacred obligation of my generation to preserve and protect our environment for future generations and out of respect for our God who created it for us.
In last year's earth science class, I had the opportunity to look at the data linking the increase in greenhouse gases to global climate change. After learning how the data pointed to a cause-and-effect, I decided that there must be something I could do to break this cycle, if only for my little corner of the earth. That following weekend, I researched how to make a composting station and garden and proceeded to my local lumberyard to gather the necessary materials. I built the composting station to take food products that my family would usually throw in the trash, such as cornhusks or eggshells, and repurposed them to make my own soil. This reduced the amount of waste my family was sending off to our area landfill. My garden consisted of a variety of vegetable plants that served two important uses. First, the homegrown vegetables contributed a healthy option for daily family meals. Second, and perhaps most important, these plants filter out the excess amount of carbon dioxide in the atmosphere and convert it into oxygen. Less carbon dioxide, the main source of greenhouse gases, reduces the impact on the ozone and consequently the change in climate. Of course, the oxygen generated by the plants sustains all human and animal life. It has been a rewarding experience knowing that I am making a difference in preserving Mother Earth and something I plan to do for many years to come.
Although much of my work was completed outside the classroom, I never would have been able to do this without the wisdom and encouragement of my science teacher. Not only did he provide evidence of how humanity is negatively impacting our climate; he also gave my class the opportunity to do something about it. Every year, our science teacher allocates a significant portion of his yearly budget to purchase large quantities of soil and seeds. He encourages students to plant seeds at school, and once germinated, to take the new plantings home to continue their growth into mature fruit-bearing plants. This lesson on climate change was very inspirational to our class in a way I have not seen before in other classes. I intend to assist our science teacher to maintain and even expand this program at my school. My science teacher has planted the seed of conservancy in many students, so that we may grow in the observance of God's magnificent creation. Much like a mustard seed, my actions are infinitesimal compared to the amount of pollution happening every day, but, like any good sower, I hope that my little efforts will grow and spread bigger than I can even image and create a prosperous future for generations to come.
Results of 2015 Essay Contest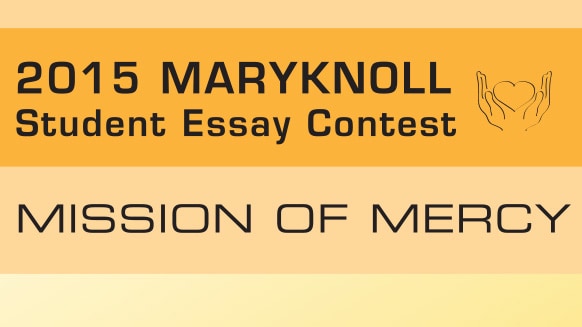 Pope Francis declared a Jubilee Year of Mercy from Dec. 8, 2015 to Nov. 20, 2016, in which he's asked all Catholics to focus on following the example of God, who, Jesus says, does not judge us harshly but offers us love and forgiveness
We asked students grades 6-12 to share real-life inspirational stories about mercy, and convey the lessons learned about the need for mercy worldwide.
Entries received for our 2015 "Mission of Mercy" Essay Contest were judged a panel of more than 50 Maryknoll missioners, all of whom were elated to read the personal stories of people helping others.  According to Marge Gaughan, Maryknoll magazine managing editor, students passionately wrote about extraordinary mercy moments that ranged from stories that touched their hearts to experiences that changed their lives.
2015 Essay Contest Winners
The 2015 contest received close to 6,500 entries from students who competed in two divisions (grades 6 to 8 and grades 9 to 12) for nearly $3,000 in cash prizes:
$1,000 for each of the two first-place finalists
$300 for each of the two second-place finalists
$150 for third place
"Unfortunately, only three essays in each division could be selected as winners," said Maryknoll Sister Mary Ellen Manz, who coordinated the judging. "But we were so inspired by all the students who shared their experiences and ideas that we congratulate each one as well as their teachers who encouraged them to write."
2014 Winners Seen by Pope Francis & Sent a Letter from the Vatican
The six winners of the 2014 Maryknoll Magazine Essay Contest were seen by Pope Francis.
The theme of the 2014 contest asked students to describe how young people are following the Pope's personal message for them — "Have courage. Go forward. Make noise."
WINNERS – Division 1 (grades 6-8)
Grace Wilson, an eighth-grader at Saint James Elementary School in Red Bank, New Jersey, wins the $1,000 Bishop Francis X. Ford Award, named for the Maryknoll missioner who was in the first group of Maryknoll missioners to China and died in a prison there in 1952.
Below is her winning essay…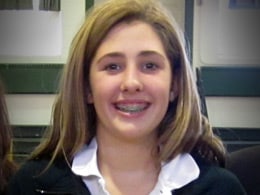 Someone Special Needs You
Mercy is compassion or forgiveness shown toward someone or something. Acts of Mercy are performed as actions seeking forgiveness or charity and are identified with Christianity and most specifically, the Roman Catholic Church. Common Acts of Mercy include burying the dead, visiting the imprisoned or sick, clothing the naked and sheltering the homeless. There are many Acts of Mercy, but one more personal one inspired me more than any other act.
My sister, Ryan, fed starving orphans in Thailand this past summer. She was there on a medical internship when she was scheduled to visit an orphanage in a poverty-stricken part of the country. Upon arriving, she saw that the orphanage where over 100 children were living was made of bamboo and floating on a lake. She learned that the orphanage and families whose homes float on that lake are too poor to pay land taxes so they live in floating homes. Sadly, the lake is prone to flooding, where people can die in the rising waters.
When Ryan saw the children so severely undernourished, she was deeply disheartened. Yet, even though they were hungry, they were still very glad to see Ryan. She played with the children and saw some of them didn't get to eat that day due to the lack of food supplies.
As she was departing, she felt awful leaving the children with no food to eat. Even though she would be late to get back to work at her internship, Ryan was determined to do something for these children. She went to the nearest market and purchased a 30-pound bag of rice. She drove all the way back to the orphanage with the rice. The children were crying with joy and dancing around her and the bag of rice. Ryan told me that she cried tears of joy for being able to help the children but also tears of sadness for she knew they needed more.
I listened to my sister's experience firsthand and she painted a picture of the village, the orphanage, the children, the poverty and their hunger. I am so proud of her and, after hearing her story, I know that I am capable of doing the same.
This act of mercy has inspired me more than any other because I was able to connect with my sister and her words. I think that when an Act of Mercy is carried out by someone close to you, it affects you greatly. Listening to my sister speak about her experience moved me to take action. This Act of Mercy has inspired me to work at an organization, Someone Special Needs You, where people provide socialization for autistic and handicapped teenagers and adults. We play games, do crafts and eat meals together.
Perhaps it is not as merciful as my sister feeding the hungry, but I believe I am making a difference. When I spend time with my "buddies" at Someone Special Needs You, they make me look at the world differently. For example, my buddy Daniel asked me if I was happy. I thought: What a powerful question that no one has ever asked me before! He smiled when I responded that I was happy. The truth is, I was happy to be spending time with him. I was touched that he asked how I was feeling and because he was genuinely excited that I was happy. What a special friend I made! I can only hope that I make him smile as much as he makes me smile! I have made it my goal, my Act of Mercy, to spread happiness with my special friends.
Mercy is an act that shows empathy and charity to others. I have heard about many Acts of Mercy, but the one that has encouraged me the most is my sister's act of feeding poor orphans. It has inspired me to volunteer with Someone Special Needs You. Today, I feel like my buddies do more for me than I do for them. Specifically, I feel God's love in Daniel's smile. I feel God in my heart when Daniel and I laugh together. I feel like I have received so much more than I have given at Someone Special Needs You because my heart is full. Perhaps that is the secret to performing Acts of Mercy. Perhaps we grow closer to God because we are able to do for others and our hearts become nourished. Perhaps we who perform Acts of Mercy are the true beneficiaries, not the poor, hungry or naked.
Julia Osborne, a seventh-grader at Saint John Fisher School in Rancho Palos Verdes, California, wins the second-place prize of $300 in Division I of the 2015 Maryknoll Student Essay Contest.
Below is her winning essay…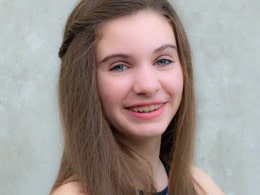 Mercy: The Kindest Act of Selfless Love
Mercy, the kindest act of selfless love that someone can bestow upon another, is one of our greatest missions as Catholics. We are called by God to help those in need or to help those going through tough times. It is our vocation to spread love throughout the world. Jesus teaches us that it doesn't take much to show mercy. Even if we don't have much to give, we are committed to helping one another. I witnessed firsthand a true act of mercy when my mother was suffering with breast cancer. During this very tough time for my family and me, our school families and friends showed true compassion by supporting us with many prayers and daily meals, for which we are eternally grateful. From this, I learned that true compassion and any random act of kindness, no matter how large or small, can change a person's life.
In January 2013, my family's lives changed forever. My mom was diagnosed with stage 2/3 breast cancer and faced a long journey of surgery, chemotherapy and radiation. Prior to her surgery in March, Monsignor Sork, our pastor at St. John Fisher, performed an Anointing of the Sick for her. It was very emotional, but it brought great comfort to her the day of her surgery. She says, "I was so calm before surgery. It felt like God was embracing me and protecting me. Even the doctors couldn't believe how calm I was!"
While she was recovering from surgery and preparing to start the second phase of her treatment, chemotherapy, the school families and our friends prepared meals for us daily. Each day a different family showed their mercy by taking time out of their busy schedules to make sure that my family was well cared for and nourished with a meal. At the same time, the school children (kindergarten through eighth grade) showed their sympathy by creating a prayer chain from colored paper and expressed their love and support for my family and me through their prayers. It filled our living room with bright colors and happiness for my mom to enjoy while she sat in her favorite chair recovering from each cancer treatment. Luckily, she survived this tough journey. As a result, our family learned many life lessons of mercy, true compassion, gratitude and thankfulness through the extraordinary acts of kindness from ordinary people.
I was only 10 years old when my life changed forever. At first, I was confused, sad and very worried that I would lose my mom. At the same time, I had to be strong to help my mom fight her illness. When she lost her hair, I held her hand as she sobbed. When she felt sick, I brought her sparkling water. When she felt ugly, I would tell her she was beautiful. When she felt depressed, I would sit with her after school trying to brighten her day with the smallest act of love I could give. I didn't realize until this essay that I was showing mercy towards my mom. I love my mom. I would do anything for her. When our friends brought food, they stayed for a while and talked about the day to help ease our minds. Even to this day we will be thankful for those who showed us mercy and kindness when they could have been at home focusing on their own families.
The life lessons we all learned from this journey are that showing mercy and performing random acts of kindness not only makes you feel good, but it also has a huge impact on the recipient's life. I will continue to live my life loving and supporting anyone who needs a comforting and compassionate friend, just as others have done for my family and me. "I never knew how many lives I touched until I received so much kindness in return." Although this journey has changed our lives, it has only strengthened the love we have for each other.
Codi Dicharry, an eighth-grader at St. Peter Chanel Interparochial School in Paulina, Louisiana, wins the third-place prize of $150 for Division I of the 2015 Maryknoll Student Essay Contest.
Below is her winning essay…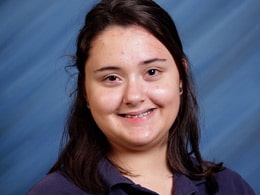 A Story of Mercy
This story is about a 17-year-old boy named Alan, who went to a basketball championship that was being held downtown in the sports arena. After the game, in the parking lot, he walked 10 feet to his car and was randomly shot and killed by an inner-city gang member. Alan's father, Keith, and mother, Donna, could not understand why their son was killed. Even though they tried to spend their days and nights trying to raise their other kids and going to work, they were having trouble with accepting what happened.
They were filled with anger and consumed with the ongoing investigation into the killing. After the closing arguments in the murder case, it took the jury only five hours to come back with a guilty verdict. The gang member who killed their son was sentenced to life in prison. Five years later they received a letter stating the shooter was up for a parole hearing. This letter brought back all the pain and feelings they thought were gone. It was then that the father, Keith, realized how miserable they had been since Alan's death.
Alan's father decided to go to the hearing to see the shooter again. The parole proceedings were brief and parole was denied. Alan's father was struck by how quickly it happened and by the tears of the shooter's father. For the first time, he realized that there were victims on both ends of the gun. He walked over to the shooter's father and shook his hand. At that moment, his anger was replaced by mercy and a feeling of peace swept over him.
Over the next few years, the two men formed an alliance to help gang members stop the violence and find their place in the world. They went from school to school in the inner city with their story, hoping to make a difference and a better understanding of life for the gang members. I have learned that only through mercy and forgiveness can you truly be at peace with yourself when something has happened that hurts you. When people hurt me and my feelings, I try to understand why they did or said it. I pray for them to be made aware of what they do and how it affects people, so they can become better Christians.
Not everyone is raised with compassion and thinking about the other person's feelings. In our world today, not too many people worry about doing the right thing. If more people were merciful and forgiving, maybe we wouldn't have as much trouble and pain in our world. Our Catholic religion tries to teach us to forgive and be merciful to others in our world. We have many different people and ways of doing things. If we do good to one person, it makes a difference. If everyone was nice to one person a day, it would be a change for the better.
WINNERS – Division 2 (grades 9-12)
Anna Brest, an 11th-grader at Cary High School in Cary, North Carolina, wins the $1,000 Bishop Patrick J. Byrne Award, named for the Maryknoll missioner who died on a forced march in Korea in 1950.
Below is her winning essay…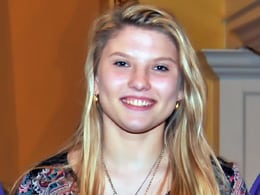 A Journey Toward Mercy
I was born in a small town in Russia. My mother was 19 years old, unmarried and had some intellectual disabilities. She gave me up for adoption. This was the beginning of my journey toward learning the depth, the power and the joy of God's mercy.
My adoptive mother found me in an orphanage half a world away and brought me home when I was 13 months old. She brought me into a loving and supportive network of grandparents, aunts, uncles, cousins and friends who have made me as much a part of the family as they who share DNA. I have enjoyed a blessed life as part of this family. Despite that, I harbored anger toward my birth mother and toward God.
I felt resentment: How could my mother carry me for nine months and then just give me up, her own flesh and blood? I felt guilt: It must have been my fault that she gave me up. Did I cry too much, was I not cute enough? I felt helpless: I was just a baby; I couldn't control any of those things. Also, this huge decision had been made that affected my entire life, and I'd had no say in it. I felt loss: I yearned to know my mother. I had seen her face. The image was somewhere in my brain, if only I could find it. I wanted to tell her that I was OK and that I had a good life. Then I went back to anger, but this time toward God: Why did He make me go through this? Why did He not care about me? Why did neither He nor my birth mother care about me?
At Mass one Sunday, the priest spoke about how God is always looking over us, and how He cares about everyone unconditionally. I started thinking about that. I decided it was time to really talk to my mom about my adoption. My whole perspective changed after that conversation. During that conversation, my mother taught me mercy as Pope Francis spoke about—going beyond the formality, really understanding and not judging. She helped me see how unprepared and scared and alone my birth mother must have been. She made me realize that my being given up for adoption was not a selfish act; it was the most selfless act she could have made; it was a sacrifice that could only have been made out of absolute love for me.
My perspective toward God changed as well. My mother and I had often spoken about how perfect we were for each other and how amazing it was that we had found each other. Now I started realizing the full extent of God's elaborate plan. I saw His mercy toward my birth mother: He gave her an option to do what was best for her child, and He stood by her and gave her the strength to make that decision and carry it out. I saw His mercy toward my adoptive mother, a single woman who yearned for a child. He blessed her with me, and with the supportive family she already had who helped her through the adoption process and who love me as if I were their own. I saw His mercy toward me; He had been watching out for me after all. He made me part of the family I was meant to be a part of, even if there was a detour on the road to get there.
Realizing the extent of God's mercy changed me. Gratitude replaced anger. Faith replaced doubt. Forgiveness replaced guilt. Understanding replaced judgment. My faith is strong.
I recently received the sacrament of confirmation. I chose William, the patron saint of adopted children, as my saint. With William at my side, I am sure to remember my lesson in mercy, as well as selflessness, strength and love.
We live in a fast-paced society where we encounter many people every day. It is easy to judge, to not take the time to understand. It is easy to harbor anger or hatred, rather than take the time and effort to forgive. It is easy to be so overwhelmed that we look out only for ourselves, and don't take the time to think of others. The experience of God's mercy changed all of that for me, and it will do the same for others. If only everyone could have the same experience, what a harmonious and joyous world we would live in.
Adriana Collins, a 12th-grader at Huntingtown High School in Huntingtown, Maryland, wins the second-place prize of $300 for Division II of the 2015 Maryknoll Student Essay Contest.
Below is her winning essay…
Light at the End of the Tunnel
Three raps on the door of an old musty trailer.
"Social Services. Open up!" a voice yelled from the outside. Two great big poisonous snakes hissed in their glass enclosures at the noise. A woman with bloodshot and angry eyes stood up from the couch to the right of my bed. The putrid smell of alcohol and smoke enveloped her entire being. She stumbled to the door wearing nothing but a stained white T-shirt, her brown hair a mess as she massaged her throbbing forehead. It had been another late night for my mom. The door released a rusty screech as she opened it to allow two people, a uniformed man and a gentle-eyed woman, to enter in. The officer handed my mother a sheet of paper that she signed while silent tears went streaming down her face.
My older sister was standing in the center of the trailer, mouth agape and clutching a familiar stuffed purple dinosaur while the angry bruises she had endured at the hands of our father lay invisible under her pink T-shirt and urine-swollen diaper. Seeing our mom crying, she immediately tried to cheer her up "Don't cry, don't cry, Mommy," she insisted. Shaking with fear, I stayed in my own little corner. I dared not make a sound. Soon, I was coaxed out of my haven by the woman who carried me and my sister out the rusty door of the trailer to the world outside. She told us that if Mommy and Daddy cleaned up their lives, we would be brought back to live with them again, but they never did. And so we left everything we knew and entered into the foster care system. Eventually, our birth parents realized they were incapable of taking care of us due to their obsession with drugs, alcohol and sex, or perhaps they gave up trying. We were surrendered to the state and put up for adoption.
There is a saying that says, "There is a light at the end of the tunnel," and I firmly believe that my sister's and my light came in the form of an incomplete family of four: one mother, one father and two brothers. We were welcomed into their family almost immediately. My sister and I were the two who made this family complete. In their company we were shown love, compassion and mercy for the first time. Because of them, I learned how to smile and laugh. They taught me how to break down the walls I built to shut out the pain and abuse I endured at the hands of my birth parents. They taught me how to love again.
Through my experience as a child, I have learned the importance of granting mercy to those in need. No matter how dark a situation seems, or how eternal it appears to be, there is and always will be a light at the end of the tunnel. As I have grown to this stage in my life, there have been many situations where I have seen people in desperate situations, some were homeless and starving, some were abused and depressed. Because of my past and the grace and mercy my adoptive parents have showed me, I know how much one gentle merciful action can affect a multitude of lives for the better. Because of my past, I reach out to animals and people in need so that their future may also be changed. Although life will never be void of suffering, I know that even the smallest acts of mercy can change the world for the better. Will you show mercy to someone in need today?
Caitlin Simpson a 12th-grader at Robinson High School in Robinson, Texas, wins the third-place prize of $150 for Division II of the 2015 Maryknoll Student Essay Contest.
Below is her winning essay…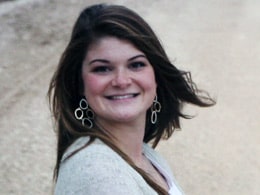 A Knock on the Door
He was a troubled boy, and he was a boy who was always in trouble. Even if he wasn't looking for it, trouble came knocking on his door. That is how my dad met him, and that is why my dad was his teacher.
Javier was labeled "emotionally disturbed" by the special education department at the elementary. This "confidential" label was nothing of the sort in our small town. It seemed everyone knew he was different. His label was not necessary to set him apart. People had already done that. Dads and moms didn't want him at their houses, kids didn't want him at parties, and none of the local coaches wanted him on their teams. He was already without friends, without an outlet and without hope. He was alone. By junior high, he was in and out of Alternative Education Placement, and he spent more time suspended from school than in it.
If it were up to Javier, he never would have made it to high school. He would stop school and work on a hot roof or remodel houses. He thought, "No one to fight with, no one to trouble and no one to pretend to care." He knew it wouldn't be long after high school that he would be in jail. "So why not speed up the process?" he thought. Thank God he was forced to go.
The first day of his freshman year was like all the others. His peers hurled jeers at him, and his teachers avoided eye contact. Javier was used to it, and he played into it. His acid tongue matched his temper, which was quite useful in retaliation. This life seemed inevitable, but then, a new class began. Javier said, "I remember the time, the room number, and the exact desk I sat in. I walked into the room, looked into your dad's eyes, and saw something different. It scared me. It wasn't fear, regret or disdain, but rather kindness and respect. I didn't recognize it, but it shook me. I didn't know what to do, so I did what I did best: I popped off to him, looked him right in the eye and said, 'Don't you know who I am?' Your dad said, 'I have no idea who you are, but I am Mr. Simpson, and it is a pleasure to know you!' This was the first time anyone didn't already know who I was!"
Actually, my dad had heard of Javier. Teachers made it a point to "warn" him. He had received emails, papers and notes about Javier, but he had no idea who he really was. To my dad, he was a child of God who deserved the respect and admiration of a fellow brother in Christ. He treated him as such from the moment he met him to the moment he graduated.
Javier's life began to change. It was a slow process, but it was progress. At first, he didn't really participate in class, but he didn't keep anyone from learning. This was a small step in the eyes of my dad, but a huge step in the eyes of his classmates. Then, he started actually answering questions. Next, he would do class work and turn it in. This new attitude spilled over into other classes. Towards the end of the year, the boy that everyone had known turned into a boy people wanted to know. Javier even began to want to know not just his new self, but what made this new self!
Javier eventually left his behavior classes. He left them for bigger and better things, and moved into honors classes. Most importantly, he found Christ! After four years, he graduated with honors and with God!
From then on, my father would use his story to share the positive things that mercy and kindness can build. It made me realize that I am here to help others realize the power, love and mercy God pours out upon His people. I can testify now that mercy works! It not only works, but it is contagious.
When Javier graduated from high school in 2005, my dad hoped he might see him again, but didn't plan on it. Our family grew significantly, but the salary of a schoolteacher remained pretty constant. We never went without, but we sure didn't have much extra. God always provided. One thing was certain: we needed a bigger house! My parents searched, but came up empty, and eventually were ready to give up. Enter God's grace!
We got a knock on the door one evening. Mom answered, and immediately her face lit up! She quickly called Dad to the door to see who it was. It was Javier! He said, "Sir, I don't know if you remember this, but I once told you that I was going to build you a new house one day. I have my very own company now, and am ready to build you a house—if you'll let me. Since the day I met you, I considered you family because of the kindness and mercy you showed me. Because of that, I will not accept a penny over what it costs me to build it." Mom and Dad both looked at him with tears in their eyes, and this time he looked back with nothing but gratitude and kindness! God's mercy is indeed boundless.