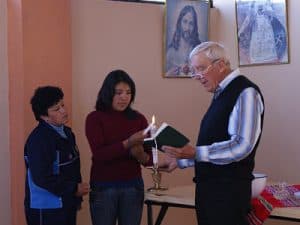 Missioner Responsible:
Fr. Michael J. Briggs, M.M.
Help Father Michael Briggs, M.M., in his formation and evangelization program for the 18,000 students and 1,000 faculty members at the National University of the Altiplano-Puno. His ministry offers intercultural dialogue programs, volunteer and mission opportunities and leadership formation for the development and support of civil society and intercultural dialogue.
Students from Notre Dame participate in a short term summer experience with the Puno Campus Ministry. The program also offers workshops in high schools to help students discern about going to the University. Additional courses such as Public Speaking, Graphic Design, Self Esteem, Weaving, Guitar, Mandalas and Laugh-Therapy are also offered.
With your prayerful support, this vital program continues to assist students in Peru.