We Welcome Our Catholic Community in Prayer
Maryknoll Prayer Guild — we are a Catholic community devoted to spiritual growth through prayer. Each month, we make room for God and personal reflection, praying as a family for those in greatest need, led by Fr. Kevin Hanlon, M. M.
Enjoy the Maryknoll Prayer Guild Video for September,  2023
Maximize Your Impact!
Prayer Guild members are a critical part of furthering our mission work of mercy.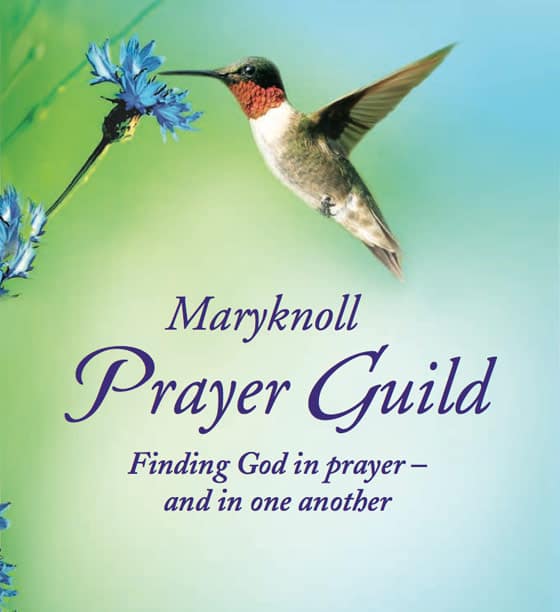 Please email Fr. Hanlon with your personal prayers and intentions, as well as ideas for themes of future monthly prayer videos.
For a person of faith, nothing is more powerful than prayer.
Now you have the opportunity to deepen your conversations with God by becoming a member of Maryknoll's Prayer Guild. Each month, you can pray the monthly prayer – anytime – with Father Jalbert and fellow Guild members throughout the world.
Perhaps you are worried about your health or a relationship with a family member. The Guild will pray with you. Or maybe you feel lonely because now you're living alone. The Guild will pray with you, too.
Together we focus on the ups and downs of life, asking God for wisdom and strength.
–  Fr. Kevin Hanlon, M.M.
Guild Members Enjoy
An original, beautifully designed prayer card mailed to you each month
The strength of communal prayer with Fr. Hanlon and fellow Guild members all over the world
On the second Friday of every month, we pray as a global family, led by a new video of guided prayer by Fr. Jalbert
Remembrance at our weekly Mass in Maryknoll, NY
All Maryknoll donors and mission sponsors are invited to Join our Prayer Guild today!
Each month, Maryknoll prayer cards explore the human experience and beauty of our Catholic faith, written by Fr. Joe Veneroso, M.M., a gifted author and regular contributor to Maryknoll Magazine.