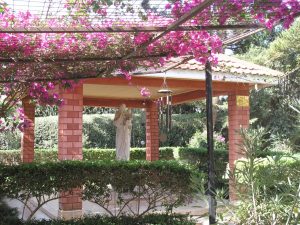 We in Maryknoll admire Pope Francis because he expresses so well what a Maryknoll Missioner is all about, namely service to God's mission in the world.  He is a missionary pope who says we should "smell like the sheep".  On Holy Thursday several years ago he said:
"Love and charity, are service, helping others, serving others. There are many people who spend their lives in this way, in the service of others. … When you forget yourself and think of others, this is love! And with the washing of the feet the Lord teaches us to be servants, and above all, servants as He was a servant to us, for every one of us."
Some see the missionary life as a daunting challenge but we see it simply as service in response to love and God is love.  I had the privilege of meeting St. Mother Teresa of Calcutta on two occasions.  She once said: "Not all of us can do great things. But we can do small things with great love."  If you admire the missionary vocation but feel you are not worthy to undertake it then take the time to pray over it.  We missioners are just ordinary human beings like you trying to contribute to God's Mission in this world in whatever small way we can.  St. Mother Teresa expressed it well: "If you can't feed a hundred people, then feed just one."
I hope you will enjoy this edition of our Vocations Newsletter and if you feel the call within you, then contact us.  Perhaps we can assist as you look to the future asking yourself: What does God want me to do with my life?
Fr. Mike Snyder
As always we look forward to hearing from you at (vocation@maryknoll.org): Fr. Rodrigo Ulloa-Chavarry, Fr. Cuong Nguyen, Fr. Mike Snyder, Fr. Joe Donovan and Mr. Greg Darr.