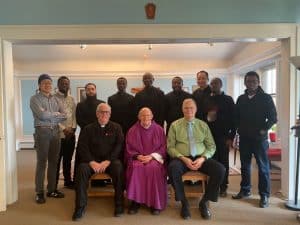 Jesus turned and saw them following him and said to them, "What are you looking for?" They said to him, "Rabbi" (which translated means Teacher), "where are you staying?" He said to them, "Come, and you will see." So, they went and saw where he was staying, and they stayed with him that day. It was about four in the afternoon. (John 1:38-39).
I will start with a quote from one of our formation directors, Fr. Brian Barrons. Or as some would call him, Shenfu BB. "Do not go to a doctor who has dead plants in his office." Yes, we do have daily morning prayers and Mass that makes us open to receive the graces and the challenges that come during the day.  Yes, we do have plants in our house. Yes, all our plants are alive, and for those that seem sickly, we have a plant clinic close to our chapel. One among us is gifted with plants and all of our plants are lovingly cared for.
Why are we talking about plants? The Maryknoll community is like a fruit orchard. Every fruit is different from the next yet quite similar. We are a proud international and intercultural community, under the hands of our formation directors; Frs. Russel Feldmeier, Brian Barrons and Br. Mark Gruenke. We enjoy being with one another, learning from each other and accompanying each other as we grow together to produce good fruits that will benefit the people in missions where we serve/will serve.
This is way more fun than you can imagine, and it is more amazing than it sounds. Our day together begins by gathering in the chapel for Morning Prayer and Mass. And as our Bolivian friends will say, "de la Misa, a la mesa" /from the Mass to the table/. We gather for Mass followed by breakfast. Then we disperse for classes or ministries. The next community activity will be evening prayer followed by dinner. But that is not always the case. Breakfast and lunch are meals that are open for personal and communal enjoyment. They are multicultural. It is not just toast and butter, but we do often enjoy mandazi and samosa from East Africa. How about the delicious Hong Kong noodles from Singapore and Singaporean noodles, wait for it, from Hong Kong. How about that!
It gets even better when we are surprised with delicious tamales and enchiladas from Mexico. One may ask, who prepares all these? The answer is that we are an international community. Each member does something for others and before you know it, you are hooked up to ugali with carne asada or orange chicken and, certain types of foods that you may never have imagined because of their awesomeness. And as you leave the fruit orchard, you have an entire basket of fresh and delicious fruit. Fruit that fills us and refreshes us. We are refreshed for our commitment to mission. The fruit orchard is always alive.
Thursdays are days we share as a community and reflect on the ways we understand each other. It's a time of discovery. It's a time to answer questions like "why do you always prepare ugali? Why do you always bow when you greet people? Why is your accent like this? And so many other questions. And as we grow together, we learn to take care of each other. Some members are given coordinating responsibilities like caring for plants in the house, shopping, sacristy, liturgy, music, library and many other things dealing with community living.
The weekends are always my favorite. Here, there is a grandeur of awesomeness. Since members have a little more time, that means, there is enough time to prepare a great meal, or there is enough time to cooperate in doing more items in the liturgy. During the weekends, we enjoy multicultural meals and multicultural events. We learn to prepare and serve different meals from different cultures. We get to know why each meal is very important and the history behind the meal. This is how the fruit salad from the Maryknoll orchard tastes.
That is not all. We have our own great celebrations that make us stand out. We can't let any celebration pass us by just like that. This orchard attracts the best of the butterflies and the best chefs like to come to us to get the best fruits. We cannot miss great celebrations like the Lunar New Year, Dia De Los Magos and Cinco De Mayo, a member's birthday, the day of the dead, our countries' independence days, Thanksgiving and many other celebrations.
Come and experience this orchard, full of life, full of awesomeness. Come and be part of the great orchard!