Immerse Yourself in the Culture and JOY of Distant Lands
Offering Men and Women Opportunities to Engage in God's Mission of Love Around the Globe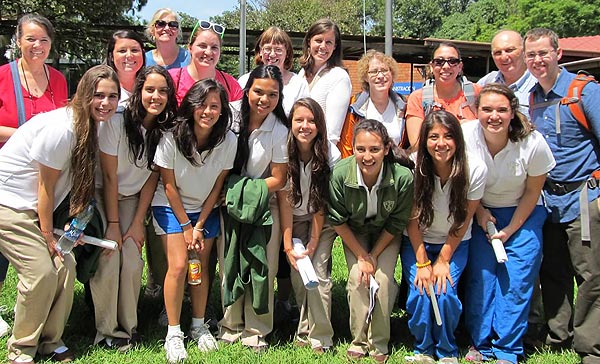 Called to the Mission of Love
God continues to invite us to participate in the mission of love, and being able to step out of our own culture and context can help us appreciate God's love in a whole new way.
Crossing borders and encountering our brothers and sisters around the world is an opportunity for a mutual exchange of the JOY that comes from the Gospel.
We not only evangelize, but are evangelized!
Pope Francis reminds us that…
"Every Christian is a missionary to the extent that he or she has encountered the love of God in Christ Jesus…we no longer say that we are 'disciples' and 'missionaries,' but rather that we are missionary disciples." (Evangelii Gaudium, 120)
Come answer the call to be a 'missionary disciple,' share God's Love among the poor and suffering, and personally experience the JOY of God in others.
Maryknoll offers various mission trips for all individuals and couples, plus cultural immersion trips specially tailored for:
Religious Educators
Deacons and Ministers
Catechists & Youth Ministers
Encounter Christ on the margins, experience God's love in the people of a foreign culture, and spark your own community in mission when you return.
Maryknoll is committed to helping people answer God's call to know, love, and serve their brothers and sisters worldwide
Compassion and Solidarity with Others
The short-term mission trip forms the beginnings of a deep, lasting bond. In seeing anew the hopes and struggles of our brothers and sisters in the developing world, we begin to understand our role as their friends and advocates.
We are not simply called to offer our neighbor charity but to engage in deep solidarity. On mission trips we enter into friendships which can move us to live differently; to act on their behalf with a certain passion for justice issues.
The Life-changing Experience of Mission
Jim and Pat Cheap give their reflection on a recent immersion trip to Jamaica
Mission isn't just for professional missioners. It's for everybody. You were called by God in Baptism to be a messenger of God's presence in the world.
Maryknoll Fathers and Brothers offers a multitude of opportunities for volunteering internationally, such as:
Teaching English in China
(Summer & Full-year openings)
Medical Work
Social Services for Vulnerable Children
Bolivia Cultural Immersion Program
Maryknoll Lay Missioners (MKLM) offers U.S. Catholics the opportunity to respond to their baptismal call to mission by serving people living in poverty for periods lasting 3+ years. Visit MKLM.org for details.