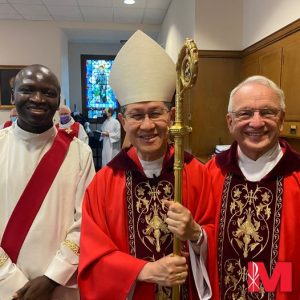 On June 3, 2022 His Eminence Cardinal Luis Antonio Gokim Tagle, Prefect of the Congregation for the Evangelization of Peoples ordained Deacon John Siyumbu to the priesthood. Maryknoll Superior General, Father Lance P. Nadeau, was concelebrant.  During his homily, Cardinal Tagle spoke about John's future ministry and God's calling him to priesthood saying "We are all humble collaborators."  Father Nadeau shared a greeting and message in Swahili with Father John's family who were watching via live stream from Kenya.
After the Ordination Mass, Father John received his Mission Cross at the Maryknoll Sending Ceremony, and was commissioned to our mission service in Latin America.
Born in Kenya, East Africa, as a young boy, he attended Mass regularly with his family.  He loved celebrating the sacraments and felt the beginnings of a calling at the time of his Confirmation.  As a seminarian during his overseas training in Bolivia, Father John has commented on he grew close to many families and learned so much from them.  Through the celebration of their faith and simple acts of friendship, his own faith was strengthened.
Father John is the first candidate accepted into Maryknoll as a candidate for the priesthood from Kenya.