Each morning at 7, the Rev. John Hudert can be found on a fertile patch of land at Maryknoll, tending to the rows of cabbage, squash, tomatoes and lettuce that will eventually make their way onto the plates of Westchester's needy.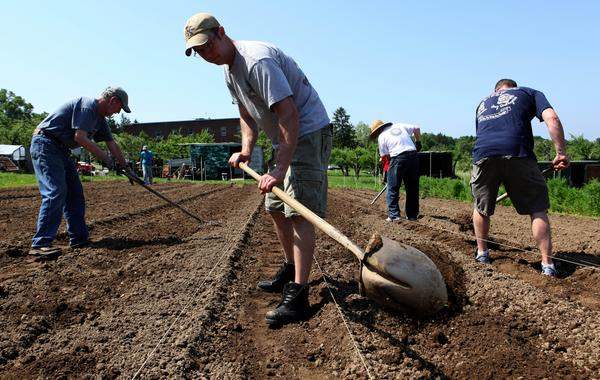 "It keeps me sane," said Hudert. "I can watch the food grow and do things that have meaning for others."
On a recent visit to the Catholic mission's Ossining headquarters, temperatures soared above 80 degrees, and yet Hudert, wearing a straw hat and sodden T-shirt, was hard at work preparing the garden beds on the 1.5-acre Our Global Neighborhood Pachamama Farm before heading off to Mass at noon. The growing season was off to a late start this year, he said, due to the cold, wind and rain.
Even so, shoots of swiss chard, beets and turnips sprouted from the ground.
As the farm's director, Hudert leads a group of some 15 volunteers from April to November in tilling the land, planting, weeding, and harvesting a bountiful crop that last year yielded 33,000 pounds, or 16.5 tons, of fruits and vegetables.
The produce was distributed to several food pantries in Westchester County in 2010, including the Community Center of Northern Westchester in Katonah, the Ossining Food Pantry and Fred's Pantry in Peekskill. Other benefactors in the past have included the Lord's Pantry in White Plains, which prepares three meals daily for AIDS patients and their families.
"They are very generous," said Sherry Wolf, executive director of the Community Center of Northern Westchester. "Our clients look forward to it because it's fresh and wonderful and it's local."
During the season, 350 pounds of produce is delivered to the center each Tuesday by Betty and Rudy Cypser, said volunteer Pat Muldoon.
The agency's food pantry serves about 550 families per month, Wolf said.
"It is all organically grown produce," Muldoon said. "They bring it with the dirt and the dew still on it."
Pachamama Farm was the brainchild of Mary Murphy, a Maryknoll affiliate.
Murphy presented the idea to the Maryknoll community in 1999, and by 2000 the farm was seeing its first harvest, she said.
Hudert said he and the Rev. Fern Gosselin, both Maryknoll missionaries, used equipment on the Maryknoll property from the 1950s to start up the farm.
Murphy also contacted John Ameroso of the Cornell Cooperative Extension for assistance.
"I'm very proud to be attached to Maryknoll," said Murphy of Ossining. "We had such support so rapidly and the willingness to donate the food to the needy was to me very impressive."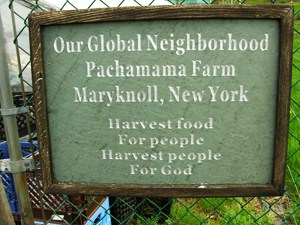 Murphy said she continues to coordinate outreach with volunteers and seek out potential food distribution sites. The need is certainly there. The Food Bank for Westchester, another agency Pachamama delivers to, estimates there are 200,000 county residents who are hungry or at risk of hunger. The Food Bank, which operates a warehouse in Millwood, services more than 200 hunger relief member agencies throughout the county.
Christina Rohatynskyj, the Food Bank's executive director, said last year that it distributed 6 million pounds of food. This year, that figure is expected to reach 7 million pounds, she said.
"There is a need for food, period," she said. "Fresh is very difficult to get in certain areas so it's highly important."
Murphy said she chose the name Pachamama, which means "Earth Mother" in Quechua, an indigenous language spoken in Peru.
"The earth nourishes not only the people it feeds, it nourishes the people that work the land," she said.
Dan Malone, a retired teacher from Ossining, has been volunteering at the farm since 2001.
Back then it was about one-sixth the size it is today, he said.
This year, there are six plots and each one contains 12 rows filled with a variety of vegetables, including leeks, string beans, eggplants, radishes and collards, he said. Maryknoll also has some 60 apple trees.
"To me. it's not work, it's recreation. It's for a good cause," said Malone, 70. "You're up here on the tractor and smelling the earth. It's a beautiful thing."
Malone, who keeps a record each season of production figures and volunteer activities , said the the hope is to get as many crops as last year. In 2009, 19,645 pounds were harvested.
In total, the farm has delivered more than 190,000 pounds of produce since its inception, a more-than- $372,000 value, officials said.
"People love to see fresh vegetables," said Glenn Rickles, 62, of Peekskill, a new Pachamama volunteer who also volunteers at the Jan Peek House and Fred's Pantry. "It puts a smile on their face and that puts a smile on mine."
View a slide show of the Pachamama Farm at lohud.com click here
This article originally appeared in 2011 in the Journal News: http://www.lohud.com