Join Us for a Day of Prayer for Victims of Human Trafficking
On February 8, we invite you to stop by our chapel from 10 am – 3 pm and spend time in quiet reflection and prayer for the victims of human trafficking.
Join us at 3 pm for the showing of the Maryknoll production, Lives for Sale, in the Asia Room.
Lives for Sale is a documentary that goes beyond the rhetoric to show why immigrants are willing to risk everything – even virtual slavery – for the American Dream.
After the screening, participate in a discussion that will be facilitated by a Maryknoll Missioner.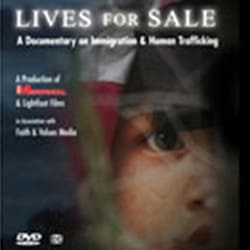 Read about how our Maryknoll Fathers and Brothers answer Pope Francis' call to pray for a restoration of dignity and the protection of victims of human trafficking through these different projects:
Have Questions or Want to Discuss Planned Gifts?
We are here to answer any questions regarding the various charitable giving opportunities available to you. We are praying with you as you consider these decisions.
About Us
About Maryknoll
Our Mission Work
Emergency Relief
Saving Planet Earth
Medical Care
Mission in the U.S.
Mission Archive
Resources
Ways to Support
Vocations
Magazines & Media
Short Term Mission Trips
Enciende tu Llamada Misionera
Essay Contest
Teacher Community
Working at Maryknoll
Maryknoll Fathers and Brothers will not sell, rent or exchange your data with other organizations.
The Maryknoll Fathers and Brothers (Catholic Foreign Mission Society of America, Inc.) is a tax exempt non-profit organization incorporated in the State of New York. Tax ID # 13-1740144.