East Africa: September 8 to 26, 2020
Follow in the footsteps of Pope Francis and experience the JOY of Africa and its people.
"The crowds, the joy, the ability to celebrate even with an empty stomach" were impressions the pope said he took home with him after his visits across Africa.
Motivated by love and challenged by the Gospel, Maryknoll has been witnessing God's call to mission for over 100 years in combating poverty, providing healthcare, building communities and promoting human rights in Africa and elsewhere around the world – we invite you to join us!
Tanzania & Kenya Mission Trips by Maryknoll
A Missionary & Cultural Adventure Maryknoll's mission trip to East Africa will engage with the people of Kenya and Tanzania, exploring our common bonds of global solidarity and availing deep cultural immersion.
Crossing borders and encountering our brothers and sisters around the world is an opportunity for a mutual exchange of the joy that comes from the Gospel. Discover the sacred presence of God in the people of Africa.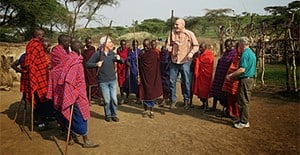 This Mission Trip is Ideal for…
Ministers / Deacons (& Wives)
Religious Educators
Singles
Couples
What You Can Expect on this Mission Trip…
Scored as: 
1
(very little)
 —
>
5
(significant)




Join us for a mission immersion trip to experience the JOY of Africa. Learn more about the people in Kenya and Tanzania and explore how we are linked to the people of East Africa in the bonds of global solidarity.Immersion trip includes:
On-site introduction to the cultural, religious, economic, and political realities of Kenya and Tanzania
Visit Maryknoll missionaries, hear their stories of working with the people of Kenya and Tanzania and discover how their work in mission connects with your own mission
Meet the people East Africa and listen to stories of hope and challenge, from the city slums of Nairobi to the rural villages of Tanzania
Celebrate with local communities of missionary disciples
Engage in pastoral visits with members of Small Christian Communities, street children, HIV/AIDS patients, orphans, school children and more
Trip begins in Nairobi, Kenya with van trip to Tanzania with stops in Mwanza and Musoma and ends in Arusha.
Includes over night safari park trips to Ngorongoro Crater and the Serengeti National Park
Daily communal prayer, liturgies and theological reflection
Post-trip debriefing and reflection
Credits for Continuing Education
*Note:  to arrive in Nairobi, Kenya (JRO) on 9/9/2020, you will likely need to fly from the U.S. on 9/8/2020 on an overnight flight. Departures on 9/25/2020 from Kilimanjaro near Arusha (JRO) will likely arrive back to the U.S. on 9/26/2020.
Trip details and estimated costs:
All inclusive in-country accommodations (room, meals, and in-country transportation): approximately $3,000 per individual.  Costs are tentative and will be finalized in the Spring.
Participants are responsible for their own arrangements and costs to arrive in Nairobi, Kenya (NBO) and depart from Kilimanjaro (JRO) near Arusha.  As of December 2019, estimated airfare was $900.
U.S. Passport required. Visas are required.
Please check with your doctor regarding vaccines.
"I'll never forget my first trip to Tanzania and Kenya. It was a life changer. I know that sounds cliche, but it's true. I went expecting poverty and misery, which were there, but came home forever touched by the joy and hospitality of the people I met."
Deacon Matt Dulka
"They were the stories of the Kenyans and Tanzanians – narratives of intersecting lives – of the struggles to blend modernity and old traditions, sometimes for the good; other times for the bad. There were stories of tribes – abused, divided, exploited by colonialists, and then finding freedom – freedom to chart their own destiny as people. And then there were stories of the Maryknoll missioners whose lives were intertwined in the lives of the people they served. To be part of my life's journey, every single one of those stories I had to feel, experience, store, remember and share. So, must you! I cannot think of any other way."
Deacon Noe Tuason