We are Missioners of Hope in Cambodia
Our Maryknoll Fathers and Brothers serve side by side and in prayer with other members of the Maryknoll Family to better serve the people of Cambodia.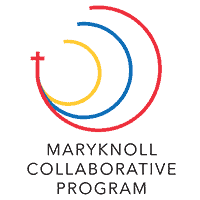 The Maryknoll Fathers and Brothers, Maryknoll Sisters, and Maryknoll Lay Missioners have been on mission together in Cambodia for (how many years). Although we are all separate financial entities, we are part of the same family who share the same mission values and work together in many countries, such as Cambodia.
The needs of the poor, the ailing and the marginalized in Cambodia has continued to grow at an alarming rate. In order to continue serving the Gospel with our dedicated partners (the Maryknoll Sisters and the Maryknoll Lay Missioners) we need your continued prayers and support. When families are in crisis, we extend two hands: one with compassion of Our God; the other with missions that alleviate the worst forms of poverty.
With your help, we can reach an even greater number of people in need.
Together, we are doing even more as missioners of hope in Cambodia:
Deaf Development Program is the only agency serving the general deaf population of Cambodia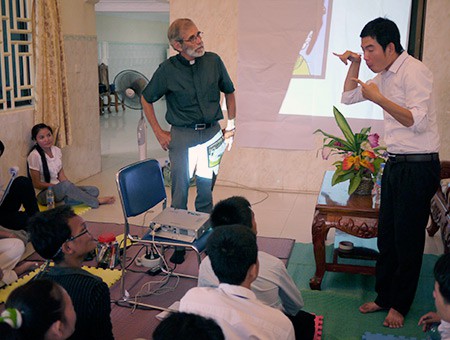 This is the heartbreaking reality: About 51,000 Cambodians are deaf and a half-million more are hard of hearing.
The average deaf person coming to Maryknoll for help is in his or her 20's, has no language ability, has never been to school even for a day, and has never met another deaf person. That's because fewer than 4% of deaf people in Cambodia receive services of any kind. Only 50-60 deaf Cambodians have finished high school.
"We begin with the intensive teaching of Cambodian Sign Language, then we offer two years of non-formal education. With these skills, deaf people can begin job training." ~ Father Charles Dittmeier, M.M., Head of Maryknoll's Deaf Development Program
Our program is labor-intensive and complex. It requires interpreters and supervisors to travel extensively to find deaf people, and then to raise awareness with village chiefs, local officials, parents, and the deaf themselves.
Slowly but surely, support at the local level is improving and awareness of the deaf has increased. Father Charles is especially hopeful for a new working relationship with the Cambodian government. His goal: more hires in Cambodia's civil service.
All donations received will go to support efforts in Cambodia and will be split equally between the three Maryknoll entities.
Missions where children thrive
Beoung Tum Pun Community Health and Education Project
Our mission supports children in two neighborhood schools in two important ways: by covering their fees for primary and secondary school, an expense that no poor family can handle; and by providing oversight from a trained professional who makes sure the children are advancing.
Father Robert Wynne, M.M. says, "Early childhood intervention is critical to building a strong foundation for learning." So his efforts are concentrated in four of the most deprived neighborhoods of Phnom Penh.
Our children's center offers enrichment activities plus basic Khmer and math. Two neighborhoods have preschool for children ages 3 to 5. This is especially helpful for Vietnamese children who will eventually enter the Cambodian school system as first graders.
Two other centers offer preschool classes as well. Children learn basic Khmer and math, and enjoy cultural activities and crafts.
Father Robert's staff includes a nurse-midwife who teaches health ed to grade 1 students in three public schools and in eight neighborhoods.
All donations received will go to support efforts in Cambodia and will be split equally between the three Maryknoll entities.
Maryknoll HEADS (Health, Education & Development)
"Getting an education is the key to breaking out of poverty," says Father Robert Wynne, M.M.
His HEADS program supports over 150 impoverished children in primary and secondary school by providing them with the required school uniforms, shoes, supplies, and book bags—all things they could never buy on their own.
Thirteen high-school students volunteer with us as tutors in an after-school program. HEADS also teaches about child protection, HIV/AIDS prevention, human trafficking, and drug awareness. Our STEM program gives children an introduction to science, technology, caring for the environment, and math.
All donations received will go to support efforts in Cambodia and will be split equally between the three Maryknoll entities.
Your prayers are a comfort…
Knowing that you are joined with us in prayer is a great comfort to every Maryknoll Father and Brother. Please take a moment to share your prayers and they will be forwarded in your name to our missioners in Cambodia. Post your Prayer.
MAILING a Donation or Letter
Maryknoll Fathers and Brothers
P.O. Box 302
Maryknoll, NY 10545-0302