Maryknoll is offering missions of mercy…
In South Sudan and Kenya, people are dying from hunger and many have left home for refugee camps because of violent conflicts over food.
Living conditions are desperate.
Despite the risk, Maryknoll missioners are distributing emergency supplies, and ministering to the sick. We will never stop caring for the people of East Africa.
The Maryknoll Society  —   a Catholic order of priests and brothers who work in service among the suffering and poor in over 20 countries worldwide.
Our mission is to live and proclaim the Gospel by modeling Jesus' compassion to people of various religious and cultural traditions in an effort to build a world of justice, peace and understanding.
The people of East Africa are hopeful that village and family life will be restored… so that schools can stay open… emergency aid can arrive safely… and that better farming methods will produce dependable crops. Will you join us to bring HOPE to the people of East Africa?
Help us end the suffering with your gift for Maryknoll missions in South Sudan, Kenya and 20 other countries around the developing world where people live in extreme poverty.
Together we can witness the compassion of Our Lord by serving families in greatest need and by offering the healing grace of our faith.
Under difficult and sometimes dangerous conditions, Father John Barth, M.M. loads a truck with foodstuffs in nearby Uganda—as often as he can—and delivers them to St. Theresa Parish in Isohe, South Sudan:
beans, sorghum, flour, sugar
cooking oil
detergent and soaps
He has also built a submersible water pump in the parish to pull up ground water for cooking and washing.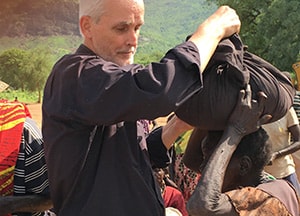 Father Lance Nadeau, M.M. is working with villages in northwest Kenya to alleviate the drought and food shortages with:
sand dams to capture rain when it does fall
fishing boats for families on Lake Turkana who can sell the fish they don't need for themselves
the planting of drought-resistant seeds for a more dependable harvest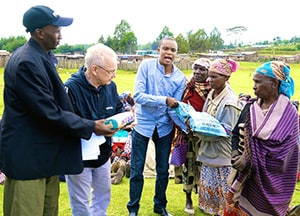 Father Michael Bassano, M.M. brings comfort to the 25,000 displaced children and families living in U.N. refugee camps in Malakal, South Sudan. His daily rounds include:
visits with the sick and dying
the Sacraments for the faithful
Mass and special prayer requests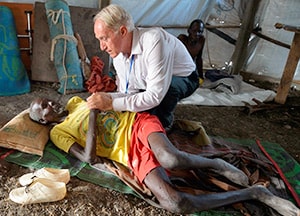 Prayer for South Sudan and Kenya
Blessed Mother Mary, we pray for
the starving children and adults of Mother Africa
who are growing too weak to cry or complain,
to grow and to live.
Blessed Mother Mary, help us to hear
their call for food and peace and health.
Help us to help them whose faith
and love are known to you alone.
Blessed Mother Mary, you gave your Son
Who gave us His body as Blessed Bread
so the world might have new life in Him.
Help us feed our African brothers and sisters
before it's too late.
We urgently pray in Jesus' Name.
Amen.
~ Father Joseph R. Veneroso, M.M.
"Thank you" from the Maryknoll Fathers and Brothers. May God bless you always!
MAILING a Donation or Letter
Maryknoll Fathers and Brothers
P.O. Box 302
Maryknoll, NY 10545-0302