Edward Cardinal Egan Presides at Ordination Mass at Maryknoll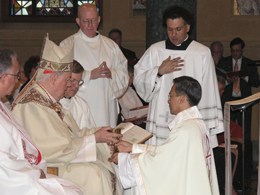 Hung Minh Dinh, M.M., of Garden Grove, Calif., was ordained to the priesthood on Saturday, May 31, 2008 at 10:00 a.m. at Queen of Apostles Chapel, Maryknoll Society Center in Ossining, N.Y., by His Eminence Edward Cardinal Egan, Archbishop of New York. During the Mass, Reverend Dinh, who has been assigned to work in Africa, participated in the traditional Maryknoll sending ceremony, an event held prior to a missioner's departure overseas.
Reverend Dinh, 41, a native of Vietnam, recently served in Tanzania, East Africa, where he participated in Maryknoll's Overseas Training Program. Following studies in the Swahili language, he did pastoral work in the urban Transfiguration Parish in Mwanza, Tanzania. During that time he also accompanied a Maryknoll priest in his work in rural Ndoleleji Parish, ministering to the Watuturu people. (2005-07).
In Vietnam, Dinh worked in Can Gio Parish in a small, poor village outside Saigon (1989-92). There he served as choir director and catechist, and tutored the children in math and reading as well as giving them the basic knowledge they would need to function in the city. He credits his time in Can Gio as contributing to his call to mission.
"I had a chance to live with the poorest people who had only one meal per day and had no access to what was happening in the rest of the world," he said. "When I came to the United States where I had everything, I realized I wanted to spend my whole life serving the poor."
Reverend Dinh was born in Hue, Vietnam on August 1, 1966. He entered St. Joseph Major Seminar in the Diocese of Saigon in 1987 and received a bachelor's degree in physics from Ho Chi Minh City University of Science (1989). He joined Maryknoll in 1998. He holds a bachelor's degree from St. Xavier University with majors in philosophy and religious studies (2002) and earned a Master of Divinity degree from Catholic Theological Union (2008), both in Chicago, Ill.