Lumina News – Wednesday, March 14, 2012

(Supplied photo courtesy of Rich Cox / Catholic Diocese of Raleigh)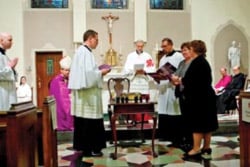 Bishop Michael Burbidge, from left; Father James F. Garneau, Episcopal Delegate for the Cause; Msgr. Jerry M. Sherba, Chancellor of the Diocese who administered the oaths; Father Ja Van Saxon, Promoter of Justice; Angela Godwin Page, Actual Notary and Maureen Foster, Adjunct Notary, gather on Friday, March 9, in Raleigh for a prayer service and to take an oath, beginning the diocesan phase of the Cause for Beatification and Canonization of Father Thomas Frederick Price.
The Catholic Diocese of Raleigh has officially opened the diocesan phase of the Cause for Beatification and Canonization of North Carolina's first native Catholic priest.
Tribunal members met Friday, March 9, in Raleigh for a prayer service and to take an oath as they begin a formal study of Father Thomas Frederick Price, who was born in Wilmington in 1860.
The tribunal's historical and theological commissions will study Father Price's writings and records about his life and listen objectively to witnesses who may have knowledge of his work or reputation, Father James F. Garneau, pastor of St. Mary of the Angels Catholic Church in Mount Olive, said Monday, March 12.
Garneau, Episcopal delegate for the cause, added they have a list of about 30 witnesses from throughout the country so far.
"We don't have living witnesses from his time, eyewitnesses," Garneau said. "But we have people in the next generation, people who knew people who knew Father Price."
Bishop Michael Burbidge opened the cause at Sacred Heart Cathedral. Among those attending was Edward Price of Clayton, one of Father Price's descendants.
"He was a fascinating man," Edward Price said Monday, March 12, by telephone.
"Imagine having a conversation with someone and saying, 'By the way, my fourth cousin is a saint.' I find that remarkable," he added when asked about his ancestor possibly being declared a saint someday. "How many people on this earth can say that?"
Price established the Nazareth Community orphanage in Raleigh, co-founded the Maryknoll Fathers and Brothers mission society in New York with Father James A. Walsh and served on Maryknoll's first foreign mission in 1918. He suffered an infected appendix while in China and died in 1919.
A family connection was made when Edward Price saw an issue of NC Catholics magazine last year with Father Price on the cover. He recalled his father telling him about a famous priest from North Carolina they might be related to.
"I mailed the copy to my father and that pretty much got the ball rolling," Edward Price said.
Family genealogical research helped confirm that connection, and the family contacted the bishop and visited Maryknoll, said Edward Price's father, Carl Price of Red Bank, N.J.
Carl Price, who grew up in Brooklyn, N.Y., said his father had mentioned having had a cousin from North Carolina who co-founded the Maryknoll Society.
"We kind of knew this as a fact of family history but…we never took any action upon it," Carl Price, 82, said during a telephone interview Thursday, March 8.
The Price family came to the United States from Wales and settled in Wilmington, where some family members were buried at Oakdale Cemetery, he said.
Father Price's father — Alfred Lanier Price, editor of the Wilmington Daily Journal — had a brother, William, who was Carl Price's great-grandfather. Father Price was editor for a magazine about the Catholic faith called Truth.
"It's just such a wonderful, wonderful thing," Carl Price said. "The more I've learned through the genealogy that there is a blood connection here, it's something I never expected. And I'm sure my father, if he were alive, he would be astounded about this too."
"It's such an honor," he added. "I'm overwhelmed and I feel very blessed by this connection."
The tribunal will examine if Father Price's life demonstrated heroic virtue and will study reports of any miracles people believe are from his intercession or prayers.
"We're not looking to jump to conclusions," Garneau said. "The church is deliberate on this so if a declaration is made there's a certain assuredness we can point to, even among nonbelievers."
Father Price, called the "Tar Heel Apostle," is credited with spreading Catholicism throughout North Carolina. He belonged to St. Thomas Church in downtown Wilmington, which is now St. Thomas Preservation Hall.
"I hope this beautiful area of our diocese in Wilmington takes great pride, because Father Price, this was where he was born and certainly grew in his own faith," Burbidge said during a visit to Wilmington on Wednesday, March 7.
Father Price's legacy includes 39 acres of land near Raleigh remaining from about 400 acres he bought in 1897, which is where the diocese planned to build a new cathedral. The current cathedral seats approximately 320 people and is the nation's second smallest Catholic cathedral after the one in Juneau, Alaska, the bishop said.
In death Father Price is near two important figures of his life — his body is buried near Walsh's remains at Maryknoll, while his heart is buried near St. Bernadette's tomb in France.
When asked why the church recognizes saints, Burbidge said it is a way to provide concrete examples and is similar to honoring respected members of professions.
"We can talk about saintly virtues," Burbidge said. "But it's a lot better when you can say, 'And here is an example, and here are some of the things that this woman or this man did in his or her earthly life. These are obstacles that they faced, and this is how through their holiness that they conquered it.'"