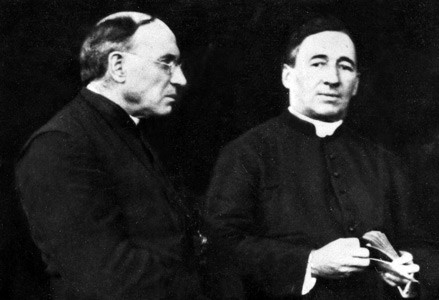 The momentum for the Maryknoll movement began over 100 years ago
When two American priests from distinctly different backgrounds met in Montreal in 1910, they discovered they had one thing in common.  Father James Anthony Walsh, a priest from the heart of Boston, and Father Thomas Frederick Price, the first native North Carolinian to be ordained into the priesthood, recognized that through their differences, they were touched by the triumph of the human spirit and enriched by encountering the faith experience of others.  This was the foundation of their mutual desire to build a seminary for the training of young American men for the foreign Missions.
Countering arguments that the Church needed workers here, Fathers Walsh and Price insisted the Church would not flourish until it sent missioners overseas. Independently, the men had written extensively about the concept.  Father Price in his magazine Truth, and Father Walsh in the pages of The Field Afar, an early incarnation of Maryknoll Magazine.  Together, they formulated plans to establish a seminary for foreign missionaries. With the approval of the American hierarchy, the two priests traveled to Rome in June 1911, to receive final approval from Pope Pius X for their project.
On June 29, 1911, Pope Pius X gave his blessings to form of The Catholic Foreign Mission Society of America, now known as the Maryknoll Fathers and Brothers.
After a short stay in their original headquarters in Hawthorne, New York, Frs. Walsh and Price set up the training ground for their young missioners seminary on a hilltop farm in nearby Ossining.  In doing this, they invoked the intercession of the Blessed Mother, and called their location "Mary's knoll" which in time became "Maryknoll".  In 1920, construction of the Maryknoll seminary began and was finally completed in the 1950s.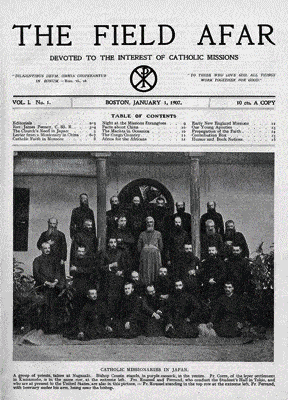 Father Price made an around-the-country tour of America to gain support for the new endeavor. Before it had its first seminarian, one young man applied who felt called to mission but not priesthood. Thomas McCann became the first Maryknoll Brother in 1912.
By 1918, three young priests – Frs. James E. Walsh (not related to Fr. James A.Walsh), Francis X. Ford, and Bernard F. Meyer) were ready for the foreign missions in China, just after the first world war. Price went with them as superior to the new missions, but died the following year.
The mission soon expanded to include northern China and Korea. As war or unrest made mission impossible in one area, Maryknoll went to other regions: Latin America in 1942 and Africa in 1946, just as these continents entered eras of military conflict and social upheaval.
Today there are over 356 Maryknoll Priests and Brothers serving in countries around the world, principally in Africa, Asia and Latin America.

To learn more about Maryknoll's history visit Maryknoll Mission Archive website.
About Us
About Maryknoll
Our Mission Work
Emergency Relief
Saving Planet Earth
Medical Care
Mission in the U.S.
Mission Archive
Resources
Ways to Support
Vocations
Magazines & Media
Short Term Mission Trips
Enciende tu Llamada Misionera
Essay Contest
Teacher Community
Working at Maryknoll
Maryknoll Fathers and Brothers will not sell, rent or exchange your data with other organizations.
The Maryknoll Fathers and Brothers (Catholic Foreign Mission Society of America, Inc.) is a tax exempt non-profit organization incorporated in the State of New York. Tax ID # 13-1740144.