Share the Mission Spirit This Easter
Easter is a celebration of the promise of salvation as we live the Gospel each day by caring for one another as Jesus taught us.
Christ overcame sin by dying on the Cross and by rising from the dead, He became Our Lord and Savior. We hope you too will be transformed by sharing your mission spirit with us.
See how we are transforming lives around the world: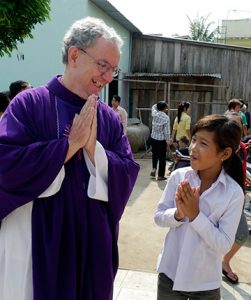 This vital program provides medical and social services for children living with HIV/AIDS. Of the nearly 200 children in our care, all of them are orphans or HIV-positive.
Seedlings is also where children receive food, clothing, medicines, and an education.
"Easter represents all of my hopes for Seedlings. Our children are growing up with so many challenges. But I know in my heart that with compassionate care, they can become productive adults—and an example of how the light can overcome the dark. The Risen Lord is here among us… renewing and transforming each of us in His own way."
~ Father Kevin Conroy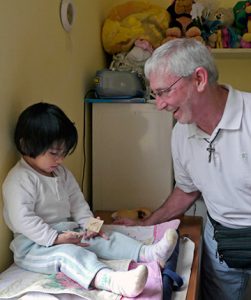 Father Joe runs two AIDS shelters for women and children; a food program for prisoners with HIV/AIDS; and provides food, medicine and legal services for mentally ill prisoners.
He also offers a visitation program for AIDS patients able to remain at home.
"Most of the people I work with are desperately ill… usually because they are poor and invisible to the world, or because they really are invisible—living out a jail sentence under pretty bad conditions. Patients tell me I saved their life, or that I gave them hope they never thought was possible. That's the lesson of Easter. Each of us has the ability to renew someone's life. We just have to turn ourselves over to God. Our Risen Lord will do the rest."
~ Father Joseph Fedora, M.M.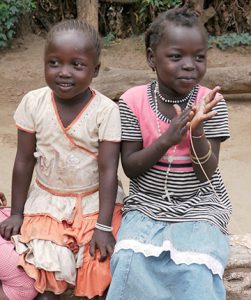 Each year our Eastern Deanery mission cares for 50,000 children and adults living with HIV/AIDS. Services include screening, counseling, and treatment.
Now, Father Rick is developing a hospice and palliative care program that has shown very promising outcomes. He hopes it will become a healthcare model for other countries in Africa.
"Sometimes I ask a patient, 'Can I hold your hand?' Usually the answer is 'yes,' and almost immediately anxiety starts to lessen, the heartbeat slows down, and we can begin a conversation. I also ask patients what's important to them… their families? a vacation with the kids? music?… and that can open doors, too. These are transformative moments. They are crucial in improving the delivery of healthcare. And they remind us that Easter is about renewal, too."
~ Father Rick Bauer, M.M.
This Easter you will be remembered in a special way. Beginning on the Feast of the Resurrection, April 1, Maryknoll celebrates our Easter Octave of Masses. At each Mass, we will pray for your Special Intentions and ask God to bless you.
JOIN US during our Octave of Masses and send us your prayer requests.
"Then he opened their minds to understand the scriptures. And he said to them, 'Thus it is written that the Messiah would suffer and rise from the dead on the third day and that repentance, for the forgiveness of sins, would be preached in his name to all the nations, beginning from Jerusalem. You are witnesses of these things…' "
If you wish to receive the Easter cards pictured above, please call us toll-free at 1-888-627-9566 between 8 AM and 5 PM Eastern time or send an email to mkinfo@maryknoll.org with Easter Cards in the subject line.
MAILING a Donation or Letter
Maryknoll Fathers and Brothers
P.O. Box 302
Maryknoll, NY 10545-0302