Your gift will help build our Church in Africa, Asia, and Latin America by supporting our missions of mercy.
The Maryknoll Society  — a Catholic order of priests and Brothers who serve the poor and people in greatest need in more than 20 countries.
Our mission is to model the mercy and compassion of Our Lord among people of different religions and cultural traditions, striving to build a better world of justice, peace, and understanding.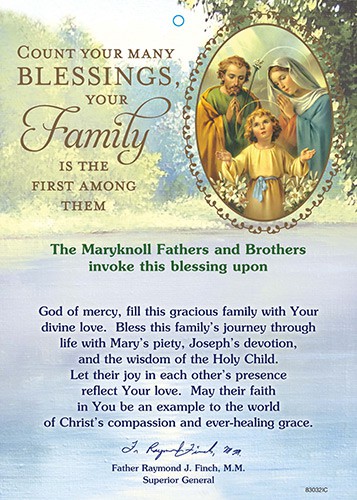 Prayer for the Family
On the top of Mount Tabor, Lord,
You were transfigured in the sight of
Peter, James and John who exclaimed
"It is good for us to be here."
Even as Your glory shown through Your death
helped me find Your loving hand
even in the sorrows and hardships of life.
When my family loses sight of Your presence
and quarrels and misunderstandings cloud our minds
call us back to Mount Tabor, Lord,
and give us the strength and grace we need
to overcome every crisis
and to recognize each member of the family
as Your special blessing.
Gathered around the family table
let each one of us confess and believe,
"It is good for us to be here."
Amen.
~ Father Joseph R. Veneroso, M.M.
JOIN US and your gift to Maryknoll will make sure that all those we serve — in every one of our mission initiatives throughout the world — are cared for with the respect they deserve, and receive the compassion of Jesus Christ.
MAILING a Donation or Letter
Maryknoll Fathers and Brothers
P.O. Box 302
Maryknoll, NY 10545-0302