A Prayer for Veterans
We remember, Lord those who
sacrificed their youth, their health
and their lives to keep our nation
safe, strong and free.
We commend to Your mercy, Lord
the souls of all who died
in far too many wars
and pray in a special way for those
who live today with wounds
that are slow to heal.
O Lord we pray for peace
based on justice
and prosperity
built on equality
and an end to greed
envy and revenge
that all wars may end
forever.
We pray this in the name of Jesus,
Your Son, who sacrificed his youth,
health and life
that all the world may be
safe, strong and free.
Amen.
~ Father Joseph R. Veneroso, M.M.
This Veterans' Day, Take a Moment to Remember and Honor our Veterans Past, Present, and Future
At Maryknoll Fathers and Brothers, we remember our Missioners who have served our great nation, continue to serve in mission or died while doing so.
One of our missioners who has served in the military is Father Vincent R. Capodanno, M.M.
Father Capodanno was born on February 13, 1929 on Staten Island, New York. He entered Maryknoll in 1949 and was ordained in 1958. His first mission assignment was in Miaoli, Formosa (now Taiwan). In August 1965, Father Capodanno asked to be reassigned from mission in Formosa to serve as a U.S. Navy chaplain. He volunteered immediately for duty in Vietnam and served with a unit of the U.S. Marines. Chaplains of the U.S. Navy oversee religious ministry in the Marine Corps.
Father Capodanno was killed in action during an ambush while in the battle of Operation Swift on September 4, 1967. In a devastating twist of fate, he had been due to return to the U.S. that October.
Father Capodanno is the only chaplain to receive the Medal of Honor for service with the Marine Corps. Although he never donned a weapon of war except those in the spiritual realm, he served his country as a solider of faith and hope on the battlefield.
Support our missions of mercy in many war-torn countries today…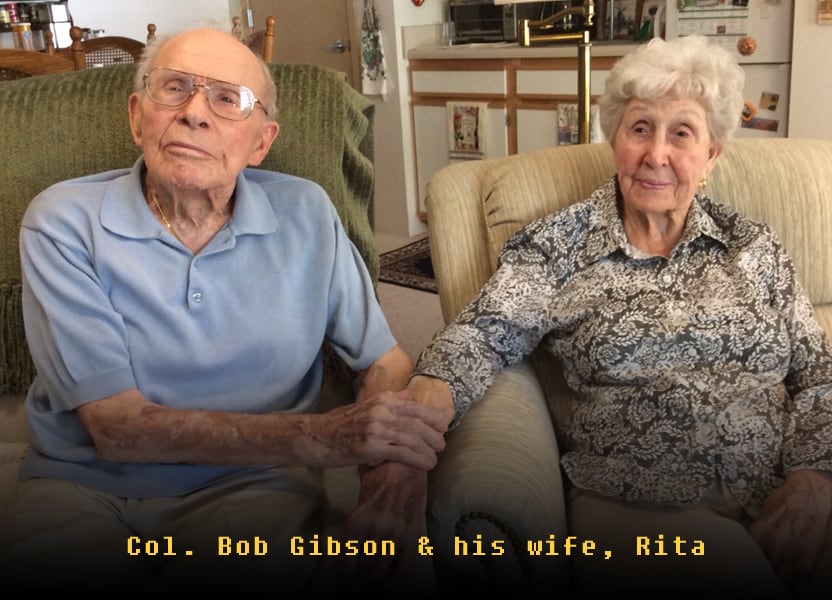 While stationed in Salina, Kansas, Col. Bob Gibson met Rita and they fell in love. They were later married by the base chaplain, Father Edward Manning, M.M.
Bob and Rita kept in touch with Father Manning over the years. On their 50th wedding anniversary, Father Manning could no longer travel so he sent a note and a scroll from Rome to celebrate the occasion. Bob got to know more Maryknoll Missioners when they spoke at local churches while in service in Japan and the Philippines.  Rita entered into the presence of our Lord and Savior in Nov. 2017.
Bob and Rita have continued to support Maryknoll all through the years,
we hope their story and the stories of our own missioners will inspire you to support us too…
Your gift will help us continue our good works
as we serve our great nation and in mission
The Maryknoll Fathers and Brothers witness the Gospel in more than 20 countries around the world, caring for the poor and marginalized.
"Thank you" from the Maryknoll Fathers and Brothers serving in mission all over the world.
MAILING a Donation or Letter
Maryknoll Fathers and Brothers
P.O. Box 302
Maryknoll, NY 10545-0302