On March 22, people around the world will join together for World Water Day which is an international observance and an opportunity to learn more about water related issues, be inspired to tell others and take action to make a difference. This year's theme is 'Nature for Water,' exploring ways in which we can use and protect nature for solutions to this increasing water challenge.
You are a gift to God's creation and you can help the Maryknoll Fathers and Brothers continue to build sand dams and wells, keep families healthy and ensure that their income-generating crops and livestock are maintained.
Please pray for those around the world who don't have clean water.
Nearly 1.9 billion people live in potentially severely water-scarce areas. By 2050, this could increase to around 3 billion people.
(as a measure of devastation)
For more than 100 years, the Maryknoll Fathers and Brothers have been ministering to the poor and marginalized throughout the world. Over the decades, we've helped provide clean water for people by finding ways to harvest rain water with appropriate filtering systems, as well as spearheading projects for sand dams and new wells.
Global Water CRISIS – It Affects Everything!
Each day almost 2.1 billion people live without clean drinking water.
You can donate now to help the Maryknoll Society continue to provide clean water to the poor and marginalized.
Maryknoll missioners protect water and the environment – discover some of our clean water projects:
God of Creation
In the beginning, Your Spirit
hovered over the waters
and showered blessings upon
our beautiful Earth.
You spared Noah and his family
as your waters cleansed evil from the world.
Moses led your people to freedom
through the parted waters
of the Red Sea
and Jesus, Your Son and Our Lord,
received baptism in the waters of the Jordan.
Yet today, Lord, too many of Your children thirst
for Your blessing of clean water.
Too many die for lack of clean water to drink
or with which to bathe or wash their clothing.
Help us to help them
by sharing the abundance of the Earth
that their lives may once again
be blessed with health, happiness
and newness of life.
We pray in your Holy Name,
Amen.
~ Father Joseph R. Veneroso, M.M.
Author and Maryknoll Speaker Christiana Peppard Explores the Global Water Crisis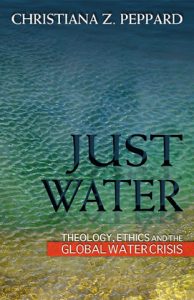 Christiana Peppard, an assistant professor of theology at Fordham University and past presenter at the Maryknoll Speaker Series, avails a gripping analysis of the value of fresh water at the intersection of hydrology, ecology, ethics, theology, and Catholic social thought in her book 'Just Water.'
Christiana explores important aspects of the global fresh water crisis while also providing ethical analysis and principled recommendations about fresh water use and scarcity in the 21st century.
MAILING a Donation or Letter
Maryknoll Fathers and Brothers
P.O. Box 302
Maryknoll, NY 10545-0302