ALLEVIATE STARVATION IN EAST AFRICA
Responding to a Natural Disaster
The Horn of Africa is in the grip of a humanitarian crisis not seen since the end of World War II.
Drought conditions have caused mass starvation in Kenya, South Sudan, and Tanzania where Maryknoll Fathers and Brothers are delivering food, clean water and as much HOPE as humanly possible to children and their families.
Send Relief to a Family in East Africa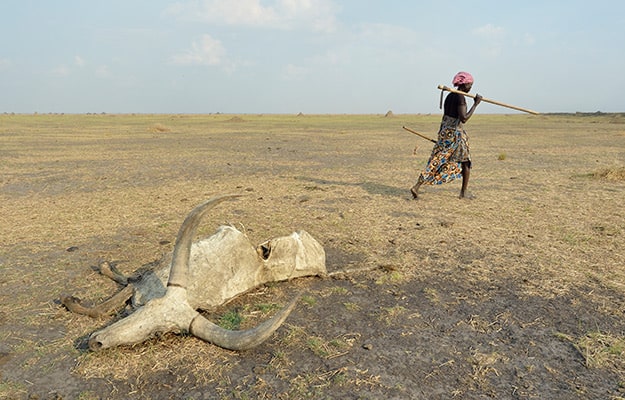 Here's how our Maryknollers are helping in Africa:
Purchasing basic foodstuffs such as maize, sorghum, and cooking oil
Traveling to urban centers where food is readily available for purchase
Identifying sources of clean water
Sharing supplies through local parishes and community centers
Distributing drought-resistant seeds for more predictable crop yields
Advocating publicly for the poor and displaced
Kenya is largely a semi-arid, arid country to begin with and the rains have been poor. In addition, this year an invasion of army worms has destroyed a large proportion of what would have been poor harvest.
The lucky ones in South Sudan are eating one meal a day and this lack of food and political turmoil causes people to flee to Uganda in search of food and security. They end up at Bidi Bidi Camp, located in Arua, Uganda, which has become the largest refugee camp in the world. The camp now holds over 270,000 South Sudanese and is still growing.
There has been some rain in Tanzania but it's woefully inadequate. The lack of rainfall has killed off most of the cattle and sheep.
Your prayers and support can help us reach the people of Africa who desperately need the most basic necessity of all – FOOD!
JOIN US and with your gift to Maryknoll, we can compassionately care for children and families who have nowhere else to turn. Maryknoll Fathers and Brothers will be the presence of God in a world that is desperate for healing.