A Commitment of a Lifetime
Your prayers and gift will ensure that the Maryknoll Fathers and Brothers continue to prepare young men for religious life as they embark on missions to help those less fortunate in more than 20 countries in Asia, Africa and Latin America.
"He (God) kept on knocking and it got louder and louder, until one day I woke up and it was just clear that this is where I was called and what I was called to do."
~ Brother Ryan Thibert, M.M.
With your prayers and support, you are participating in a legacy of faith that is more than 100 years old!
Father Jonathan Hill, M.M.
A conversion of the heart. That's what happened when Baptist-raised Jonathan Hill asked for a sign and discovered that his calling was to become a Catholic and then a priest! But it was the love of family and the lessons learned in childhood that instilled compassion for the people of the world.
His two years in Maryknoll's overseas training program in Tanzania drew him close to God's people, and he will continue his work there after ordination.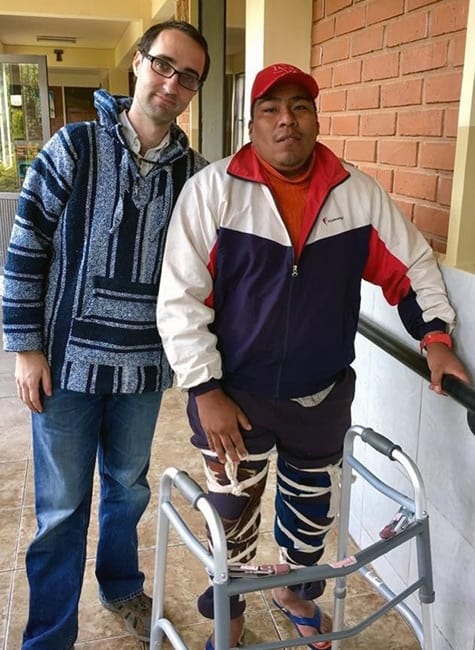 Brother Ryan Thibert, M.M.
It began with an interest in mission and serving in other cultures. And then the workings of the Holy Spirit led Ontario native Ryan Thibert to Maryknoll. Hearing Brother Bob Butsch, M.M., speak of his passion for mission in China clarified the vision this young man received for his life.
But it was the mission immersion trip to Jamaica—where Brother Ryan ministered to orphaned children with disabilities—that sealed the deal.
Servants of the Gospel
More than one hundred years ago a spark
of faith was fanned to flame.
By ones and twos, by tens and scores
to distant coasts and foreign shores
from all across this land they came
with light to overcome the dark.
Announcing love as holy cure
and peace to conquer hate and war
forth from Mary's Knoll they went
to earth's four corners they were sent
giving much, receiving more
proclaiming Good News to the poor.
That all the love of God might know
and grace might everyone adorn
each soul for heaven's goal to claim
they went abroad in Jesus' name
inspired by the Child born
two thousand years ago.
Amen.
~ Father Joseph R. Veneroso, M.M.
Your prayers and support will help Maryknoll continue to prepare young men for religious life in the years to come.
To Send a Donation by Mail or Phone
Maryknoll Fathers and Brothers
P.O. Box 302
Maryknoll, NY 10545-0302

1-888-627-9566
8 AM to 5 PM Eastern time