A Commitment of a Lifetime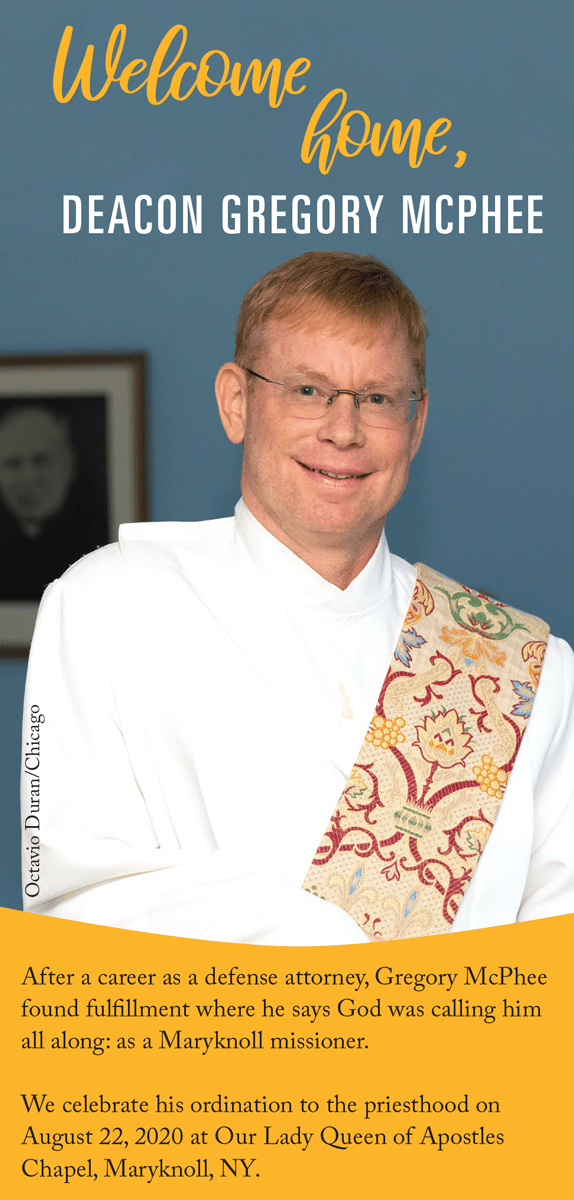 Called to Serve
A vocation to religious life is a gift from God…a calling to witness the Gospel with compassion, especially among the world's poorest. We thank God for Deacon Gregory McPhee's calling to the priesthood, and we pray for him as he prepares for his first mission assignment in Bolivia.
Your prayers and gifts to Maryknoll are a blessing to the work of vocations. Your generosity allows us to nurture the discernment of young men
who are considering religious life—and to show them first-hand how mission transforms lives, including their own.
Thank you for helping us welcome more young men like Deacon Gregory McPhee as Maryknoll missioners. We are grateful for your prayers and support that inspire us to lives of service and compassion.
"Before I formed you in the womb, I knew you, and before you were born, I dedicated you." — Jeremiah 1:5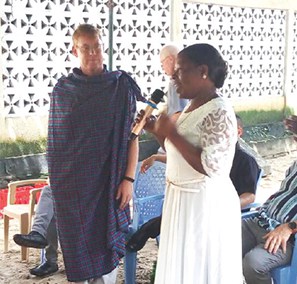 GIVING WITNESS IN TANZANIA
Deacon Greg served in Dar es Salaam for two years. Wearing the traditional dress of the Masaai tribe, he renewed his temporary oath with Maryknoll at St. Thérèse of the Child Jesus parish where parishioners celebrated with him.

Image Courtesy of Greg McPhee, M.M.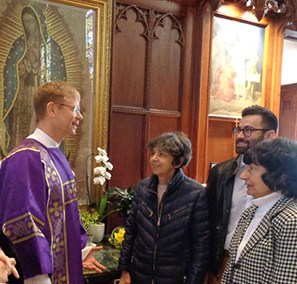 CALLED BY THE HOLY SPIRIT
During this past year, Deacon Greg served at the parish church of St. Ita in Chicago's Edgewater neighborhood. He always found the time after Mass to chat with parishioners about his call to mission and the role the Holy Spirit continues to play in his life.

Image Courtesy of Greg McPhee, M.M.
Deacon Greg likens his "coming home" to the story of the Prodigal Son. He grew up in a Catholic family in upstate New York, studied a year abroad at Oxford University, and from there did a service trip to Tanzania where he encountered extreme poverty for the first time. After receiving his bachelor's degree in politics and economics at the University of California-Santa Cruz, Deacon Greg went on to grad school. He received a master's degree from St. John's College in Santa Fe, NM where he immersed himself in a Great Books program. But that didn't fulfill him completely. "I needed to do something more hands-on with people," he recalls.
NEXT STOP: LAW SCHOOL.
Deacon Greg enrolled at the University of California-Berkeley, received his degree, and became a defense attorney back home in Syracuse, NY. By this time he was no longer practicing his faith. "I had become very secular and focused on the things of this world," he says. At the same time, law wasn't fulfilling him either. "It seemed that I was concentrating more on getting people acquitted than turning their lives around." Always with a humanitarian instinct, Deacon Greg got involved in community service: building houses with Habitat for Humanity, volunteering
with the homeless, and visiting shut-ins. He gave up law and began to teach paralegals. That's when Deacon Greg realized that the Catholic faith of his childhood was the reason he wanted to do even more. Through prayer and an encounter with a priest at Le Moyne College, Deacon Greg discerned his next vocation: overseas mission as a Catholic priest. He contacted Maryknoll and began his journey back home to God. Deacon Greg's prayer for his missionary priesthood:
"I still want to be an advocate for those in trouble. But with the guidance of the Holy Spirit, I hope to help people transform internally as I continue my own transformation."
To Send a Donation by Mail or Phone
Maryknoll Fathers and Brothers
P.O. Box 302
Maryknoll, NY 10545-0302
Tel: 1-888-627-9566
8:30 AM to 4 PM Eastern time