A Year of Hope and Healing – Thanks to YOU!
In 2018, Maryknoll Fathers and Brothers' mission of love and compassion brought HOPE and healing to many of the poor, displaced, and marginalized people across Asia, Africa, and Latin America.
All made possible by the grace of God, and the generous spirit of our many supports.
Pope Francis reminds us that we all are called to be "missionary disciples," modeling Jesus' compassion and mercy to feed the hungry, heal the sick, and care for outcasts.
Your prayers and support in 2018 made it possible for us to bring hope and healing to many suffering around the world – we invite you to support our mission in 2019.
May your home be filled with blessings and love this coming new year.
Yours in Christ,
Father Ray Finch
Superior General – Maryknoll Fathers and Brothers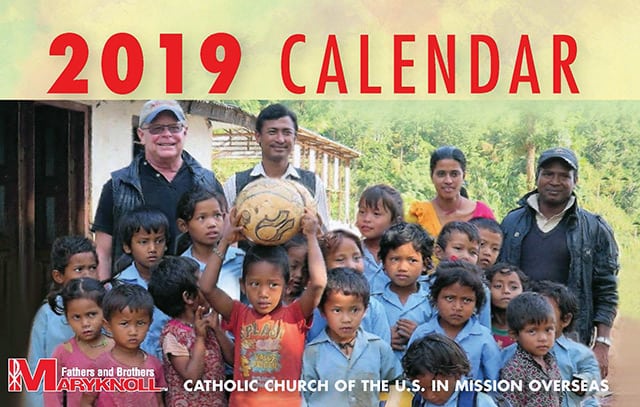 Get the 2019 Maryknoll Calendar
About Us
About Maryknoll
Our Mission Work
Emergency Relief
Saving Planet Earth
Medical Care
Mission in the U.S.
Mission Archive
Resources
Ways to Support
Vocations
Magazines & Media
Short Term Mission Trips
Enciende tu Llamada Misionera
Essay Contest
Teacher Community
Working at Maryknoll
Maryknoll Fathers and Brothers will not sell, rent or exchange your data with other organizations.
The Maryknoll Fathers and Brothers (Catholic Foreign Mission Society of America, Inc.) is a tax exempt non-profit organization incorporated in the State of New York. Tax ID # 13-1740144.