Thanks for visiting our 2016 Essay Contest
The Entry Period has CLOSED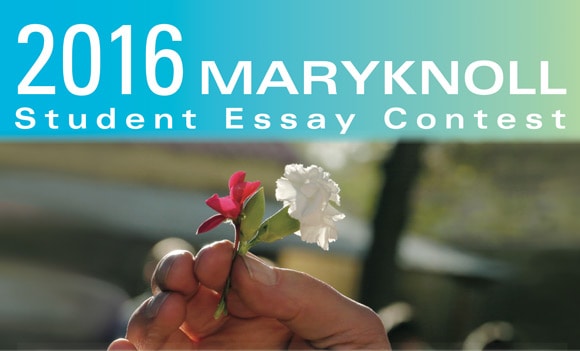 The winning essays will be announced in March 2017, as well as featured in our May/June 2017 issue of Maryknoll magazine.
Caring for Our Common Home
In Laudato Si', Pope Francis says…
"The earth cries out to us because of the harm we have inflicted on her by our irresponsible use and abuse of the goods with which God has endowed her."
Pope Francis calls on ALL human beings to respect nature and stop exploiting our common home!
Results of PAST Essay Contests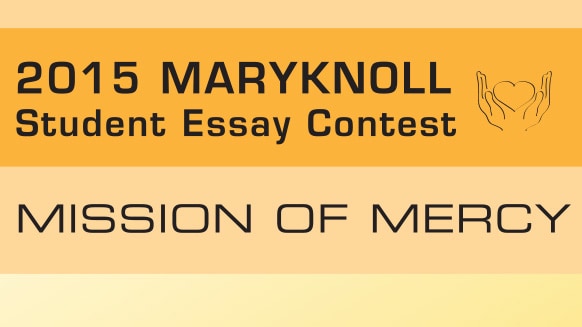 Pope Francis declared a Jubilee Year of Mercy from Dec. 8, 2015 to Nov. 20, 2016, in which he's asked all Catholics to focus on following the example of God, who, Jesus says, does not judge us harshly but offers us love and forgiveness
We asked students grades 6-12 to share real-life inspirational stories about mercy, and convey the lessons learned about the need for mercy worldwide.
Entries received for our 2015 "Mission of Mercy" Essay Contest were judged a panel of more than 50 Maryknoll missioners, all of whom were elated to read the personal stories of people helping others.  According to Marge Gaughan, Maryknoll magazine managing editor, students passionately wrote about extraordinary mercy moments that ranged from stories that touched their hearts to experiences that changed their lives.
2015 Essay Contest Winners
The 2015 contest received close to 6,500 entries from students who competed in two divisions (grades 6 to 8 and grades 9 to 12) for nearly $3,000 in cash prizes:
$1,000 for each of the two first-place finalists
$300 for each of the two second-place finalists
$150 for third place
"Unfortunately, only three essays in each division could be selected as winners," said Maryknoll Sister Mary Ellen Manz, who coordinated the judging. "But we were so inspired by all the students who shared their experiences and ideas that we congratulate each one as well as their teachers who encouraged them to write."
2014 Winners Seen by Pope Francis & Sent a Letter from the Vatican
The six winners of the 2014 Maryknoll Magazine Essay Contest were seen by Pope Francis.
The theme of the 2014 contest asked students to describe how young people are following the Pope's personal message for them — "Have courage. Go forward. Make noise."
WINNERS – Division 1 (grades 6-8)
Grace Wilson, an eighth-grader at Saint James Elementary School in Red Bank, New Jersey, wins the $1,000 Bishop Francis X. Ford Award, named for the Maryknoll missioner who was in the first group of Maryknoll missioners to China and died in a prison there in 1952.
Below is her winning essay…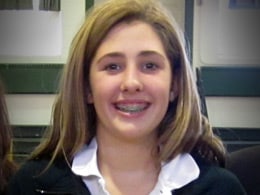 Someone Special Needs You
Mercy is compassion or forgiveness shown toward someone or something. Acts of Mercy are performed as actions seeking forgiveness or charity and are identified with Christianity and most specifically, the Roman Catholic Church. Common Acts of Mercy include burying the dead, visiting the imprisoned or sick, clothing the naked and sheltering the homeless. There are many Acts of Mercy, but one more personal one inspired me more than any other act.
My sister, Ryan, fed starving orphans in Thailand this past summer. She was there on a medical internship when she was scheduled to visit an orphanage in a poverty-stricken part of the country. Upon arriving, she saw that the orphanage where over 100 children were living was made of bamboo and floating on a lake. She learned that the orphanage and families whose homes float on that lake are too poor to pay land taxes so they live in floating homes. Sadly, the lake is prone to flooding, where people can die in the rising waters.
When Ryan saw the children so severely undernourished, she was deeply disheartened. Yet, even though they were hungry, they were still very glad to see Ryan. She played with the children and saw some of them didn't get to eat that day due to the lack of food supplies.
As she was departing, she felt awful leaving the children with no food to eat. Even though she would be late to get back to work at her internship, Ryan was determined to do something for these children. She went to the nearest market and purchased a 30-pound bag of rice. She drove all the way back to the orphanage with the rice. The children were crying with joy and dancing around her and the bag of rice. Ryan told me that she cried tears of joy for being able to help the children but also tears of sadness for she knew they needed more.
I listened to my sister's experience firsthand and she painted a picture of the village, the orphanage, the children, the poverty and their hunger. I am so proud of her and, after hearing her story, I know that I am capable of doing the same.
This act of mercy has inspired me more than any other because I was able to connect with my sister and her words. I think that when an Act of Mercy is carried out by someone close to you, it affects you greatly. Listening to my sister speak about her experience moved me to take action. This Act of Mercy has inspired me to work at an organization, Someone Special Needs You, where people provide socialization for autistic and handicapped teenagers and adults. We play games, do crafts and eat meals together.
Perhaps it is not as merciful as my sister feeding the hungry, but I believe I am making a difference. When I spend time with my "buddies" at Someone Special Needs You, they make me look at the world differently. For example, my buddy Daniel asked me if I was happy. I thought: What a powerful question that no one has ever asked me before! He smiled when I responded that I was happy. The truth is, I was happy to be spending time with him. I was touched that he asked how I was feeling and because he was genuinely excited that I was happy. What a special friend I made! I can only hope that I make him smile as much as he makes me smile! I have made it my goal, my Act of Mercy, to spread happiness with my special friends.
Mercy is an act that shows empathy and charity to others. I have heard about many Acts of Mercy, but the one that has encouraged me the most is my sister's act of feeding poor orphans. It has inspired me to volunteer with Someone Special Needs You. Today, I feel like my buddies do more for me than I do for them. Specifically, I feel God's love in Daniel's smile. I feel God in my heart when Daniel and I laugh together. I feel like I have received so much more than I have given at Someone Special Needs You because my heart is full. Perhaps that is the secret to performing Acts of Mercy. Perhaps we grow closer to God because we are able to do for others and our hearts become nourished. Perhaps we who perform Acts of Mercy are the true beneficiaries, not the poor, hungry or naked.
Julia Osborne, a seventh-grader at Saint John Fisher School in Rancho Palos Verdes, California, wins the second-place prize of $300 in Division I of the 2015 Maryknoll Student Essay Contest.
Below is her winning essay…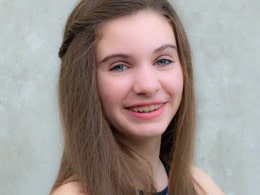 Mercy: The Kindest Act of Selfless Love
Mercy, the kindest act of selfless love that someone can bestow upon another, is one of our greatest missions as Catholics. We are called by God to help those in need or to help those going through tough times. It is our vocation to spread love throughout the world. Jesus teaches us that it doesn't take much to show mercy. Even if we don't have much to give, we are committed to helping one another. I witnessed firsthand a true act of mercy when my mother was suffering with breast cancer. During this very tough time for my family and me, our school families and friends showed true compassion by supporting us with many prayers and daily meals, for which we are eternally grateful. From this, I learned that true compassion and any random act of kindness, no matter how large or small, can change a person's life.
In January 2013, my family's lives changed forever. My mom was diagnosed with stage 2/3 breast cancer and faced a long journey of surgery, chemotherapy and radiation. Prior to her surgery in March, Monsignor Sork, our pastor at St. John Fisher, performed an Anointing of the Sick for her. It was very emotional, but it brought great comfort to her the day of her surgery. She says, "I was so calm before surgery. It felt like God was embracing me and protecting me. Even the doctors couldn't believe how calm I was!"
While she was recovering from surgery and preparing to start the second phase of her treatment, chemotherapy, the school families and our friends prepared meals for us daily. Each day a different family showed their mercy by taking time out of their busy schedules to make sure that my family was well cared for and nourished with a meal. At the same time, the school children (kindergarten through eighth grade) showed their sympathy by creating a prayer chain from colored paper and expressed their love and support for my family and me through their prayers. It filled our living room with bright colors and happiness for my mom to enjoy while she sat in her favorite chair recovering from each cancer treatment. Luckily, she survived this tough journey. As a result, our family learned many life lessons of mercy, true compassion, gratitude and thankfulness through the extraordinary acts of kindness from ordinary people.
I was only 10 years old when my life changed forever. At first, I was confused, sad and very worried that I would lose my mom. At the same time, I had to be strong to help my mom fight her illness. When she lost her hair, I held her hand as she sobbed. When she felt sick, I brought her sparkling water. When she felt ugly, I would tell her she was beautiful. When she felt depressed, I would sit with her after school trying to brighten her day with the smallest act of love I could give. I didn't realize until this essay that I was showing mercy towards my mom. I love my mom. I would do anything for her. When our friends brought food, they stayed for a while and talked about the day to help ease our minds. Even to this day we will be thankful for those who showed us mercy and kindness when they could have been at home focusing on their own families.
The life lessons we all learned from this journey are that showing mercy and performing random acts of kindness not only makes you feel good, but it also has a huge impact on the recipient's life. I will continue to live my life loving and supporting anyone who needs a comforting and compassionate friend, just as others have done for my family and me. "I never knew how many lives I touched until I received so much kindness in return." Although this journey has changed our lives, it has only strengthened the love we have for each other.
Codi Dicharry, an eighth-grader at St. Peter Chanel Interparochial School in Paulina, Louisiana, wins the third-place prize of $150 for Division I of the 2015 Maryknoll Student Essay Contest.
Below is her winning essay…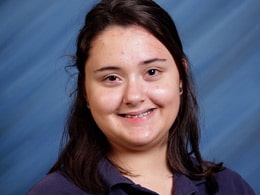 A Story of Mercy
This story is about a 17-year-old boy named Alan, who went to a basketball championship that was being held downtown in the sports arena. After the game, in the parking lot, he walked 10 feet to his car and was randomly shot and killed by an inner-city gang member. Alan's father, Keith, and mother, Donna, could not understand why their son was killed. Even though they tried to spend their days and nights trying to raise their other kids and going to work, they were having trouble with accepting what happened.
They were filled with anger and consumed with the ongoing investigation into the killing. After the closing arguments in the murder case, it took the jury only five hours to come back with a guilty verdict. The gang member who killed their son was sentenced to life in prison. Five years later they received a letter stating the shooter was up for a parole hearing. This letter brought back all the pain and feelings they thought were gone. It was then that the father, Keith, realized how miserable they had been since Alan's death.
Alan's father decided to go to the hearing to see the shooter again. The parole proceedings were brief and parole was denied. Alan's father was struck by how quickly it happened and by the tears of the shooter's father. For the first time, he realized that there were victims on both ends of the gun. He walked over to the shooter's father and shook his hand. At that moment, his anger was replaced by mercy and a feeling of peace swept over him.
Over the next few years, the two men formed an alliance to help gang members stop the violence and find their place in the world. They went from school to school in the inner city with their story, hoping to make a difference and a better understanding of life for the gang members. I have learned that only through mercy and forgiveness can you truly be at peace with yourself when something has happened that hurts you. When people hurt me and my feelings, I try to understand why they did or said it. I pray for them to be made aware of what they do and how it affects people, so they can become better Christians.
Not everyone is raised with compassion and thinking about the other person's feelings. In our world today, not too many people worry about doing the right thing. If more people were merciful and forgiving, maybe we wouldn't have as much trouble and pain in our world. Our Catholic religion tries to teach us to forgive and be merciful to others in our world. We have many different people and ways of doing things. If we do good to one person, it makes a difference. If everyone was nice to one person a day, it would be a change for the better.
WINNERS – Division 2 (grades 9-12)
Anna Brest, an 11th-grader at Cary High School in Cary, North Carolina, wins the $1,000 Bishop Patrick J. Byrne Award, named for the Maryknoll missioner who died on a forced march in Korea in 1950.
Below is her winning essay…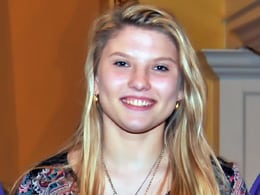 A Journey Toward Mercy
I was born in a small town in Russia. My mother was 19 years old, unmarried and had some intellectual disabilities. She gave me up for adoption. This was the beginning of my journey toward learning the depth, the power and the joy of God's mercy.
My adoptive mother found me in an orphanage half a world away and brought me home when I was 13 months old. She brought me into a loving and supportive network of grandparents, aunts, uncles, cousins and friends who have made me as much a part of the family as they who share DNA. I have enjoyed a blessed life as part of this family. Despite that, I harbored anger toward my birth mother and toward God.
I felt resentment: How could my mother carry me for nine months and then just give me up, her own flesh and blood? I felt guilt: It must have been my fault that she gave me up. Did I cry too much, was I not cute enough? I felt helpless: I was just a baby; I couldn't control any of those things. Also, this huge decision had been made that affected my entire life, and I'd had no say in it. I felt loss: I yearned to know my mother. I had seen her face. The image was somewhere in my brain, if only I could find it. I wanted to tell her that I was OK and that I had a good life. Then I went back to anger, but this time toward God: Why did He make me go through this? Why did He not care about me? Why did neither He nor my birth mother care about me?
At Mass one Sunday, the priest spoke about how God is always looking over us, and how He cares about everyone unconditionally. I started thinking about that. I decided it was time to really talk to my mom about my adoption. My whole perspective changed after that conversation. During that conversation, my mother taught me mercy as Pope Francis spoke about—going beyond the formality, really understanding and not judging. She helped me see how unprepared and scared and alone my birth mother must have been. She made me realize that my being given up for adoption was not a selfish act; it was the most selfless act she could have made; it was a sacrifice that could only have been made out of absolute love for me.
My perspective toward God changed as well. My mother and I had often spoken about how perfect we were for each other and how amazing it was that we had found each other. Now I started realizing the full extent of God's elaborate plan. I saw His mercy toward my birth mother: He gave her an option to do what was best for her child, and He stood by her and gave her the strength to make that decision and carry it out. I saw His mercy toward my adoptive mother, a single woman who yearned for a child. He blessed her with me, and with the supportive family she already had who helped her through the adoption process and who love me as if I were their own. I saw His mercy toward me; He had been watching out for me after all. He made me part of the family I was meant to be a part of, even if there was a detour on the road to get there.
Realizing the extent of God's mercy changed me. Gratitude replaced anger. Faith replaced doubt. Forgiveness replaced guilt. Understanding replaced judgment. My faith is strong.
I recently received the sacrament of confirmation. I chose William, the patron saint of adopted children, as my saint. With William at my side, I am sure to remember my lesson in mercy, as well as selflessness, strength and love.
We live in a fast-paced society where we encounter many people every day. It is easy to judge, to not take the time to understand. It is easy to harbor anger or hatred, rather than take the time and effort to forgive. It is easy to be so overwhelmed that we look out only for ourselves, and don't take the time to think of others. The experience of God's mercy changed all of that for me, and it will do the same for others. If only everyone could have the same experience, what a harmonious and joyous world we would live in.
Adriana Collins, a 12th-grader at Huntingtown High School in Huntingtown, Maryland, wins the second-place prize of $300 for Division II of the 2015 Maryknoll Student Essay Contest.
Below is her winning essay…
Light at the End of the Tunnel
Three raps on the door of an old musty trailer.
"Social Services. Open up!" a voice yelled from the outside. Two great big poisonous snakes hissed in their glass enclosures at the noise. A woman with bloodshot and angry eyes stood up from the couch to the right of my bed. The putrid smell of alcohol and smoke enveloped her entire being. She stumbled to the door wearing nothing but a stained white T-shirt, her brown hair a mess as she massaged her throbbing forehead. It had been another late night for my mom. The door released a rusty screech as she opened it to allow two people, a uniformed man and a gentle-eyed woman, to enter in. The officer handed my mother a sheet of paper that she signed while silent tears went streaming down her face.
My older sister was standing in the center of the trailer, mouth agape and clutching a familiar stuffed purple dinosaur while the angry bruises she had endured at the hands of our father lay invisible under her pink T-shirt and urine-swollen diaper. Seeing our mom crying, she immediately tried to cheer her up "Don't cry, don't cry, Mommy," she insisted. Shaking with fear, I stayed in my own little corner. I dared not make a sound. Soon, I was coaxed out of my haven by the woman who carried me and my sister out the rusty door of the trailer to the world outside. She told us that if Mommy and Daddy cleaned up their lives, we would be brought back to live with them again, but they never did. And so we left everything we knew and entered into the foster care system. Eventually, our birth parents realized they were incapable of taking care of us due to their obsession with drugs, alcohol and sex, or perhaps they gave up trying. We were surrendered to the state and put up for adoption.
There is a saying that says, "There is a light at the end of the tunnel," and I firmly believe that my sister's and my light came in the form of an incomplete family of four: one mother, one father and two brothers. We were welcomed into their family almost immediately. My sister and I were the two who made this family complete. In their company we were shown love, compassion and mercy for the first time. Because of them, I learned how to smile and laugh. They taught me how to break down the walls I built to shut out the pain and abuse I endured at the hands of my birth parents. They taught me how to love again.
Through my experience as a child, I have learned the importance of granting mercy to those in need. No matter how dark a situation seems, or how eternal it appears to be, there is and always will be a light at the end of the tunnel. As I have grown to this stage in my life, there have been many situations where I have seen people in desperate situations, some were homeless and starving, some were abused and depressed. Because of my past and the grace and mercy my adoptive parents have showed me, I know how much one gentle merciful action can affect a multitude of lives for the better. Because of my past, I reach out to animals and people in need so that their future may also be changed. Although life will never be void of suffering, I know that even the smallest acts of mercy can change the world for the better. Will you show mercy to someone in need today?
Caitlin Simpson a 12th-grader at Robinson High School in Robinson, Texas, wins the third-place prize of $150 for Division II of the 2015 Maryknoll Student Essay Contest.
Below is her winning essay…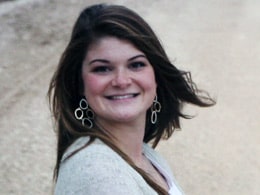 A Knock on the Door
He was a troubled boy, and he was a boy who was always in trouble. Even if he wasn't looking for it, trouble came knocking on his door. That is how my dad met him, and that is why my dad was his teacher.
Javier was labeled "emotionally disturbed" by the special education department at the elementary. This "confidential" label was nothing of the sort in our small town. It seemed everyone knew he was different. His label was not necessary to set him apart. People had already done that. Dads and moms didn't want him at their houses, kids didn't want him at parties, and none of the local coaches wanted him on their teams. He was already without friends, without an outlet and without hope. He was alone. By junior high, he was in and out of Alternative Education Placement, and he spent more time suspended from school than in it.
If it were up to Javier, he never would have made it to high school. He would stop school and work on a hot roof or remodel houses. He thought, "No one to fight with, no one to trouble and no one to pretend to care." He knew it wouldn't be long after high school that he would be in jail. "So why not speed up the process?" he thought. Thank God he was forced to go.
The first day of his freshman year was like all the others. His peers hurled jeers at him, and his teachers avoided eye contact. Javier was used to it, and he played into it. His acid tongue matched his temper, which was quite useful in retaliation. This life seemed inevitable, but then, a new class began. Javier said, "I remember the time, the room number, and the exact desk I sat in. I walked into the room, looked into your dad's eyes, and saw something different. It scared me. It wasn't fear, regret or disdain, but rather kindness and respect. I didn't recognize it, but it shook me. I didn't know what to do, so I did what I did best: I popped off to him, looked him right in the eye and said, 'Don't you know who I am?' Your dad said, 'I have no idea who you are, but I am Mr. Simpson, and it is a pleasure to know you!' This was the first time anyone didn't already know who I was!"
Actually, my dad had heard of Javier. Teachers made it a point to "warn" him. He had received emails, papers and notes about Javier, but he had no idea who he really was. To my dad, he was a child of God who deserved the respect and admiration of a fellow brother in Christ. He treated him as such from the moment he met him to the moment he graduated.
Javier's life began to change. It was a slow process, but it was progress. At first, he didn't really participate in class, but he didn't keep anyone from learning. This was a small step in the eyes of my dad, but a huge step in the eyes of his classmates. Then, he started actually answering questions. Next, he would do class work and turn it in. This new attitude spilled over into other classes. Towards the end of the year, the boy that everyone had known turned into a boy people wanted to know. Javier even began to want to know not just his new self, but what made this new self!
Javier eventually left his behavior classes. He left them for bigger and better things, and moved into honors classes. Most importantly, he found Christ! After four years, he graduated with honors and with God!
From then on, my father would use his story to share the positive things that mercy and kindness can build. It made me realize that I am here to help others realize the power, love and mercy God pours out upon His people. I can testify now that mercy works! It not only works, but it is contagious.
When Javier graduated from high school in 2005, my dad hoped he might see him again, but didn't plan on it. Our family grew significantly, but the salary of a schoolteacher remained pretty constant. We never went without, but we sure didn't have much extra. God always provided. One thing was certain: we needed a bigger house! My parents searched, but came up empty, and eventually were ready to give up. Enter God's grace!
We got a knock on the door one evening. Mom answered, and immediately her face lit up! She quickly called Dad to the door to see who it was. It was Javier! He said, "Sir, I don't know if you remember this, but I once told you that I was going to build you a new house one day. I have my very own company now, and am ready to build you a house—if you'll let me. Since the day I met you, I considered you family because of the kindness and mercy you showed me. Because of that, I will not accept a penny over what it costs me to build it." Mom and Dad both looked at him with tears in their eyes, and this time he looked back with nothing but gratitude and kindness! God's mercy is indeed boundless.