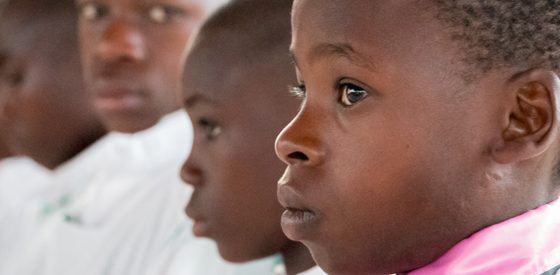 Africa is the youngest and the poorest continent; a full 41% of the African population is under 15 years of age. In Tanzania, the average person exists on $3.25 a day. Among the poorest, it's even less.
Fr. Jonathan Hill, who is celebrating his first anniversary as an ordained Maryknoll priest, has focused his mission on making a difference in the lives of youth from some of the most disadvantaged communities. These young people range in age from 2 to 20.
Father Hill's project addresses their needs in several ways:
In Mwanza, he directly supports a small orphanage built around a caring mother and her entrepreneurial son. The orphans are not only receiving love, food and caring, they are learning how a necessity—soap–is manufactured and sold. The orphanage intends to be self-sustaining and Fr. Hill is helping them march toward that goal.
Back in Dar es Salaam, Fr. Hill ministers to, and provides support for, a group of students and seminarians looking to complete their educations. Many of these young people were altar servers growing up. They are each seeking their own path to bringing the message of the Gospel to life as they work to improve their own lives—and the lives of their countrymen.
A small but important part of Fr. Hill's efforts are directed towards the altar servers of Buza Parish in Dar es Salaam. Thanks to Fr. Hill's involvement, these devoted youngsters can travel to and fully participate in` Diocesan activities and they will be getting new vestments to wear during Mass. He also helps them experience recreational opportunities that are often scarce in this part of the world.
With your help, we will be able to assist Fr. Jonathan as he works with the youth of Tanzania.