Well, St. Augustine Outstation, Itooni, Sts. Peter and Paul Parish, Kenya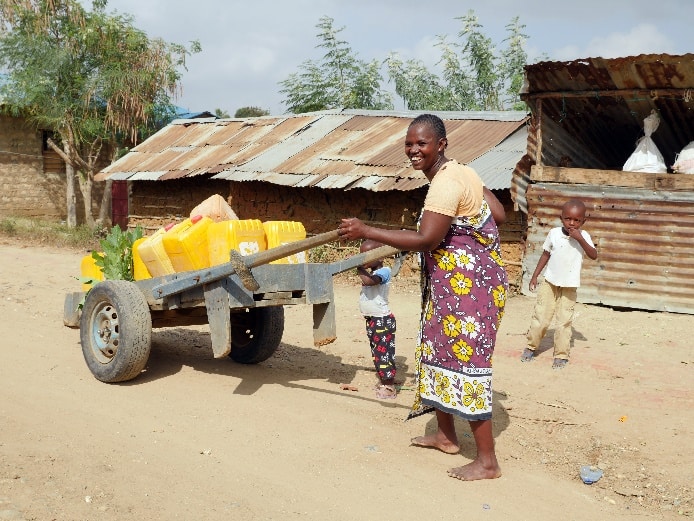 Missioner Responsible:
Fr. Lance P. Nadeau, M.M.
Located in southeastern Kenya with a population of approximately 1 million, Makueni County is an impoverished area of Kenya. About 70% of the population is under 30 years old, 44% under 15 years. Over 60% of the population lives in absolute poverty, 57% in food poverty. The county's need manifests itself in other socio-economic outcomes such as poor nutrition, health, and education, as well as a lack of a ccess to basic services.
Unemployment is a major challenge in the county, especially among youth. Approximately 80% of the population is employed in rain-fed, small-scale farming and has limited opportunities in commercial ventures and public service. There is one doctor for every 23,000 inhabitants. With regard to HIV, Makueni is clustered as a medium burden, medium incidence county with prevalence slightly below the national prevalence of 6%. Annually, slightly over 50% of the population suffers a serious bout of malaria. About 15% of the population has access to piped water. Most inhabitants rely on rivers, seasonal streams, ponds, and public wells for water. Infant and under-five mortality are often connected with unclean water and dehydration due to diarrheal diseases, including cholera, and other waterborne diseases such as guinea worm, typhoid, and dysentery.
Kibwezi West with a population of about 175,000, is a semi-arid area that suffers from serious water scarcity, severe environmental degradation, chronic drought, and low agricultural productivity. Schools and health institutions in the area often close due to lack of water. Unlike many other areas in Kibwezi West, Itooni has no river, dam, or nearby water source; the area does not receive any piped water. Residents must travel several km for water or pay for tankers to transport water into the area.
The well to be drilled, which will be located on parish property, will serve the Itooni outstation area, which has a population of about 6,000. Located on 3 acres of church-owned land, St. Augustine outstation chapel is located in a trading station near the Nairobi-Mombasa highway. Located near the outstation are a primary school for 450 pupils, a government polytechnic with 300 students, and a Kenya Medical Training College (KMTC) with approximately 100 pharmacy students. Residents and institutions near the parish will be able to access the well.
Fr. Lance Nadeau will help many with this well project, including local residents who will have access to clean water supply, and children who will be less exposed to waterborne diseases.  The local educational and health institutions which will not have to close during water shortages, and the local parish will be able to charge a small fee for water and, thereby, support some of its social service initiative.