Cambodian Mental Health Project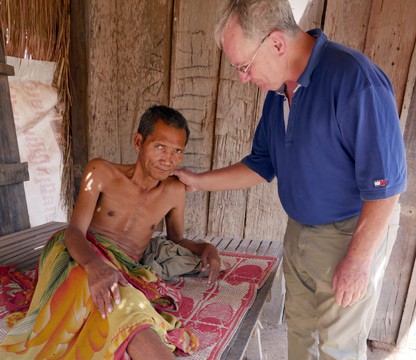 Missioner Responsible:
Fr. Kevin M. Conroy, M.M.
The Maryknoll Mental Health Program/Mobile Team will work in concert with a number of NGOs to provide an extensive mental health outreach to remote villages in Cambodia. Their services  include:
•  treating people with mental disorders
•  providing support for the patient's families
•  providing referrals to organizations that can assist with job training, education, medical care or housing
•  providing referrals to local mental health services
•  offering workshops and training health center staff and local leaders in the detection, prevention and treatment of mental health disorders
The Maryknoll Mental Health Treatment Center also provides out-patient consultation and treatment for a wide range of psychological and psychiatric conditions.
The Mindfulness Center will encourage the practice of mindfulness to raise up the level of psychological well-being of the people of Cambodia. Qualified school counselors will work to promote positive mental health and mental health literacy in schools and help prepare children for challenges of life.
Your gift can help!