(Peru) Campus Ministry Program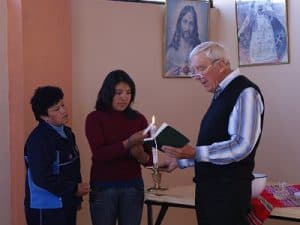 Help Father Michael Briggs, M.M., in his formation and evangelization program for the 15,000 students and 1,000 faculty members at the National University of the Altiplano-Puno. His ministry offers intercultural dialogue programs, volunteer and mission opportunities and leadership formation for the development and support of civil society and intercultural dialogue.
The Campus Ministry also offers a two semester course in "Ethics, Environment and Development" where the students are required to do volunteer service before receiving their diplomas.  They become aware of the realities of the poor and it stimulates them to consider working to improve society after graduation.