(Kenya) Inter-ethnic Peace Program
Thank you for visiting our projects page. At this time we are having some technical difficulty and the funds raised may appear as $0. Please be assured that we are receiving donations for these projects and are working diligently to resolve this issue.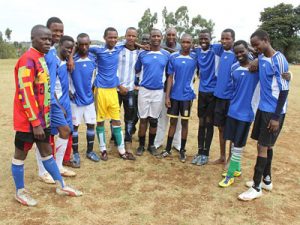 With the next general election approaching in 2017, the program aims at preventing a repeat of the pre and post election violence that occurred in Molo, It is a small town located 200 kilometers from Nairobi that has been the center of ethnic clashes and was among the worst hit during the 2007/2008 post election violence. More than 400 people were killed, 250,000 displaced and 80,000 houses torched.
Father Lance Nadeau, M.M., has a program that fosters interactions between these warring tribes in different activities such as sports, inter-ethnic cultural festivals and participation in anti-ethnicity workshops.
Your generosity will help keep peace alive.
Project Update:
In 2015, four 'playing for peace' football and volleyball tournaments were held to bring together thousands of young people. This has led to a harmonious living and interaction among the various ethnic groups.