(Cambodia) Seedling of Hope – Youth Project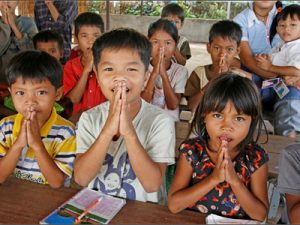 Seedling of Hope Youth helps orphans and vulnerable children affected by and infected with HIV/AIDS in Cambodia. Maryknoll continues to provide food, security, education, medical and psychosocial support to orphaned and vulnerable children.
Most of the children live with a remaining parent who is HIV+ or an extended family member (i.e. grandmother). 26 children live in Maryknoll sponsored group homes, foster homes or transitional homes to independent living for youth. They have no family with whom to live. In addition, newborn babies benefit from the Prevention of Parent to Child Transmission component of the project. Without Maryknoll's intervention, many of these children would not be alive today and many others would not be in school.
Project Updates:
238 orphaned and vulnerable children benefited from the program
25 youths are studying in the university
38 students in vocational skills training
23 children in primary school
73 children in secondary school
78 in high school
1 in special education
Workshops conducted:

Child Rights
Positive Discipline
Being a Girl
Love and Right Relationships
Good Manners
Self-Development for young females
Wildlife and Eco Conservation
Experimental science learnings at Kids City
Disability workshop conducted by Handicap International
Seedling of Hope Youth has saved many children from a life on the streets or scavenging garbage to survive. Your gift makes a difference!