(Cambodia) Seedling of Hope – Youth Project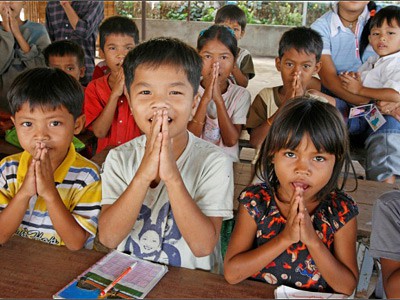 Seedling of Hope Youth helps orphans and vulnerable children affected by and infected with HIV/AIDS in Cambodia. Maryknoll provides food security as well as education, medical and psychosocial support for a combined total of 375 orphans and vulnerable children.
Most of the children live with a remaining parent who is HIV+ or an extended family member (i.e. grandmother). 55 children live in Maryknoll sponsored group homes, foster homes or transitional homes to independent living for youth. They have no family with whom to live.
In addition, 35 pregnant HIV+ destitute women, 97 newly delivered HIV+women and their 98 babies benefit from the Prevention of Parent to Child Transmission component of the project. Without Maryknoll's intervention, many of these children would not be alive today and many others would not be in school.
Seedling of Hope Youth has saved many children from a life on the streets or scavenging garbage to survive. Your gift makes a difference!
The Seedling of Hope Youth project supports a total of 653 orphan and vulnerable children & youth resulting from HIV/AIDS of whom 318 are male and 335 are female. Out of this, 211 are HIV+ with 98 male and 113 female. 500 of these children are in home-based care or living with their families. The project helps keep these children with their families. 153 are in residential care, 19 of whom are HIV+ children in foster care; 74 HIV+ in six group homes; and 42 are in transitional homes for independent living.
All children are enrolled in school, ranging from first grade to skills training and university. Two youths in the program completed a university degree in Psychology and one finished in vocational training to work in the hotel or hospitality trade.
Therefore, the project continues to achieve its goal of improving the life of children and youth orphaned and vulnerable due to HIV/AIDS, as well as to provide opportunities for them to develop mentally, emotionally, physically and spiritually.
Our 'Seedling of Hope' Youth Project improves the quality of life of the orphaned and vulnerable children affected by HIV/AIDS and it mitigates the impact of HIV/AIDS on their lives.
Project Updates:
During 2015, Maryknoll provided food, security, education, medical and psychosocial support to a total of 386 orphaned and vulnerable children. Most of the children live with a remaining parent who is HIV+ or with an extended family member such as a grandmother.
23 youth were studying in the university, 29 in vocational skills training, 48 in primary school, 113 in secondary school and 68 in high school.
For the prevention of parent to child transmission, 95 HIV+ pregnant and 88 HIV+ women had new deliveries of 89 babies who are all HIV negative.
After their babies turn one-year old, 91 HIV+ mothers graduated from the program with 17 mothers referred to Seedling of Hope Adults for psycho-socio-economic reintegration to help them have a sustainable livelihood.