(Cambodia) Seedling of Hope – Youth Project
MISSION ACCOMPLISHED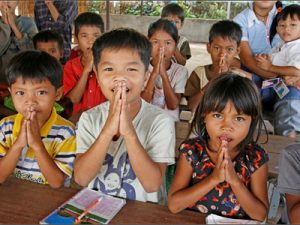 Seedling of Hope Youth helps orphans and vulnerable children affected by and infected with HIV/AIDS in Cambodia. Maryknoll provides food security as well as education, medical and psychosocial support for a combined total of 180 orphans and vulnerable children. Most of the children live with a remaining parent who is HIV+ or an extended family member (i.e. grandmother). 26 children live in Maryknoll sponsored group homes, foster homes or transitional homes to independent living for youth. They have no family with whom to live.
In addition, newborn babies benefit from the Prevention of Parent to Child Transmission component of the project. Without Maryknoll's intervention, many of these children would not be alive today and many others would not be in school. Seedling of Hope Youth has saved many children from a life on the streets or scavenging garbage to survive.
---
Through the prayers and generosity of our Maryknoll Friends, this project will successfully accomplish its goals!