(Cambodia) Community Health and Education Project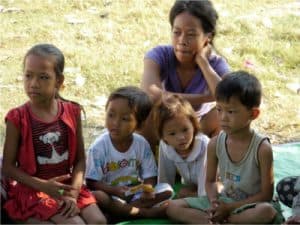 This project meets the needs of poor children in the five villages of Beoung Tum Pun's public schools with two major aspects of the program: tutorial fees for primary and secondary school and a program of overseeing the education of each child by our school assistance manager.
Our early childhood development efforts are concentrated in two of the most deprived neighborhoods at the Pre-K Ta Koung and Tu Taing areas for children ages three to five to prepare them, especially Vietnamese children, to enter the Cambodian school system in grade one.
The third center for children is located in Takhmao as part of a new evangelization program by the Catholic Church. Additionally, basic financial support is provided for a small group of mostly elderly people who have no means of support.
Your gift will help ensure that this much-needed mission continues.
Project Updates:
For 2015, 115 elementary school students and 80 secondary school students were supported for the academic school year. The first and second grade students were provided with extra classes in Khmer and math. By the end of the grade, they are able to read.
The pre-school in the Vietnamese church of Tu Taing, accepted 35 new students and 32 were promoted to the second year of pre-school.
A second pre-school in Chak Angre Kraom has opened with 50 students.
At a center in another neighborhood, very poor children benefit from stimulating educational opportunities that their parents are not able to provide.
In addition to many educational opportunities, about 30 families who are very poor are given a small supplement every month to help them provide food for the family.
The program continues to be successful with your prayers and support!