(Brazil) Trauma Healing Ministry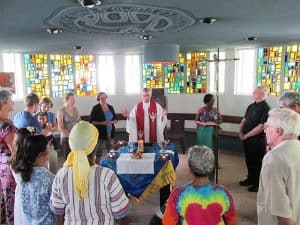 Through his work with healing trauma, Father Dennis Moorman, M.M., has learned that often acts of violence are committed when people dissociate or disconnect from their own bodies and the world around them. This disconnection is aggravated by the growing individualism in our world today. In the midst of so much suffering, greed and violence it is beautiful to see the re-connection of a person with their own body and the world around them as they are healed from life's traumas.
The unmistakable beauty of healing shines through the smiles on their faces. Through the utilization of the tools of Somatic Experiencing® to enhance the Family Constellation Systems approach to therapy, this course was designed by Maryknoll Sister Efu Nyaki and Maryknoll Father Dennis Moorman, both members of the Maryknoll Brazil Mission Community since 1993 and 1994, respectively.
Sr. Efu lives in northeastern Brazil in the coastal city of João Pessoa where she founded AFYA, a holistic health center for women. Fr. Dennis currently lives in the mega-city of São Paulo in southern Brazil where his ministry is devoted to healing trauma and training others to learn these skills. Led by Father Dennis Moorman, M.M., this project trains trauma therapists throughout Brazil. Each training workshop has a minimum of 10 students and a maximum of 60. Your support will contribute greatly to this program's success.