(Brazil) Trauma Healing Ministry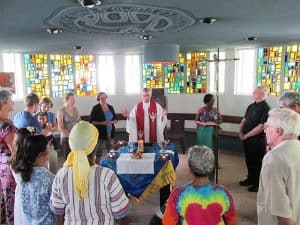 As Maryknoll Missioners, we have a special charism for reaching out to impoverished and excluded peoples living on the margins of society. Many of such people have suffered multiple types of trauma throughout their lives, from growing up in situations of domestic violence to surviving natural disasters or just living with the challenges of trying to overcome poverty on a daily basis.
Maryknoll Father Dennis Moorman has been devoting his ministry to working with peoples who have suffered trauma in Brazil, South America and throughout the world. Over the past seven years he has worked in Brazil, Bolivia, Haiti, Uruguay, Hong Kong, Japan and Korea to help people overcome the negative effects of trauma in their lives. He has also been supporting the training of other therapists who would like to sharpen their skills in learning to deal with trauma.
Through his work with healing trauma, Father Dennis has learned that often acts of violence are committed when people dissociate or disconnect from their own bodies and the world around them as a result of their own traumatic experiences. This disconnection is exacerbated by a growing individualism and the many overwhelming experiences of violence in our world today. In the midst of so much suffering, greed and violence, it is miraculous to witness the re-connection of a traumatized person with their own body and the world around them as they are restored to wholeness. The unmistakable beauty of healing shines through the smile on their faces.
If you are moved to share in this work by offering your support in this healing ministry, it will be greatly appreciated! Father Dennis was first assigned to Brazil in 1994 and he currently lives in the mega-city of São Paulo where his ministry is dedicated to healing trauma and training other therapists to learn these skills.