Father John Spain, M.M. was ordained in 1970 and was immediately assigned to work in El Salvador. There he met Archbishop Oscar Romero. Below is his account of his experience with the renowned priest…
With great joy the people of El Salvador are celebrating today with the canonization of Saint Oscar Romero! He was a gift from God for El Salvador, and is now a gift for the world.
Saint Oscar was born August 15, 1917, (on the feast of the Assumption), in Ciudad Barrios, a small rural town in the mountains of the Northeast. His life and faith came from his family and community, who viewed the beauty of creation in the world around them as a special grace. They prepared the land, waited for the rains, and joyfully—but with backbreaking work—brought in the harvest.
The faith Saint Oscar received was deeply rooted in popular religiosity: intense celebration of the liturgical seasons; a great love for the Eucharist, Our Blessed Mother and the Holy Father; and a deep devotion to the saints, especially Saint Peter, for whom their parish was named. It is said that young Oscar would stop and pray in the little church in Barrio Roma when he passed by on the way to deliver messages for his father, a telegraph operator. He would imitate the parish priest in his play as a youngster, and prepare little sermons for the feasts of his favorite saints. Along with the faithful of the region, he had an early devotion to "La Reina de la Paz", the miraculous image of Our Lady enthroned over the main altar of the Cathedral of San Miguel.
In 1930, on the occasion of a special Mass in Ciudad Barrios attended by the Bishop, young Oscar—who was working as a carpenter's apprentice at the time—was able to convince his father to grant him permission to enter the minor seminary in San Miguel.
His faith that began in Ciudad Barrios grew, as documented in his spiritual notebook. Before his ordination in Rome, he wrote: "This year I will surrender totally to God. My Lord, please help me and prepare me. You are my All, and despite my nothingness, you lovingly desire that I become much. Together with your All and my nothingness, we shall do much."
In a Sunday homily, Saint Oscar called us to a deeper prayer life, saying, "Just a few people truly lead inward-looking lives, and this is why there are so many problems …In each person's heart, there is something like a small intimate cell, where God comes to speak alone with each person. And this is where a person determines his or her own destiny, his or her own role in the world." Monsignor Ricardo Urioste, his Vicar General, said that Saint Oscar waited every day for our Lord's visit, and that he never made an important decision without first consulting with God in prayer in that special place. Saint Oscar was a man of prayer.
As a newly-arrived missionary, I first met Saint Oscar when, as auxiliary bishop of San Salvador, he shared with a group of priests his enthusiasm and desire to serve God's people. He had just returned from a meeting of newly-ordained bishops of Latin America. They had shared their joys and hopes for their new ministry. I learned later that Saint Oscar chose as his episcopal motto, "Sentir con la Iglesia", (to be of one mind and one heart with the Church).
For several years, my mission work was in parishes led by Salvadoran priests on the periphery of the capital. It was a time of great pastoral excitement and enthusiasm. Many people, obliged by poverty to leave their rural roots and their sense of community, migrated to the capital to work in factories or construction. Our pastoral challenge was to restore the sense of community and revive the deep faith that they experienced growing up. Following the conclusions of the Second Vatican Council and the Latin American Bishops at Medellin, we formed Basic Christian Communities modeled after the experience of Panama. Parishioners grew to an adult faith, and felt that they and their families were part of God's Family. Many became Pastoral Agents of Evangelization, and went on to form new communities in the parishes.
In 1977, I was sent by our local group of parishes to represent them on the priests' council. Soon after that, Saint Oscar became Archbishop. I was also close to him through my pastor, who directed both the Catholic newspaper and the Catholic radio. I accompanied Saint Oscar on different occasions to rural parishes, to marginated communities in the city, as well as to ordinations and vow-taking ceremonies for women religious. From his diverse homilies and conferences, and from his homilies on Sundays at major feasts and funerals—to which I listened to faithfully either in person or on the radio—I could sense that Saint Oscar was not simply reading a text or a Vatican document, but rather preaching from his heart what he had prayed over and meditated on. His homilies came from his deep life of prayer. I was always impressed by his preaching of the Pascal Mystery, and the Passion, Death and Resurrection of Jesus, not only during Holy Week, but throughout the liturgical year.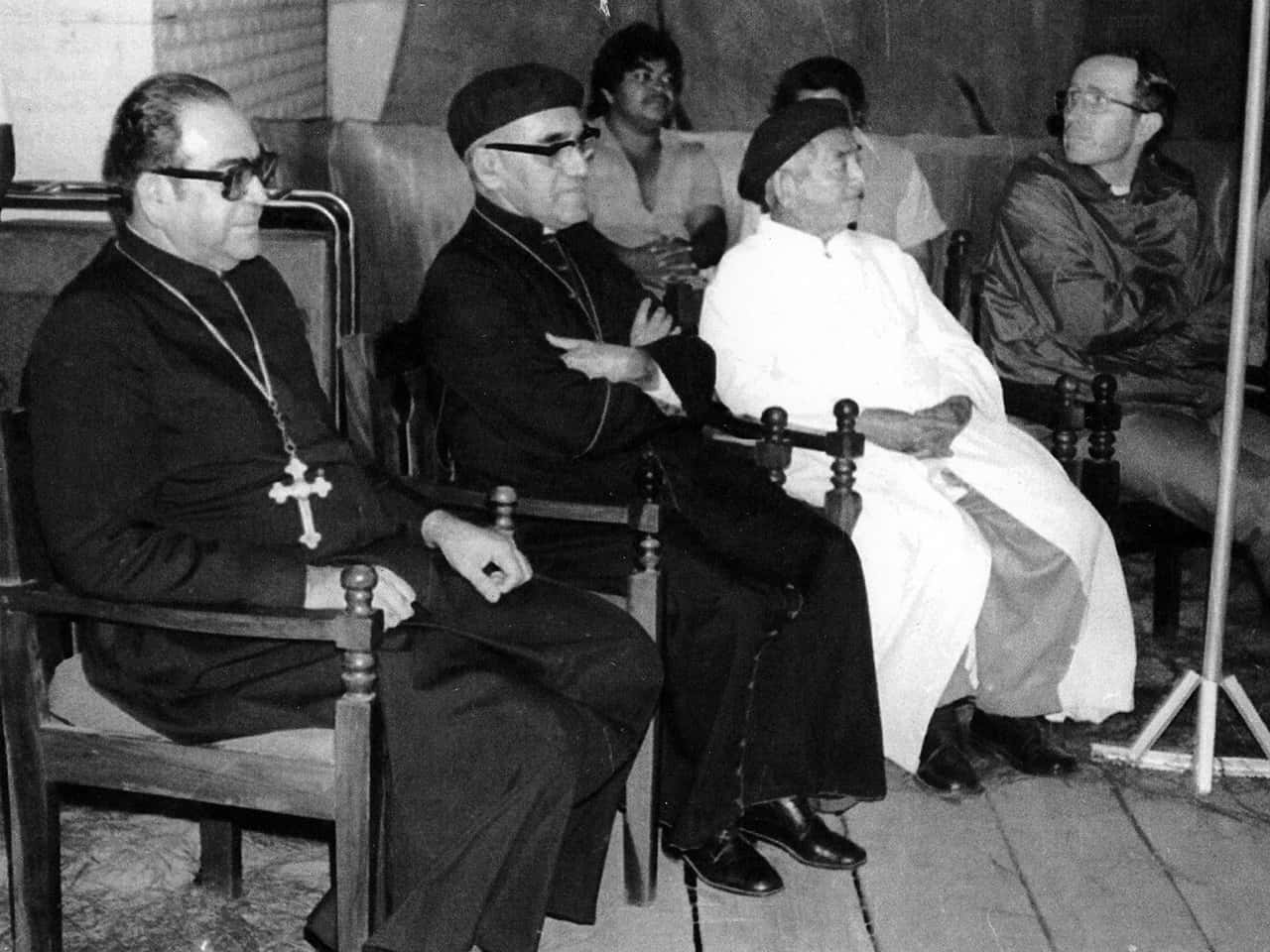 Dec. 2, 1979: Bishop Arturo Rivera, Archbishop Oscar Romero, Fr. Nazario Monroy and Fr. John Spain, M.M. at the Cathedral of the Diocese of Santiago de Maria in El Salvador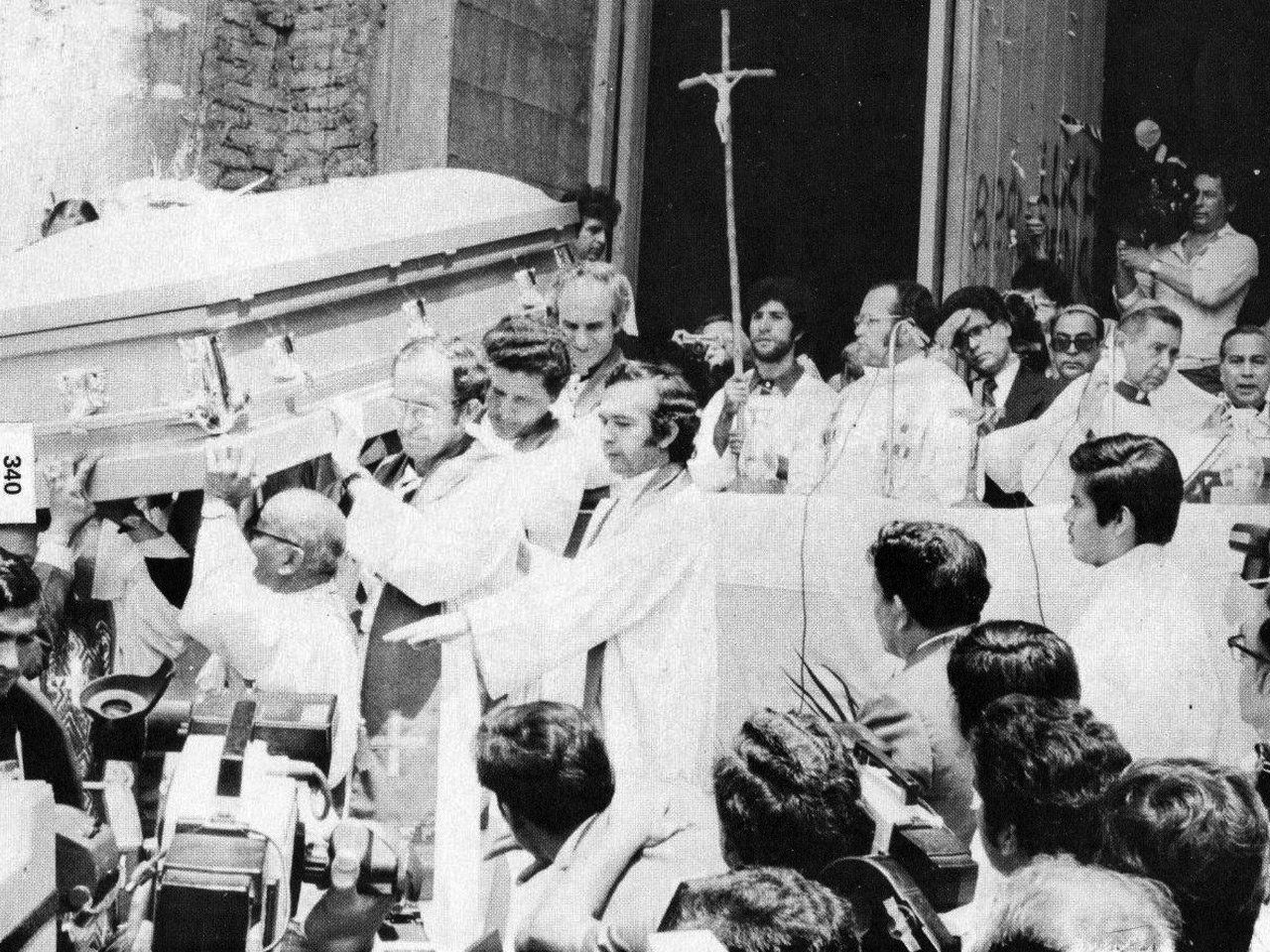 Mar. 30, 1980: Fr. John Spain, M.M. (pallbearer with glasses), carrying the coffin of Archbishop Oscar Romero
Even before Jesuit Father Rutilio Grande was killed, Saint Oscar gave strong support and encouragement to the priests. I felt he was talking right to me when he said he didn't consider us separate if we came from other countries, but that we were all one in the service of the Gospel. I was with Saint Oscar at Father Rutilio's wake, funeral and Mass to show that the Church was united. He promised that we would continue carrying out our pastoral ministry following Father Rutilio's good example. More priests were killed. At their funerals, Saint Oscar defended and praised those who were unjustly and cruelly shot down while preaching the Gospel of Jesus in word and deed. And he supported and inspired us to follow their faithful witness and service to the poor. Along with Father Rutilio, an older man and a boy were killed. Saint Oscar saw this as a blessing for the Church in that, when the lay members of the church were being persecuted and killed, the clergy accompanied them in their suffering and even in their death.
After almost two years under Saint Oscar, I accepted the call of our friend, the new Bishop Arturo Rivera, of the diocese where Saint Oscar was before. It included Ciudad Barrios, and Bishop Rivera surprised us in a big way—he bestowed upon us the great honor of naming us pastors of the parish there dedicated to Saint Peter. We served the spiritual and material needs of six rural municipalities along the border with Honduras with the experienced help of the Carmelite Sisters.
In 1979, Saint Oscar paid a pastoral visit to us in Ciudad Barrios. He wrote in his Diary, "I was in Ciudad Barrios Friday, September 28 and Saturday, September 29, visiting my town, encouraging the Maryknoll Fathers, who recently took over that parish, and the congregation of Carmelite Sisters, who have been helping in that pastoral work for some years now. The memory of my infancy and the contact with old friends renews in my life my enthusiasm to continue the vocation God gave me in the humble town of Ciudad Barrios."
It is consoling and heartwarming that Saint Oscar, in his short visit to animate and support us in our vocation, experienced a renewal of his own vocation during one of the most difficult periods of his life and just six months before his martyrdom.
At his funeral before the Mass, I helped carry his coffin to its place before the altar on the Cathedral steps. I felt overwhelmed with memories like these, and grateful to God for the privilege of having known and loved Saint Oscar. While visiting his tomb a year later, I was praying and reflecting on his life when a woman kneeling there told me how she came to visit the saint often since he had come to her poor community to visit her.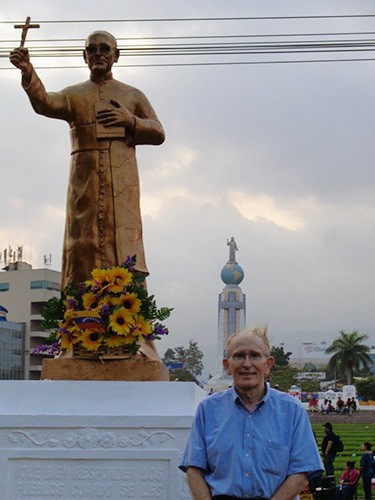 Fr. John Spain, M.M. in front of Archbishop Oscar Romero's statue at the Divine Savior of the World Square in El Salvador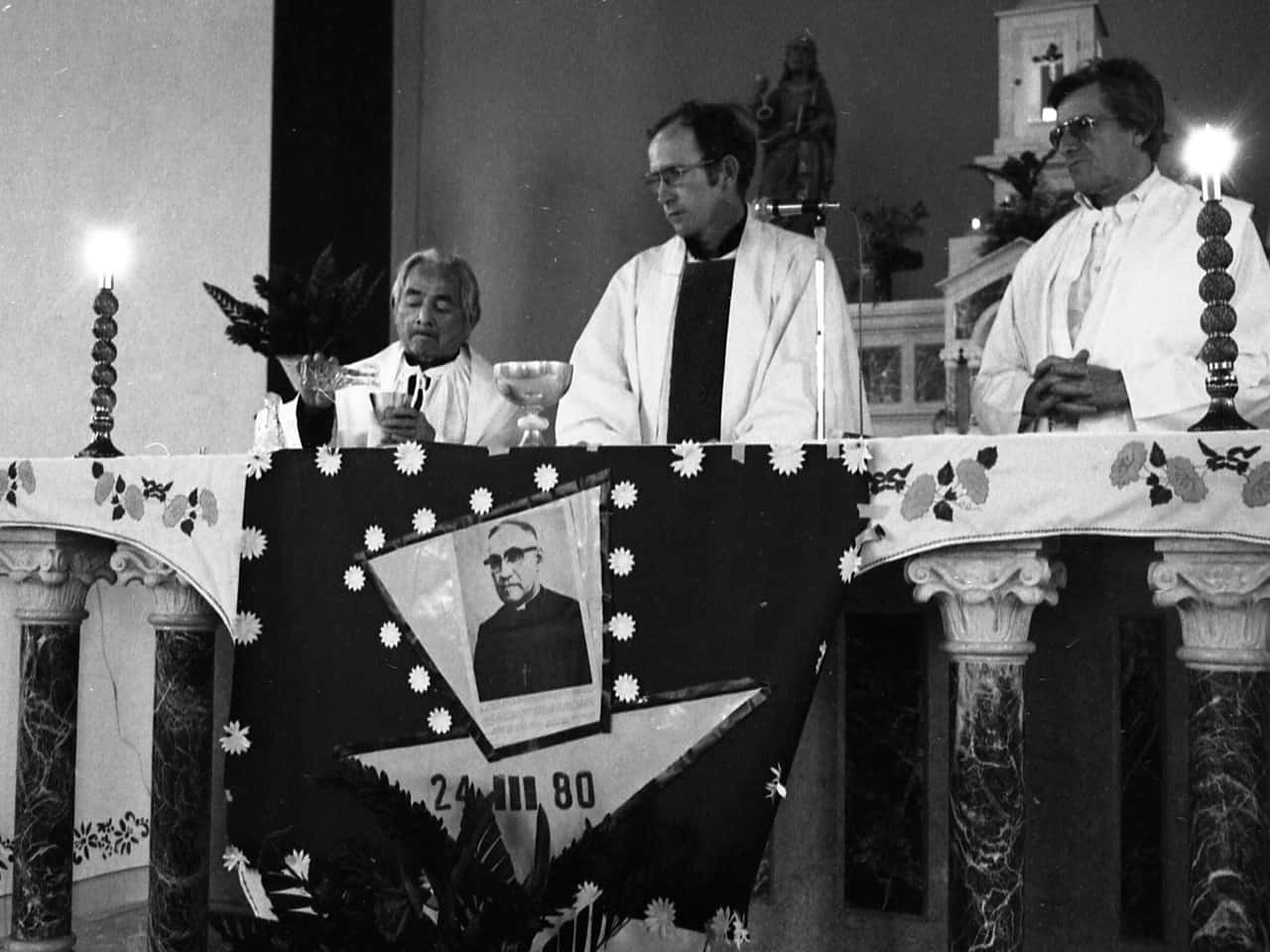 Mar. 24, 1981: Fr. John Spain, M.M. celebrating Mass for the first anniversary of Bishop Romero's death at St. Peter's Cathedral in Ciudad Barrios in El Salvador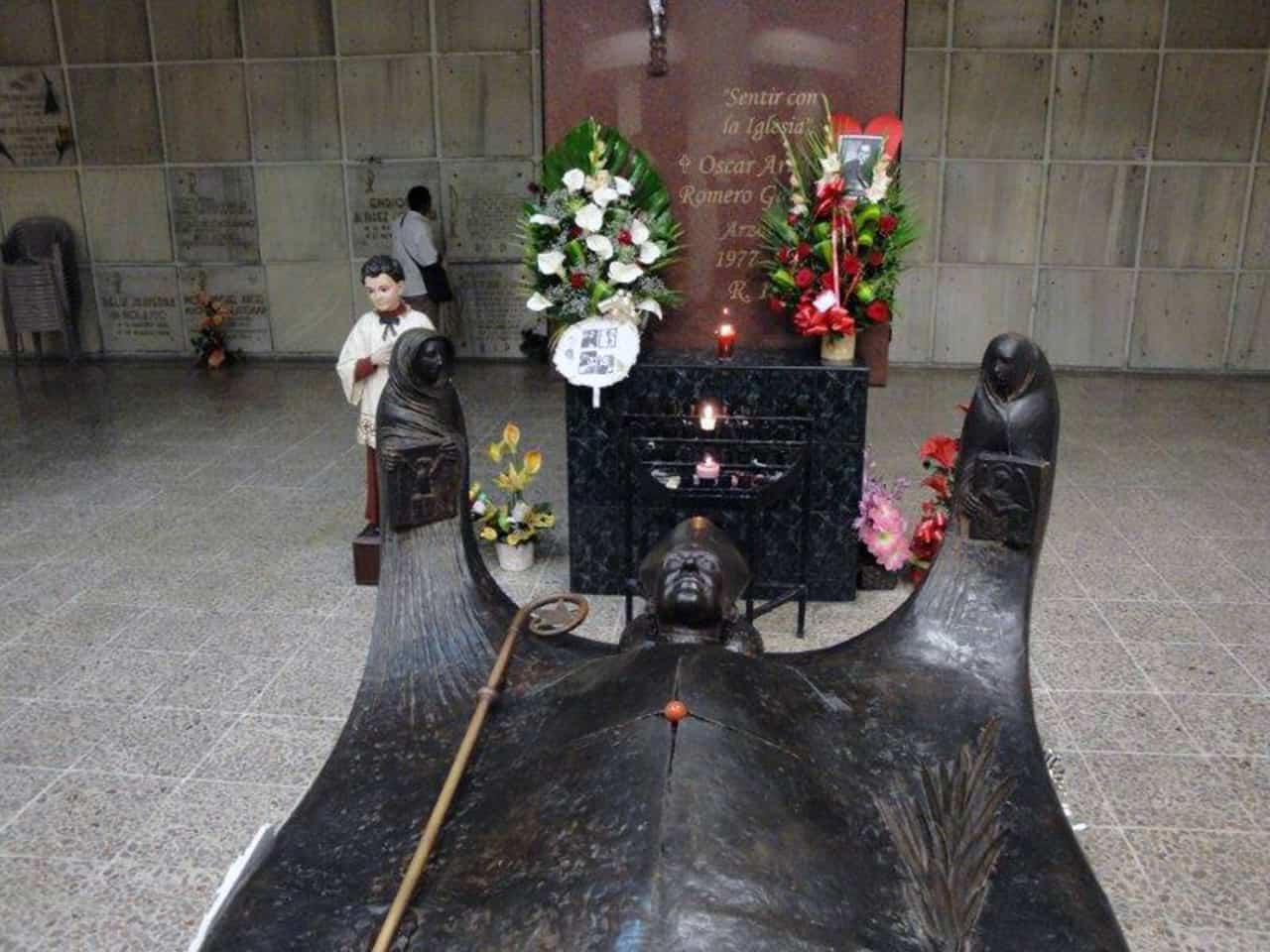 Archbishop Romero's crypt in El Salvador
I can't think of a better ending than with a Prayer Card written when his cause for Canonization began: "On March 24, 1980, while he celebrated the Eucharist at the altar of the Chapel of Divine Providence Hospital, Archbishop Romero was cut down by a well-aimed bullet. Thus they ended his mortal life and his three fruitful years of service as Archbishop of San Salvador. His martyrdom sealed for all time the meaning of his life and has converted him into Good News for the people of our contemporary world. He is the true symbol of many martyrs, above the entire multitude of anonymous martyrs, because his desire was always to give his life for God."
The Cathedral where his body is buried and the little Hospital where he shed his blood have been transformed into sacred places, centers for prayer and for pilgrimage. His tomb and the Chapel where he died are visited with true devotion, a spirit of faith, humanity, penance and thanksgiving, even with the intention of finding pastoral motivation, or simply to be inspired, converted or encouraged.
~ Father John Spain, M.M.