Father Gerard Hammond, M.M., has received the highest honor bestowed by the Knights of Columbus for his service to the sick in North Korea (the Democratic People's Republic of North Korea) and for his selfless bravery in carrying out his ministry.
The Gaudium et Spes Award is named for the landmark 1965 document that was released as part of the Second Vatican Council. It is offered only during special circumstances and only to individuals of exceptional merit. The first award was presented during 1992 to Mother Teresa of Kolkata. As the 12th recipient, Father Hammond was honored for his missionary work during the Knights' 135th annual international convention in St. Louis on Tuesday, August 1, 2017. The award included a $100,000 honorarium.
A veteran Maryknoll missionary in South Korea (the Republic of Korea), Father Hammond had long wanted to minister in North Korea. The opportunity to do so was facilitated by the Eugene Bell Foundation, a U.S.-based Christian organization that sponsors programs, projects and exchanges of a humanitarian nature in North Korea that focus on medicine along with the diagnosis and treatment of multidrug-resistant tuberculosis. Father Hammond first traveled north during 1995 and has since made more than 50 trips across the demilitarized zone.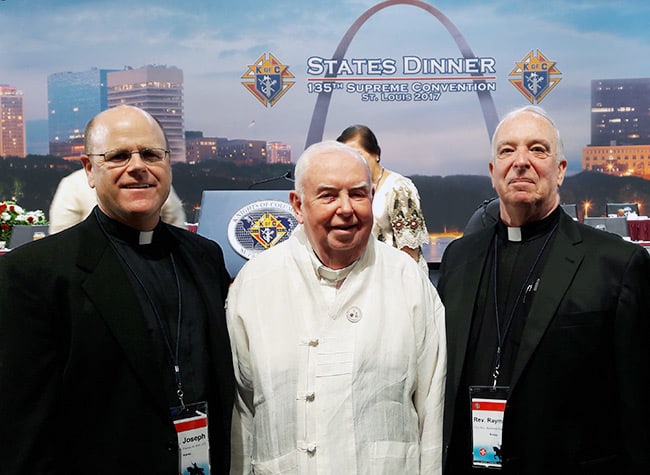 Father Gerard Hammond joined by Fathers Joseph Everson and Raymond Finch, Vicar General and Superior General, respectively, of the current Maryknoll General Council.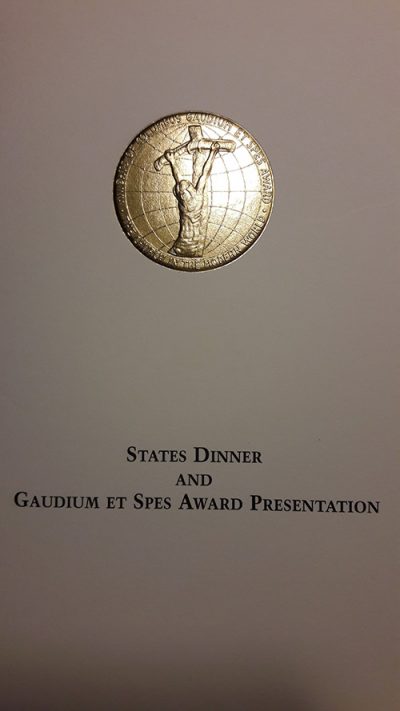 "Father Hammond has facilitated donations for thousands of patients and he has a knack for loving everyone and gaining the confidence of others. Even in the North, everyone calls him 'Father' Hammond and if he wears his Roman collar, no one is bothered. He's probably the best-known American in North Korea. He is a legend; there's only one Father Hammond."
Tributes To Father Hammond
A native of Philadelphia, Father Hammond was ordained during 1960 and soon after began serving in South Korea. During his 57 years as a Maryknoll priest, Father Hammond has served as a teacher, the pastor of two parishes and vicar general of the Cheongju Diocese. He has served as Maryknoll's regional superior and in other leadership posts in Korea. A member of the Knights of Columbus since 1960, Father Hammond has been a champion of the organization's development in South Korea, serving in leadership roles on two local councils.
"In Father Hammond, the Knights of Columbus recognizes a courageous and untiring missionary priest who has ministered in a most challenging field for good of people in need," said Knights of Columbus CEO Carl Anderson. "Although almost no one he meets in North Korea knows what a priest is, they see that he represents something greater than himself."
During a 2014 visit to South Korea, Pope Francis personally commended Father Hammond for his missionary work in North Korea. From Pope St. John Paul II, Father Hammond received the Pro Ecclesia et Pontifice Medal in recognition for his service.
Previous Honorees
Previous recipients of the Gaudium et Spes Award:
Mother Teresa of Kolkata
Cardinal John O'Connor, former archbishop of New York
Cardinal James Hickey, former archbishop of Washington, D.C.
Cardinal William Baum, former archbishop of Washington and Major Penitentiary of the Vatican
Archbishop Michel Sabbah, Latin Patriarch of Jerusalem
Jean Vanier, founder of L'Arche and co-founder of Faith & Light
Cardinal Tarcisio Bertone, former cardinal secretary of state
Cardinal Jaime Ortega, archbishop of Havana
Cardinal Stanisław Dziwisz, archbishop of Kraków and former secretary to St. John Paul II
Virgil Dechant, former supreme knight of the Knights of Columbus
Cardinal Francis George, former archbishop of Chicago